Kounoupidi me Patates Kapamas (pr. kou-nou-PEE-dee MEH Pah-TAH-tess Kah-pah-MASS) is a simple vegan Greek Stew with cauliflower and potatoes.
To prepare the dish, cauliflower and potatoes are first lightly browned in a bit of olive oil, then simmered in a rich tomato sauce after adding red wine, onions, garlic, and spices such as black pepper and cinnamon.
You can also make the dish without the potatoes and serve it as a side dish.
Did you know that in the Middle Ages the British used to call the cauliflower "Cyprus Colewort"?
It is believed that the cauliflower originated in Cyprus, where the oldest record dates from the 6th century b.C.
Cauliflower, arrived in Europe from Cyprus by the Venetians.
It was then introduced to mainland Europe through Italy in the mid-16th century and only when King of France, Louis IV tried it and liked it, it became very popular.
Since then they began to cultivate it, especially in the region of Brittany.
You won't find many cauliflower recipes on my blog as my children hate it.
When I was in Athens I used to say to myself that once we moved to Nafplio, we΄ll be eating cauliflower much more often and we now do.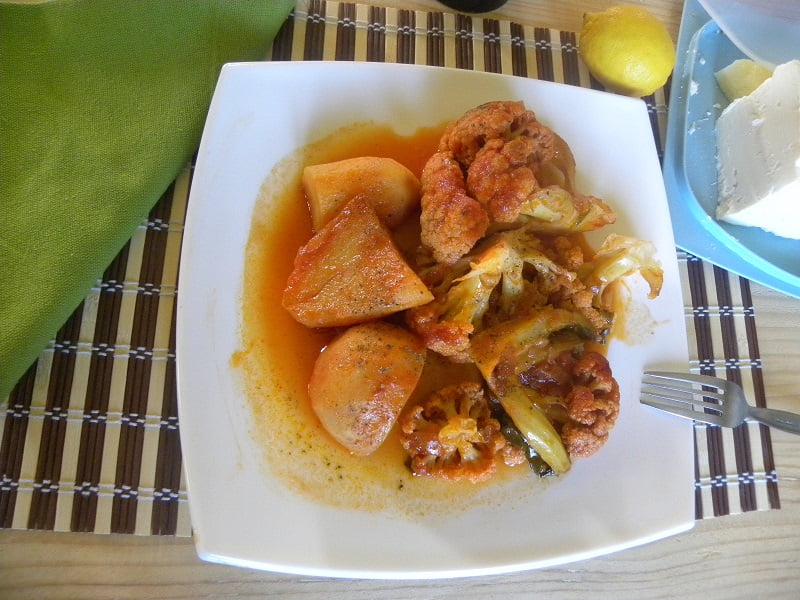 What is Kapamas?
Kapamas is a cooking technique, usually with stewed lamb or beef.
In this recipe I substituted the meat with cauliflower and potatoes!
This is one of the recipes my mother used to make quite often.
While I was cooking it the wonderful aroma of cinnamon filled the house and evoked so many beautiful memories.
My mother did not add any wine or garlic to this dish but we love garlic so I added a clove but for some unexplained reason, the last time I started making it, I felt as if the cauliflower was shouting to me in my head: "add some wine, add some wine, add some wine".
I trusted my instinct and the stew turned out much richer as it contributed a refreshing fruitiness that mingled well with the other ingredients and complimented their flavors.
If you don't want potatoes, you can still serve it as a main dish (or side if you prefer) but adding the potatoes makes the dish more filling and if you accompany it with some feta and crusty bread to mop up those delicious juices, you will feast like a king 🙂
Other relevant recipes:
Kounoupidi me Hylo (fried battered cauliflower)
You can find many more Greek recipes in my cookbook "More Than A Greek Salad", and "Mint, Cinnamon & Blossom Water, Flavours of Cyprus, Kopiaste!" both available on all Amazon stores.
Kounoupidi me Patates Kapamas (Braised Cauliflower with Potatoes)
Total Time:
1 hour
15 minutes
Kounoupidi me Patates Kapamas (pr. kou-nou-PEE-dee MEH Pah-TAH-tess Kah-pah-MASS) is a simple vegan Greek Stew with potatoes. You can also make the dish without the potatoes and serve it as a side dish.
Ingredients
½ cup olive oil
2 medium potatoes
1 ½ kilos cauliflower
1 red onion, finely chopped
1 clove garlic, finely chopped
½ cup dry red wine
1 packet tomato passata
2 tablespoons tomato paste
Salt and freshly ground black Pepper
1 cinnamon stick
1 organic vegetable bouillon
Water to cover
Instructions
Wash and cut the cauliflower and potatoes in smaller pieces.
Heat the olive oil in a nonstick frying pan.
Fry the potatoes on both sides. Remove them in a pot and do the same with the cauliflower. If necessary add more olive oil.
After removing the cauliflower sauté the onion until soft and add garlic. Add the wine and wait a few minutes until the alcohol evaporates. Add the tomatoes, tomato paste, salt, pepper and cinnamon as well as the vegetable bouillon.
Mix and when it comes to a boil transfer it into the pot. Add water to cover it and cover the pot with the lid.
Lower heat and simmer until the vegetables are tender, about half an hour to 45 minutes.
Remove the lid and simmer until sauce thickens without overcooking it.
Serve with freshly grated black pepper on top (optional).
Nutrition Information
Yield

4
Serving Size

1
Amount Per Serving
Calories

468
Total Fat

29g
Saturated Fat

4g
Trans Fat

0g
Unsaturated Fat

24g
Cholesterol

0mg
Sodium

280mg
Carbohydrates

43g
Fiber

13g
Sugar

13g
Protein

11g
Lenten Recipes (mostly vegan)
During the Greek Orthodox Fasting period, meat and animal prod­ucts (cheese, milk, butter, eggs, lard), fish (meaning fish with backbones), olive oil and wine (all alcoholic drinks) are not consumed during the weekdays of Great Lent. Octopus and shell-fish are allowed, as is vegetable margarine, shortening, and vegetable oils, gelatin, olives, as well as honey are allowed.
Kopiaste and Kali Orexi,