Gigantes plaki is a deliciously hearty vegan dish made with giant beans, baked in a delicious tomato sauce until the beans absorb all the juices and flavour.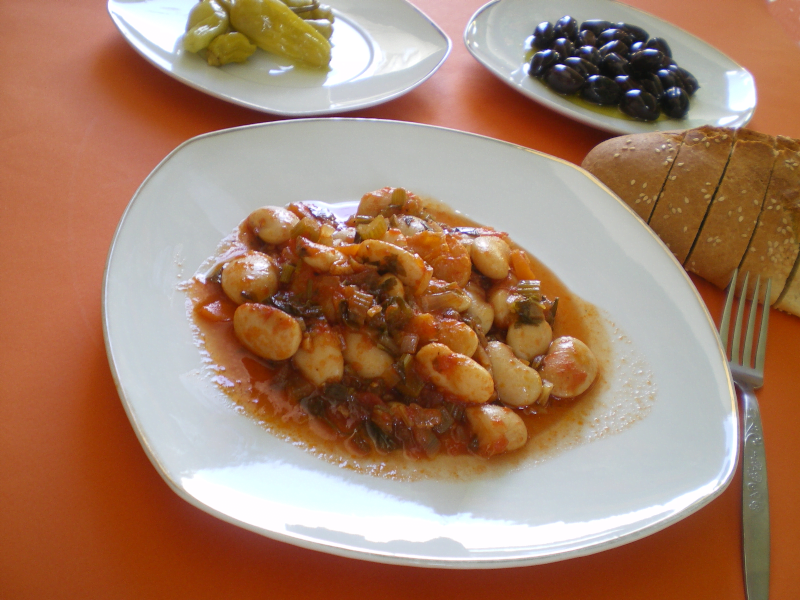 I feel embarrassed that I have never posted this dish before. Although this is a staple dish in all Greek households and I cook it very often, I have somehow forgotten to post about it.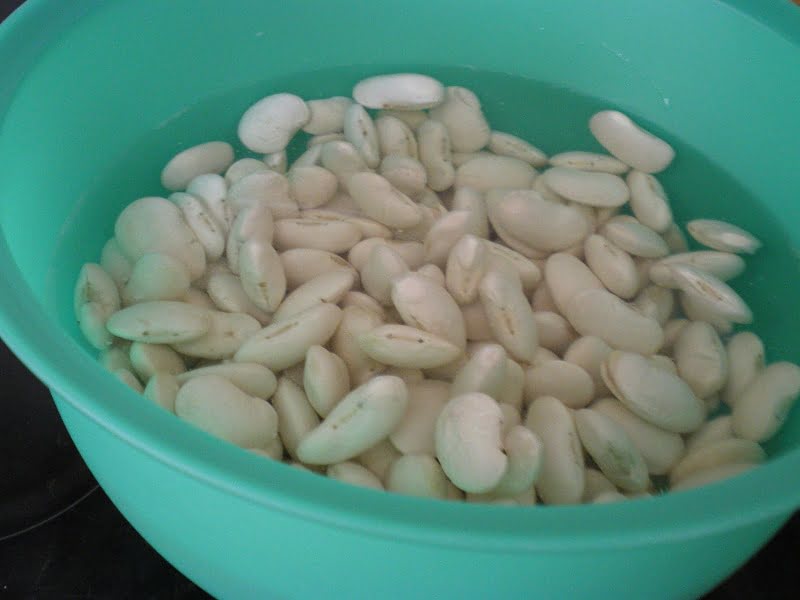 Fassolia (phaseolus lunatus) gigantes, meaning "giant" are similar to elephant beans, lima beans or butter beans, but if you can find Greek beans from Kozani they are the best Greek variety.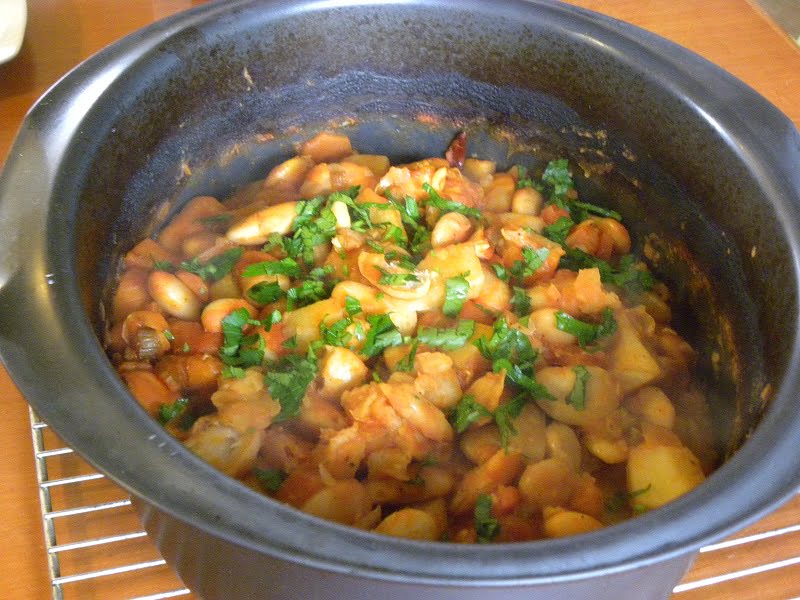 This vegetarian dish is baked in a delicious tomato sauce until the beans absorb all the juices and flavour.
It can be cooked in advanced and it only improves with time. Leftovers can be served as an appetizer.
The traditional way of cooking them in Greece are in deep, round, fired clay or earthenware casserole pots, called gastra.
However, they can also be cooked in any casserole dish, a sauting pan with a lid suitable for the oven, a Dutch oven, a crock-pot or even in a baking tin covered with aluminium foil.
If you ever visit Greece, this is a dish you should not miss as you can easily find it in most restaurants.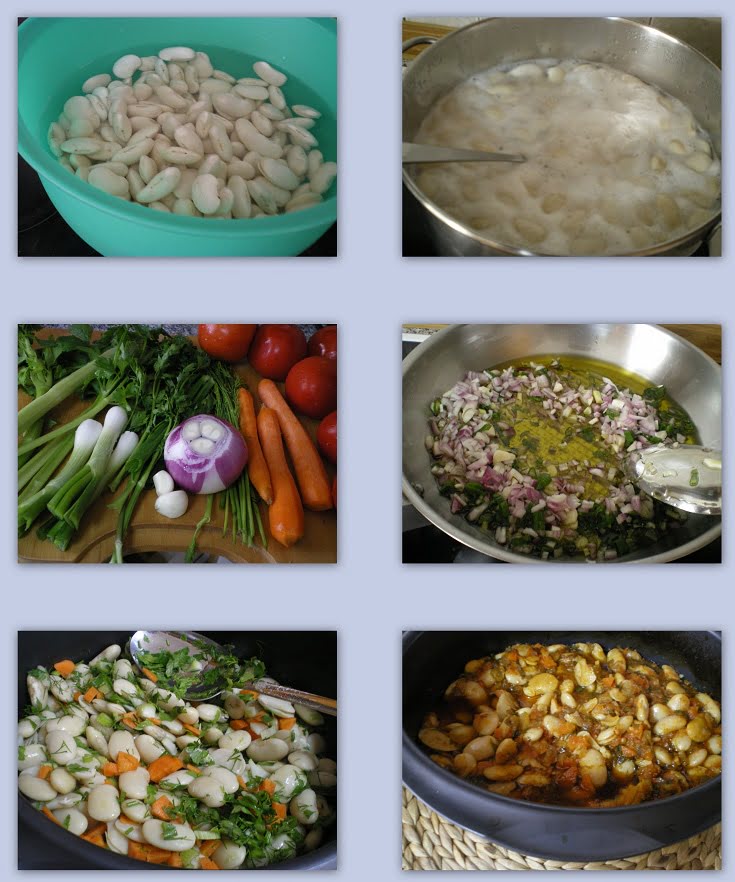 When I found out about the event Kopiaste to AWED: Greek, hosted by Experiments, Emotions, Experiences with food, and created by DK of Chef in You, I took a look at the recipes I have not posted yet and I thought this is the most characteristic Greek dish I could participate at this event.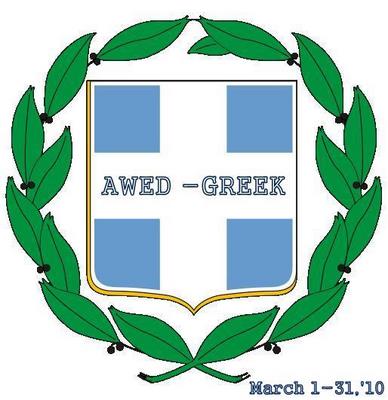 You can find my Greek recipes in my cookbooks «More Than A Greek Salad», and«Mint, Cinnamon & Blossom Water, Flavours of Cyprus, Kopiaste!» both available on all Amazon stores. Read more here.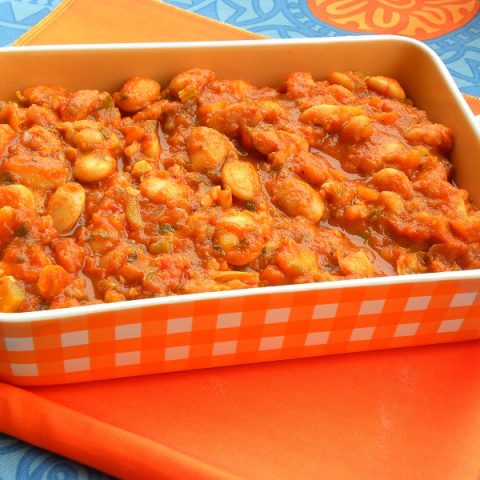 Gigantes Plaki sto Fourno (Baked Giant Beans)
Cook Time:
1 hour
30 minutes
Additional Time:
1 hour
30 minutes
Total Time:
3 hours
30 minutes
Gigantes plaki is a deliciously hearty vegan dish made with giant beans, cooked in a tomato sauce, served as a main dish or an appetizer.
Ingredients
300 grams Kozani gigantes beans
2 bay leaves
2 medium red onions, finely chopped
2 spring onions, finely chopped (optional)
2 cloves of garlic, finely chopped
1/3 cup of olive oil
6 ripe tomatoes, peeled and blended or 1 can of whole tomatoes (500 grams)
1 tablespoon tomato paste
1/3 cup white dry wine (optional)
1 cup of parsley, finely chopped
1 -2 stalks celery ribs, finely chopped
3 big carrots, finely chopped
1 big potato (cubed) optional
2 tablespoons fresh oregano, finely chopped (optional)
1 tablespoon salt
Freshly ground black pepper
1 tablespoon thyme honey (optional) (add sugar for vegan dish)
½ teaspoon chili pepper (optional)
2 cups water
Instructions
Soak the beans in plenty of water, overnight.
Drain and put them in a pot with fresh water and bring to a boil.
Remove any froth forming on top, with a slotted ladle.
Drain them again and add fresh water as well as the bay leaves and bring to a boil. Add salt, lower heat and simmer until almost cooked (about 1 hour and 30 minutes).
Drain and discard the bay leaves.
Put the beans in a Dutch oven or a Pyrex.
Preheat the oven to 200o C / 400o F.
Meantime, heat the olive oil in a sautéing pan and sauté onions and garlic until translucent.
Add the chopped celery, carrots, potato, fresh oregano and beans and mix.
Add wine and cook for a few minutes, then add the honey, tomato, salt and pepper and water and mix. Simmer for 5 minutes.
Pour the sauce over the beans and cover with the lid. If using a Pyrex, cover with aluminium foil.
Bake for about 1 hour and 30 minutes or until the beans are soft and the sauce is thick, mixing once, after an hour has passed.
Remove from the oven and mix in the parsley.
Nutrition Information
Yield

5
Serving Size

1
Amount Per Serving
Calories

324
Total Fat

15g
Saturated Fat

2g
Trans Fat

0g
Unsaturated Fat

13g
Cholesterol

0mg
Sodium

1537mg
Carbohydrates

43g
Fiber

9g
Sugar

18g
Protein

7g
PIN FOR LATER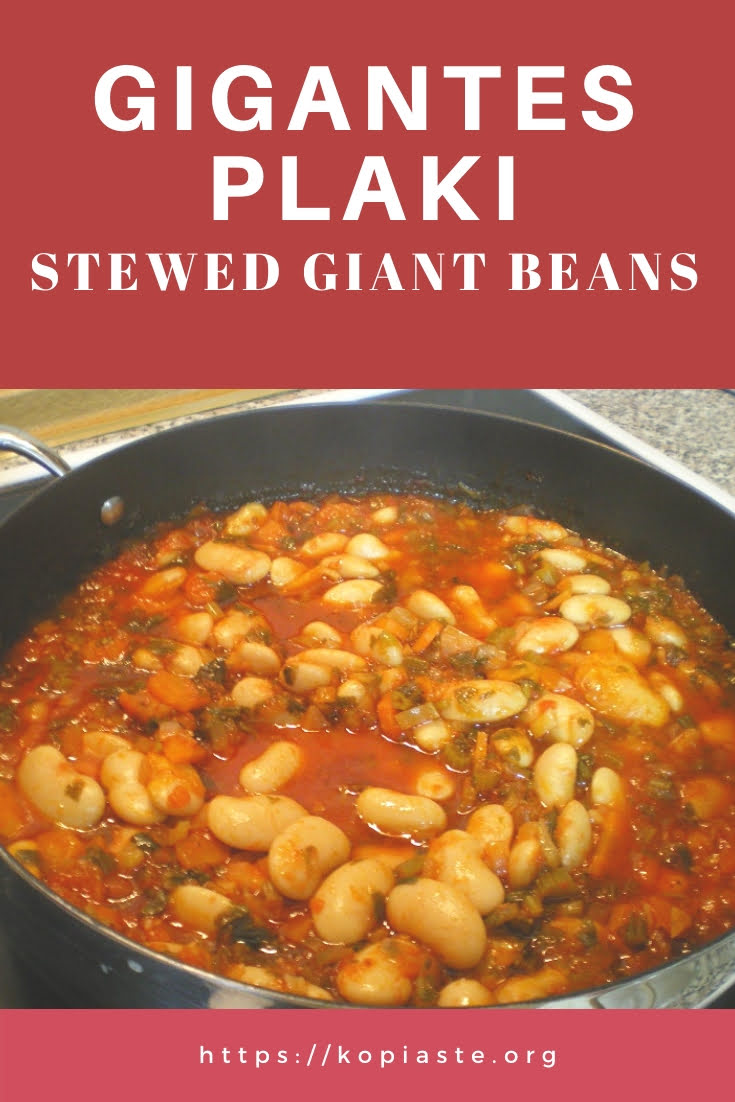 Kopiaste and Kali Orexi!