Pilafi Pougouri, (pr. bour-KHOU-rhee), in Greek called pligoúri) is a Cypriot bulgur wheat pilaf which is a not only very easy to make but it is also healthy and nutritious. It is great side dish for grilled meats but not only.
The dish is vegan but if you don't have problem with eating meat, you can add leftover cooked meat (chicken, pork, lamb or beef) and turn this into a main dish.
Ingredients needed:
Extra virgin olive oil
Vegan vermicelli pasta
An onion
Coarse bulgur wheat
Fresh tomatoes or concentrated tomato juice
Vegetable broth or vegetable bouillon dissolved in hot water)
Freshly grated black pepper and salt
The meat you see in the picture is optional and if added to this pilaf this side dish turns into a filling main dish, accompanied by some Greek Yoghurt.
What is Pourgouri
Pourgouri or Bulgur wheat, in English, is a cereal food made from parboiled groats of several different wheat species but most often from durum wheat.
This side or main dish is not only cheap and easy to make but it is also a very healthy meal.
Here's the best part. It's the fastest dish made from scratch as it only needs 4 minutes to prepare and about the same time to cook!!
Like many other Cypriot recipes, this side dish was considered to be a "poor man's dish", as people were poor and made delicious dishes out of humble ingredients they had in their pantry.
Pourgouri or Bulgur wheat holds a place in recipes similar to rice or cous cous but with a higher nutritional value.
Best known as an ingredient in tabouli salad, bulgur is also a tasty, low-fat ingredient (not to mention cheap and healthy), in pilafs, bakery goods, stuffing or casseroles.
It is an ideal food in a vegan or vegetarian diet because of its nutritional value and versatility. It is excellent as a meat extender or meat substitute in vegetarian dishes, and is a component of many varieties of meatless burgers found on supermarket shelves everywhere.
This side dish is very popular in Cyprus and it goes well with any meat dish.
You can make this pilaf with or without the tomatoes, adding more vegetable broth or chicken broth if you don't want it vegan.
If you have leftover roasted meat, such as chicken, lamb, beef or pork you can cut it into small pieces and add it in the pilaf and turn the side dish into a frugal main course dish.
Here are some recipes I have used it in
Bulgur Pie with Turkey Leftovers
Greek Fava and Bulgur Pie or Fava Fritters
Chickpea Salad with Bulgur Wheat and Feta Pesto
Vegan Chickpea Burgers with Bulgur
Lentil and Bulgur Spicy Salad-Pilaf
Making wheat into bulgar is an ancient process that originated in the Mediterranean and has been an integral part of Greek or Middle Eastern cuisine for thousands of years.
Biblical references indicate it was prepared by ancient Babylonians, Hittites and Hebrew populations some 4, 000 years ago, and Arab, Israeli, Egyptian, Greek and Roman civilizations record eating dried cooked wheat as early as 1,000 B.C.
Often confused with cracked wheat, bulgar differs in that it has been pre-cooked by par-boiling.
This process makes bulgur easy to cook but also has removed certain nutrients from the less digestible outer layers into the centre of the grain, making them more easy to cook with.
When I first came to Greece and mentioned bulgur, I usually got some scornful looks from friends and relatives, maybe because it was some of the food they ate during the German occupation and ended being considered as food for the poor. However, after reluctantly trying it they were convinced that it was worth cooking with.
In Cyprus we used to eat bulgur pilaf regularly as a side dish to Afelia. My mother would always make this pilaf when she had leftover meat, lamb, pork or chicken.
However a meatless pilaf is equally delicious served with Greek yoghurt. Instead of the meat, I sauté some mushrooms and mix them in the pilaf. She would cut the meat into smaller pieces and mix it in the pilaf and it became our main dish.
Bulgar wheat can be coarsely ground, which is the type we use in the pilaf or finely ground, which is the one we use to make koupes, with meat or vegan, which are savory mezedes.
Bulgur wheat is also added in Kolokotes or other pies same way as rice is added, to absorb any juices.
The pilaf is very easy to make and makes the easiest and most delicious side dish.
You need 1 part bulgur and 2 parts water (or chicken or vegetable stock or tomatoes).
All you need to do is sauté a nest of vermicelli, which you crumble, add the onion, then the bulgur to wet it in the olive oil, add salt and pepper and the broth or tomato if using some.
This procedure does not take more than 4 minutes. You turn off the heat, place a lid on top and wait for about ten minutes until all the water is absorbed!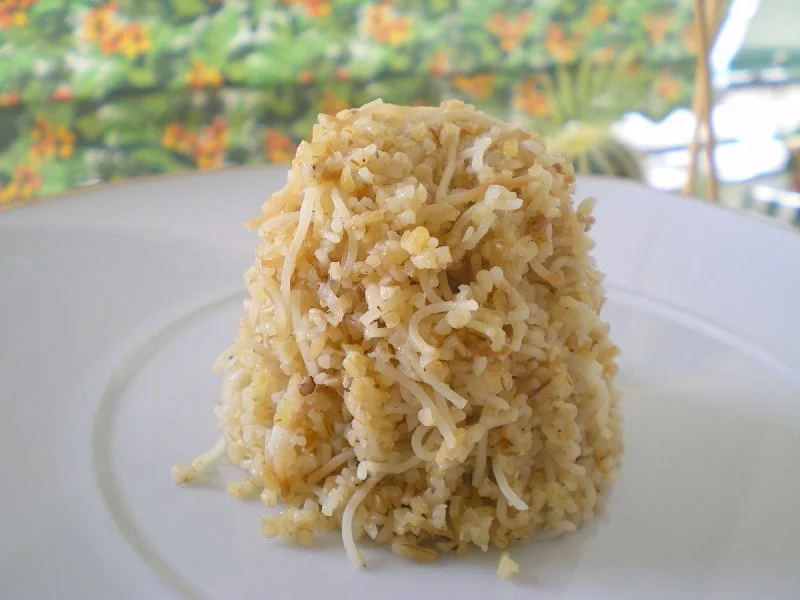 The second recipe is a bit different.
Grated onion is sauteed in olive oil and vermicelli pasta is added. Then the bulgar wheat and grated fresh tomatoes, salt pepper and pieces of leftover pieces of meat (optional) are cooked together. The cooked meat is added before adding the fluid ingredients.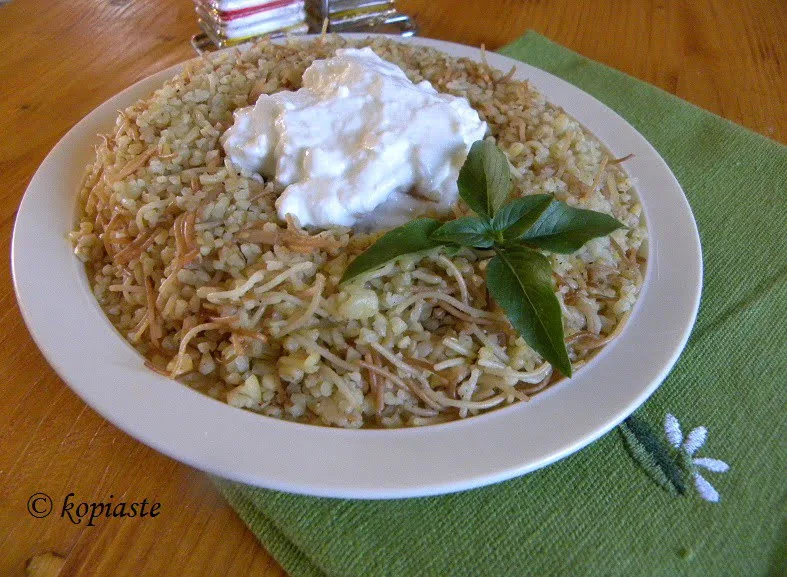 Pilafi Pligouri (pourgouri) – Bulgur wheat pilaf with Leftovers
Additional Time:
10 minutes
A very easy, healthy and nutritious side dish made with bulgur wheat. The dish is vegan but if you don't have problem with eating meat, you can add leftover cooked meat (chicken, pork, lamb or beef) and turn this into a main dish.
Ingredients
1/4 cup olive oil
1 onion grated
2 nests vermicelli, broken into smaller pieces
200 grams (1 cup) coarse bulgur wheat
2 cups grated fresh ripe tomato (or 1/2 cup concentrated tomato juice and 2 cups hot water)
1/2 cube organic vegetable bouillon*
Freshly grated black pepper
1 tsp salt
Optional ingredients:
1 cup oyster mushrooms or if not vegan 1 cup cooked meat (chicken, pork, lamb or beef)
Instructions
The mushrooms are optional, so if you want to add them, heat the olive oil and sauté them. Remove to a platter.
Without the mushrooms:
Heat the olive oil and sauté the vermicelli until it starts to lightly brown.
When the vermicelli start to slightly brown, add the grated onion and mix a couple of times.
Add the bulgur wheat and mix for a few seconds, until it is coated with the olive oil.
(At this stage you can add the leftover meat or sautéed mushrooms).
Dissolve the bouillon in hot water and add it together with the tomato, salt and pepper. Mix until it starts boiling.
Turn off the heat, cover with the lid and wait for about ten minutes until the bulgur absorbs all the fluid.
It can be eaten hot or cold and makes a great side dish with grilled meats, or as a tasty meal in itself with Greek yoghurt.
Notes
If you have homemade vegetable broth you can substitute the bouillon and water with the broth.
If you want to make this a main dish, add 1 cup cooked meat, finely chopped.
Also, if you want to make this vegan pilaf into a main dish you can add the same amount of pleurotus (oyster mushrooms).
Nutrition Information
Yield

4
Serving Size

1
Amount Per Serving
Calories

303
Total Fat

15g
Saturated Fat

2g
Trans Fat

0g
Unsaturated Fat

12g
Cholesterol

0mg
Sodium

713mg
Carbohydrates

38g
Fiber

5g
Sugar

4g
Protein

7g
"These values are automatically calculated and offered for guidance only. Their accuracy is not guaranteed."
Like this post?
You can hover over this image to pin it to your Pinterest board. Also, please feel free to share it with your friends and fellow bloggers, using the share tools below.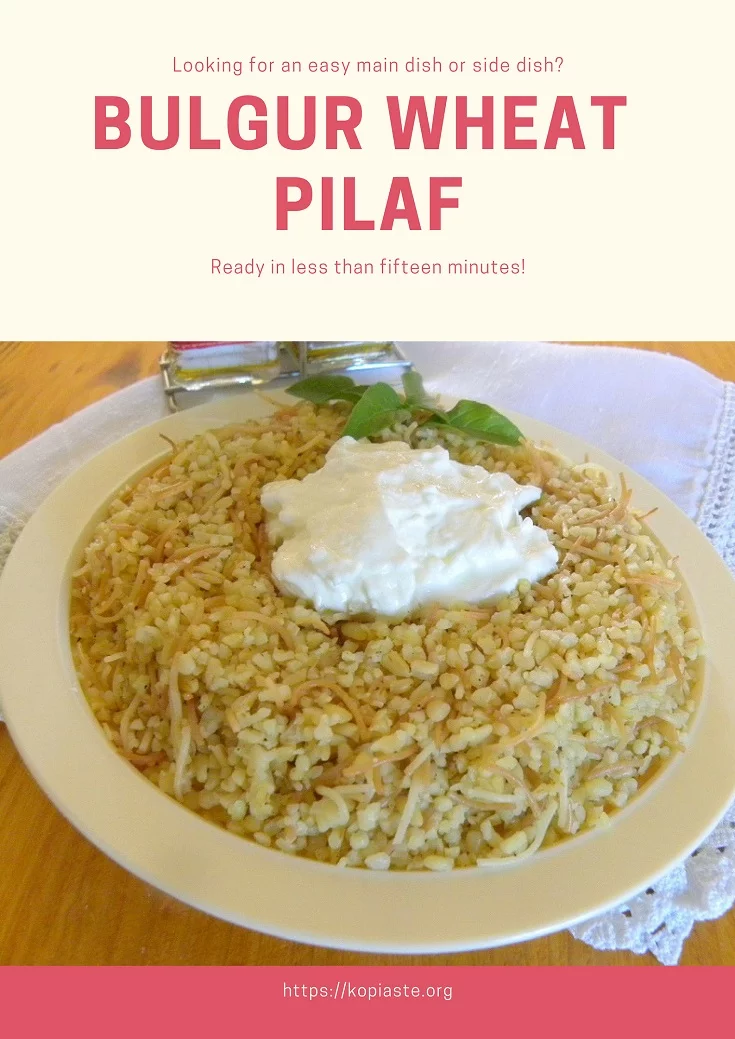 Kopiaste and Kali Orexi,