Briam is a Greek delicious and healthy roasted vegetables dish made with potatoes, carrots, zucchini, tomatoes, onion, garlic, lemon juice and extra virgin olive oil.
I also call it "clean up your fridge dish" as you can use almost any vegetables you like, but the above is the traditional way of making it.
This dish is usually served as a main dish with some feta but it also makes a great side for your main dish, especially fish. Se my recipe for Mylokopi (she drum) à la Briam.
I was not planning to post anything until tomorrow but I got up really early after the very strong earthquake we sensed today at 7.15 a.m.
Memories came back after the 1999 earthquake with epicentre Parnitha, near Athens.
After being assured by the mass media that no damages occurred anywhere in Greece and there would be no after earthquake shocks it was too late to go to bed again as we were still trembling.
I decided to distract myself by posting a recipe I had made a few days ago.
Briam is a very versatile Greek vegetarian dish and practically you can just use any vegetables when you want to clean up your refrigerator.
The main ingredients which I use are zucchini, carrots, potatoes, eggplants, onions, garlic, tomatoes, parsley, lemon juice and olive oil and seasoning.
However, briam can be made with any vegetable you like most, such as artichokes, mushrooms, peppers, okra, green broad beans, etc. and is usually served as a main dish but it would also make a wonderful side dish if you like.
If you want it to be more rich crumble some feta cheese in 20 minutes before the end.

Needless to say how delicious this dish is. The potatoes absorb all the wonderful flavours from the olive oil as well as from the vegetables added, which caramelize and mellow, giving a natural sweetness to this dish.
Ingredients needed to make Briam
Courgettes (zucchini)
Potatoes
Carrots
Onion
Garlic
Tomatoes
Extra Virgin Olive Oil
Lemon Juice
Salt
Pepper
Oregano
Pre-heat oven to 180C / 350F.
Let's see how to make Briam
Wash, peel and cut all the vegetables.
Season with salt, pepper and oregano.
Put them in a baking pan and mix.
Add olive oil and lemon juice and toss together.
Bake in a preheated oven until tender and crispy.
Serve with feta or with Greek Salad.
Briam (Greek baked vegetable medley)
Cook Time:
1 hour
30 minutes
Briam is a vegan, delicious and healthy Greek dish with vegetables which are baked in the oven.
Ingredients
400 grams zucchini (courgettes) (about 4 small ones) cut in rounds or julienned
5 medium potatoes, cut into wedges
3 carrots, cut into 5 - 6 cm sticks
1 large red onion chopped into slices
1 clove of garlic, cut into small pieces (optional)
2 ripe tomatoes, cut into slices
1/2 cup extra virgin olive oil
1/4 cup lemon juice
1 tsp oregano
1 tbsp sea salt
Freshly ground black pepper to taste
1/2 cup water (if needed)
Instructions
Preheat the oven to 180C / 350F.
Place all the vegetables in a large baking pan.
Season with salt, pepper and oregano and mix.
Add the olive oil and lemon juice and toss together.
Arrange all the potatoes to be the bottom layer and put the remaining vegetables on top.
Bake until tender and crispy for about 1 - 1 1/2 hours, according to your oven, stirring occasionally.
Do not add any water as the vegetables will extract a lot of juices. If at the end you see that the vegetables are sticking to the pan, add the water and turn off the heat.
Let them sit for ten minutes and then serve.
Notes
Optional ingredients:
Zucchini flowers (if any), artichokes, eggplants, peppers, mushrooms, cauliflower, etc.
Nutrition Information
Yield

4
Serving Size

1
Amount Per Serving
Calories

474
Total Fat

27g
Saturated Fat

4g
Trans Fat

0g
Unsaturated Fat

23g
Cholesterol

0mg
Sodium

1793mg
Carbohydrates

54g
Fiber

7g
Sugar

6g
Protein

6g
"These values are automatically calculated and offered for guidance only. Their accuracy is not guaranteed."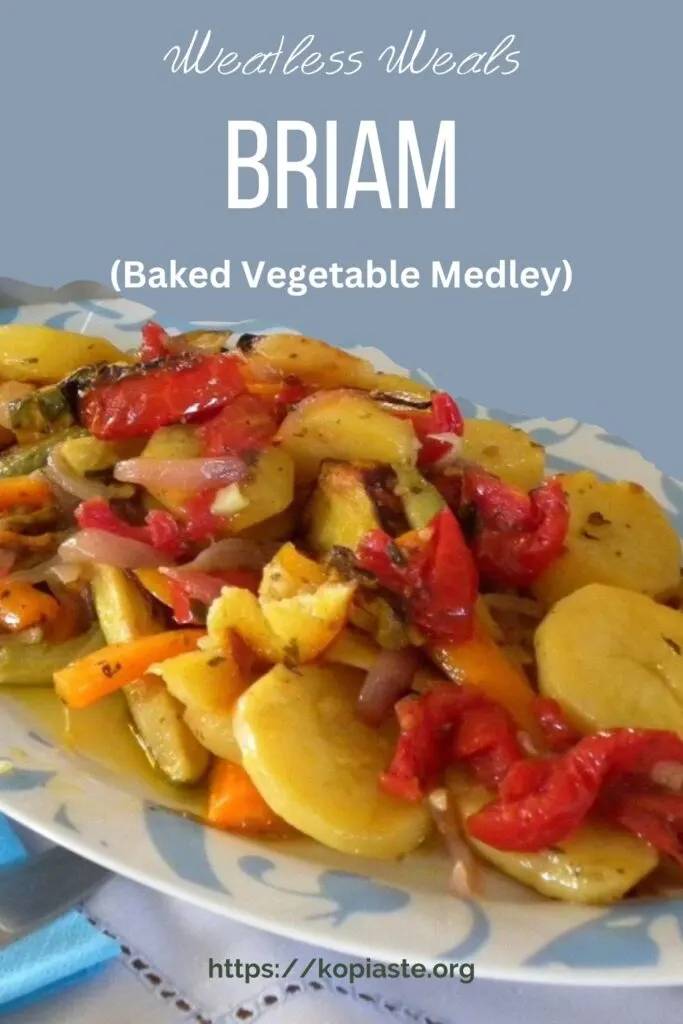 You can find my Greek recipes in my cookbooks «More Than A Greek Salad», and«Mint, Cinnamon & Blossom Water, Flavours of Cyprus, Kopiaste!» both available on all Amazon stores. Read more here.
Other related Recipes:
Milokopi (Shi Drum) à la Briam
Kopiaste and Kali Orexi,