Gyristarkes, from the Greek verb γυρίζω = turn, now commonly known as glystarkes or glistarkes, is a kind of grid-like crusty, sesame rusks.   The bread sticks are dipped into sesame seeds and then they are shaped beginning with a cross (as it had a religious meaning as well) and then other bread sticks are added round the cross and baked.  They were used during old traditions in villages, where the bride's family would invite guests to the wedding and hand a glistarka as an invitation or as part of the decoration of pumpkin or dried gourds (krasokoloka) which were used as wine containers during wedding ceremonies.  These gourds were hand crafted and elaborately decorated for special occasions.
The traditional glystarkes were made with only bread flour and fresh yeast, white sesame seeds and had a flavour of cinnamon, cloves and anise.  The first time I made them with the traditional ingredients and were shaped the traditional way.  They were quite close to the taste I remembered.
The recipe is a twist of my own to the original one.   In order to make them much healthier, I added whole wheat flour, demerera sugar and salt substitute, for mine, which were fine for me but the rest of the family wanted them more salty, so I added some coarse sea salt in the spice mixture for theirs.
Since then, I have made them many times, either as mini glystarkes or shaped like grissini in order to know which flavour was in each kind.
I've also made a lot of  combinations of spices mixed in the sesame seeds and they are so addictive you can't just eat one of these crunchy bites.
The recipe is included in my cookbook Mint, Cinnamon & Blossom Water, Flavours of Cyprus, Kopiaste!
I am sending these to Yasmeen, of Health Nut, for her event Guilt Free Snacks.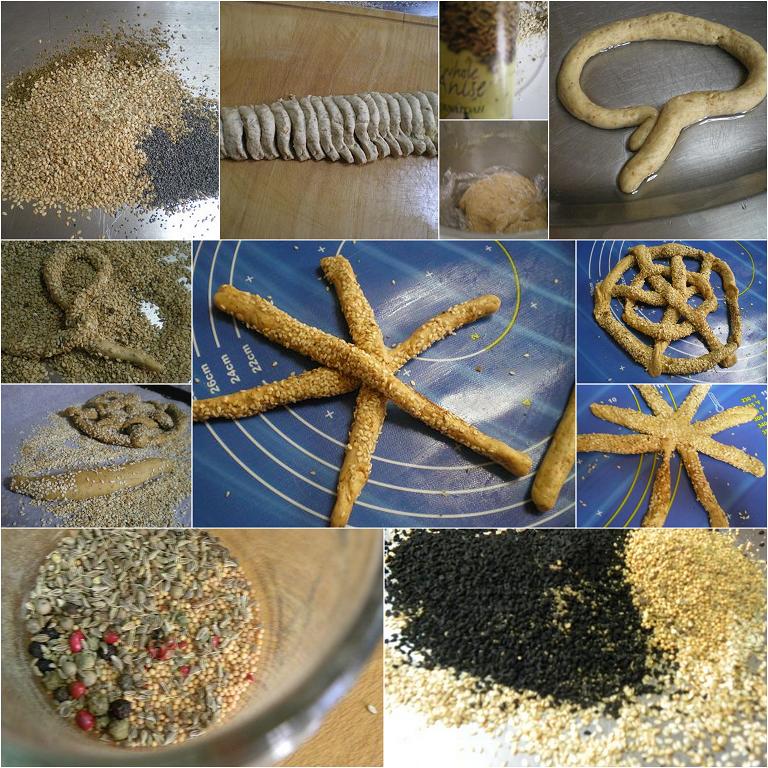 In some of them I also added some halloumi.
Finally, a guilt free smoothie which I prepare for my children who are always lazy to peel and eat fruit.   I add some Bee pollen which is a great source of vitamins, minerals, amino acids and more.  Bee pollen has an earthy taste which is not so pleasant by itself, so I camouflage it in the smoothie and add the vanilla essence to hide its taste 🙂
Healthy Smoothie

Ingredients for 3 glasses:

2 glasses of low fat milk
1 medium pear, peeled and cored
1/2 cup seedless grapes
1small apple, peeled and cored
1 tsp bee pollen
1 tablespoon Greek Honey
4 – 5 ice cubes
1/2 tsp vanilla essence

Directions

Put all the ingredients in a blender and start on low speed until the ice cubes break and then blend for a few minutes on high speed.
Enjoy!!!