Based on authentic Greek recipes and using only best quality ingredients, I will take you on a unique journey of flavours. Experience the Greek hospitality and learn to cook everything from scratch. A fun and interactive cooking class for any level of experience.
If you are visiting Nafplio (Peloponnese) and wish to learn to cook traditional Greek dishes, which includes Cypriot cuisine as well (upon request), you are at the right place.
My cooking classes are generally one day courses and are tailor made, depending on the time you have available. They can range from 4 – 6 hours.
This will include the preparation of a multi-course meal, which you will enjoy with amazing local wine or beer at the end of the class.
Private or Group Hands-on Cooking Classes in English
My mission is to make your culinary experience unforgettable by discovering local culture through gastronomy. You are welcome in my house where I will show you what Greek hospitality means.
I will show you how to cook healthy, traditional Greek dishes and you will experience real Greek home-cooked food, everything cooked from scratch, using the freshest ingredients available.
All my savoury dishes and some of the desserts are cooked from scratch, using extra virgin olive oil.
Each cooking session takes a minimum of 4 to 6 hours, depending on the number of dishes you want to learn, during which you will learn to cook some of the most known Greek dishes in a cozy and relaxed atmosphere.
During those sessions you will feel as if cooking at home together with a friend, while chatting and learning about Greek food, vegetables, herbs and spices, Greek traditions and much more.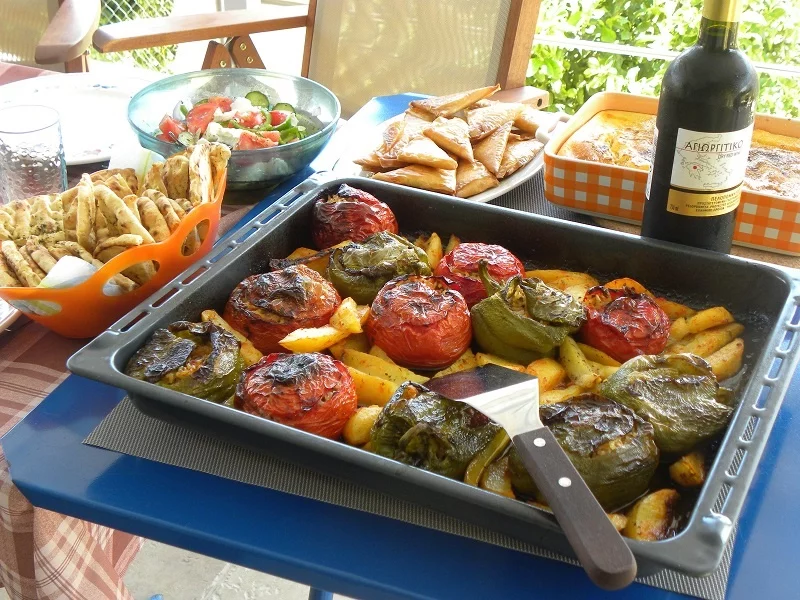 Menus will vary according to season and available fresh produces in local markets, but they usually consist of a main dish, an appetizer, a dip, a salad and a dessert. Vegetarian or vegan dishes can be requested.
If the cooking class is on a Wednesday or Saturday, we can visit the farmers' market together (whenever this is possible), buy the ingredients and then we'll cook what we have bought.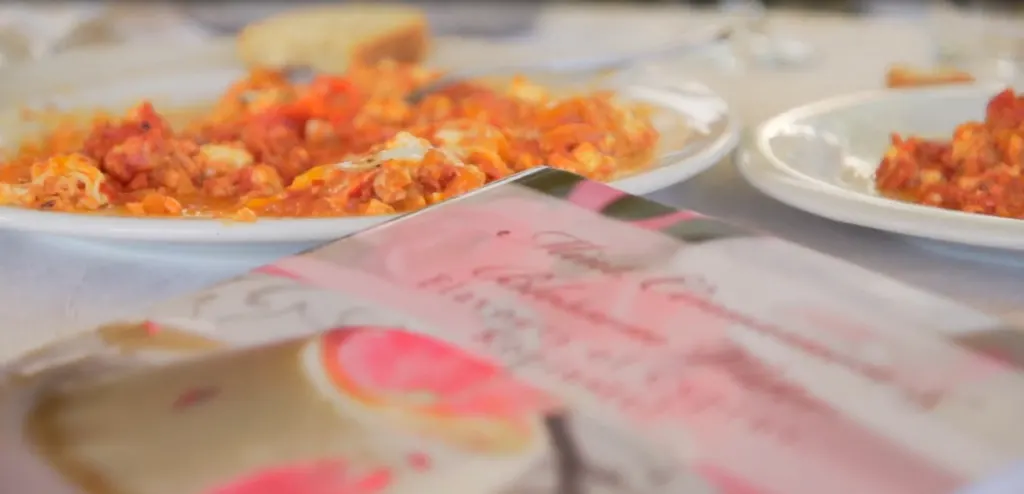 Enjoying a homemade meal instead of a cooking class
If you are not interested in a cooking class but only have time to enjoy a home cooked meal, this can also be arranged.
Everything will be ready for you to come and enjoy a meal, chat and learn more about traditional Greek food and Greek culture.
Most of you may not be familiar with Greek cuisine, apart from a few well known dishes like gyros (which is a street food), moussakas, spanakopita, Greek salad and tzatziki.
Well, Greek cuisine is More Than a Greek Salad, as explained in my cookbook.
Here are just a few dishes you can learn to cook. You can search these recipes on my blog:
Dolmades, lamb kleftiko, lamb bogana, moussakas, pastitsio, giouvarlakia, soutzoukakia, papoutsakia, keftedes, giouvetsi, gemista, spanakopita, tyropita, fassolada, etc.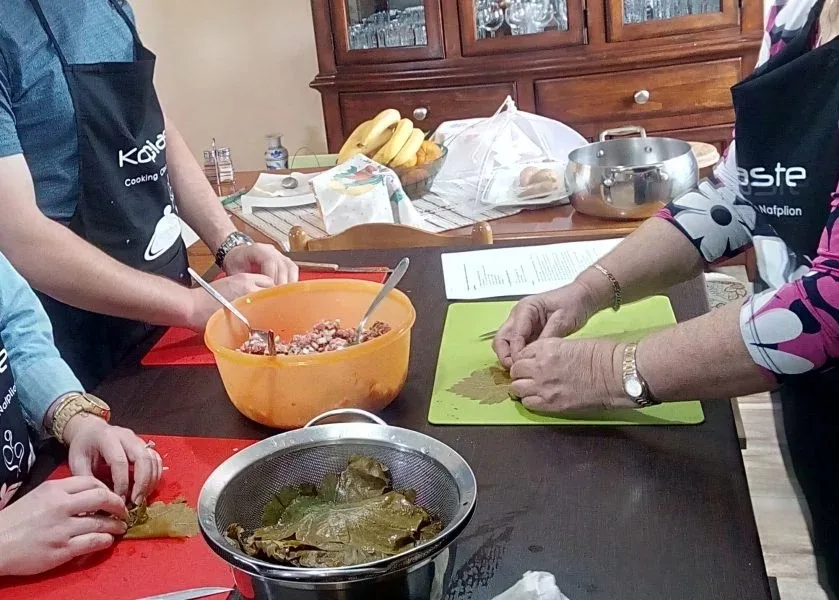 Here are some desserts such as galaktoboureko, baklavas, revani, loukoumades, ekmek kataifi, galatopita, etc.
The list is endless. Name it and you'll learn them in no time.
Upon confirmation of the cooking class, a detailed list with all the dishes will be sent to you, from which you can choose what you like.
When you go back home be sure that you will have learnt and be able to prepare a Greek themed dinner with many delicious dishes!
Our house is situated in Assini, a small village 7 km from Nafplio.
It is surrounded by citrus trees and in spring the intoxicating aroma of citrus blossoms will fill the atmosphere with its unique fragrance.
If you are lucky and visit during winter, you can pick and enjoy some mandarins and oranges from our trees or during Spring enjoy your lunch on the porch, with the air filled with the aroma of citrus blossoms!
For bigger groups, a cooking class can be arranged upon request.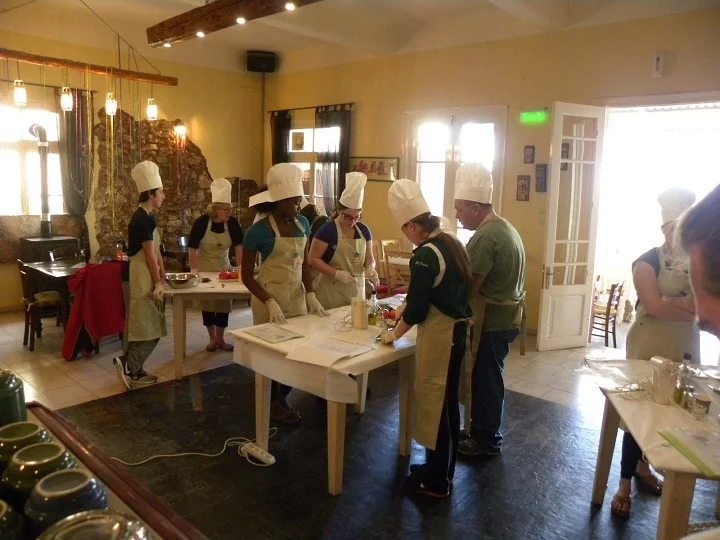 Whether you are travelling alone or with a bigger group, please drop me an e-mail or use the contact form and we can arrange a custom-made program for you.
My Greek cooking classes were elected as one of the top things to do while in Nafplion (Assini) by Trip Advisor.
Look forward to cooking with you!