On Sunday, before leaving Cyprus, we visited the church of Aghios Antonios, which is in the ex Turkish section of Limassol. It was the name day of Aghios Antonios (Saint Anthony), so there was also a panigyri outside the church, where I had the opportunity to find various products which I have not eaten for many years.
Aghios Antonios was our parish before the new church of Aghios Ioannis was built and was the church in which I was baptized and other members of my family got married. I have memories when I was very young and my mother would take me to church and the priest "Papa-Pefkos" had a lovely, stout voice which made you shiver hearing him chant.
The church is in the ex Turkish section of the city and you can see the mosque just behind the church bell tower.
As I have already written when it is the name day of a saint there is always a panigyri, which is a small fair around the churchyard with stalls selling local products.
My visit to Cyprus was fantastic. Although the weather was not very good, mostly cloudy and cold, I had a great time visiting my family and friends for a few days. The days passed so quickly and all the days were full, visiting most of my relatives and of course, eating and eating (and again eating) all the time.
Now that I am back, I would like to introduce you to some Cypriot products.
Some of my favourite Cypriot panigyri sweets are:
Lokmades or l oukoumades, which is yeasted batter, fried and then drenched in syrup.
Shiamishi, is cream wrapped in phyllo and fried.
Pompes, are made with a similar yeasted dough as loukoumades but with a different shape. They have probably taken their name, which means bombs after their shape.
Pischies are round pies with olive oil, sugar and cinnamon, which are fried and bathed in syrup or topped with honey.
Koupes are savory sausage-shaped snacks which are usually food in panigyria, but also in bakeries.
The outer shell is made from bulgur dough which are shaped into a tube and are filled with minced meat and onions and deep fried.
Some Cypriot Charcuterie:
Cypriot Sausages (Loukanika) are marinated in red wine flavoured with shinos, which comes from a shrub producing a berry, (similar to wild juniper berry) and are smoked.
Lountza is made from the pork tenderloin. After the initial brining with salt and coriander seeds, it is marinated in wine and then it is smoked. Although it can be aged, many prefer younger, milder lountza. It is often cooked over coals or fried with eggs as well as a sandwich filler or part of a mezes.
Chiromeri is stronger than lountza and is made from the leg, which is similar to any smoked, air-dried ham, although the wine flavour makes it characteristically Cypriot.
Beef Pastourmas
Tsamarella is a unique product made of aged goat meat, which is covered with salt and orenogo and dried in the sun.
Other traditional products you can buy at the panigyri: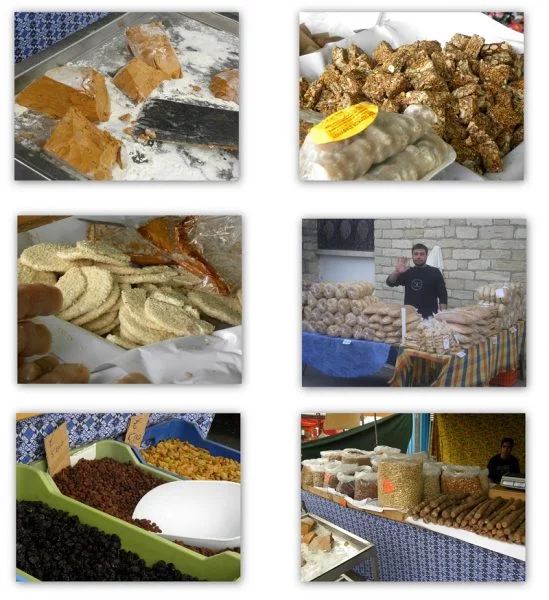 The products you can see in the collage from top left are:
1 – 2) Two types of pastelli: one made from carobs and the other with nuts.
3 – 4) Sisamopites, these are sweet candy made with sesame seeds which are sweetened with either carob syrup or grape syrup or honey or sugar and Arkatena, which are bread products made from a chickpeas extract, used as yeast. The bread is flavoured with mahlep, cinnamon, nutmeg and rose water with a hint of sugar. Very flavourful and tasty, the crunchy rusks are light and crispy and melt in your mouth,
5 – 6) Dried fruit, such as figs, apricots, prunes etc andNuts, such as almonds, walnuts, hazelnuts, peanuts, pistachios, etc. as well as Shoushoukos made from grape juice.
9 – 10) Trahanas which is made with cracked wheat and fermented milk and dried, is used to make the soup with the same name and Shoushoukos.
11 – 12) Nuts and Coriander seeds.
Some every day household objects such as hand woven baskets, sieves, pestle and mortars, bread molds, etc.
Louvana
Until recently, I used to think that louvana, was the same as yellow split peas (pisum sativum) or Greek fava (lathyrus clymenum). However, I was informed by Prof. Tania Valamoti, Assistant Professor, Dept. of History and Archaeology, at the Aristotle University of Thessaloniki, that Louvana is not yellow split pea but Lathyrus Ochrus, also known as Cyprus Vetch. After some searching, I found some pictures of the plant and that reminded me that in Cyprus, when the plant is still young and the leaves tender, we used to eat it raw or make a salad, which is again named "louvana" especially during Kathara Deftera (Cleen Monday).
Below you will see some photos of food I've prepared in the past with Cypriot products, which however are not published on the blog as the recipes are included in my Cypriot cookbook:
Soupa Louvana (Soup with the above vetch)

A few days ago I cooked Soupa Louvana, my way. The traditional way to make louvana is to boil the vetch until it is soft with rice and make the soup. It is served with "tiganissi" (fried onions) and lemon juice.
Louvanosalata
Louvanosalata is a dip I made with this vetch. In Greece there is a dip made with a different vetch called "fava" (lathyrus clymenum) but the one I made had nothing to do with the Greek fava dip as it was a total new recipe of mine.
Last night I made a toasted sandwich using Arcateno Bread, filled with halloumi, lountza and tomato.
Fussili ala Cipriota
Today I did not want to spend the time in the kitchen as I also had to visit the dentist, so I prepared a pasta dish and used some of the pesto which I made during the summer and of course used some lountza and halloumi I brought from Cyprus.
Moungra
Moungra is pickled cauliflower made by a unique method of fermentation.
All the recipes are included in my cookbook Mint, Cinnamon & Blossom Water, Flavours of Cyprus, Kopiaste!
Kopiaste and Kali Orexi!