Arakas laderos is a Greek, vegan or Lenten dish, with peas, carrots, potatoes and herbs cooked, in a rich olive oil-tomato sauce.
The modern Greek word is αρακάς (pr. ah-rha-KHAS). Mpizeli in Greek μπιζέλι (or pizeli as it is pronounced in Cyprus), comes from the italian word pisello – in latin pisellum pisum a name which originally was Greek from the ancient Greek pissos – pisson (αρχαία ελληνική πίσος ή πίσον (αντιδάνειο) and borrowed back from us.
The word arakas is also from the ancient word "arakos – άρακος) probably from an ancient word of Asian origin.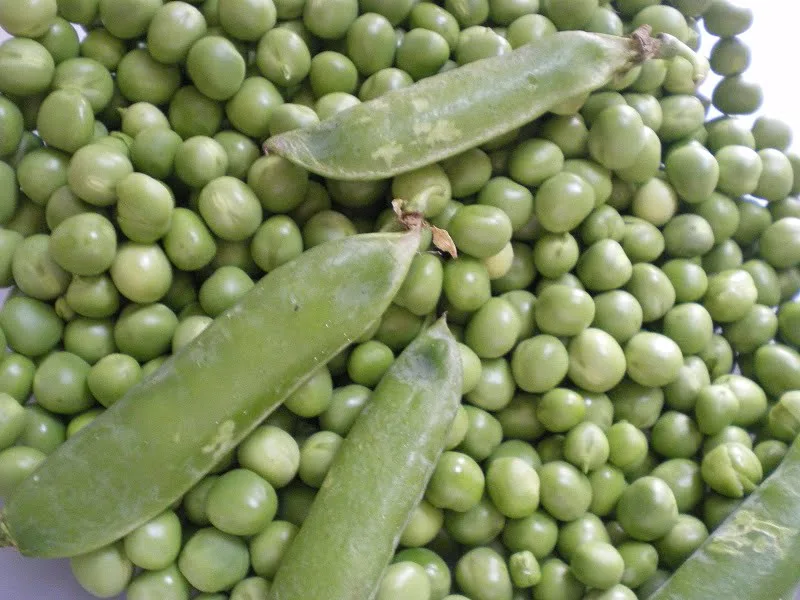 Laderos, meaning "oily", are our Greek vegan or vegetarian dishes and can be anything with seasonal vegetables, cooked with olive oil, because olive oil is their main condiment.
One of the Greek ladera I love very much is arakas.
Peas and carrots is one of the Greek staple foods I love very much which only needs a few ingredients but as this is a versatile dish, each time I make it I find myself adding different ingredients.
Although during the summer I use fresh peas, I cook it year round using frozen peas, which is equally good and nutritious and much more easier 🙂
Although olive oil is very healthy, it is high in calories, so I have learned to reduce the amount of olive oil considerably, making the dishes lighter and healthier.
I've seen many recipes using sugar in recipes with tomato sauces but I never or rarely use sugar in sauces and if it is needed I prefer to use honey instead.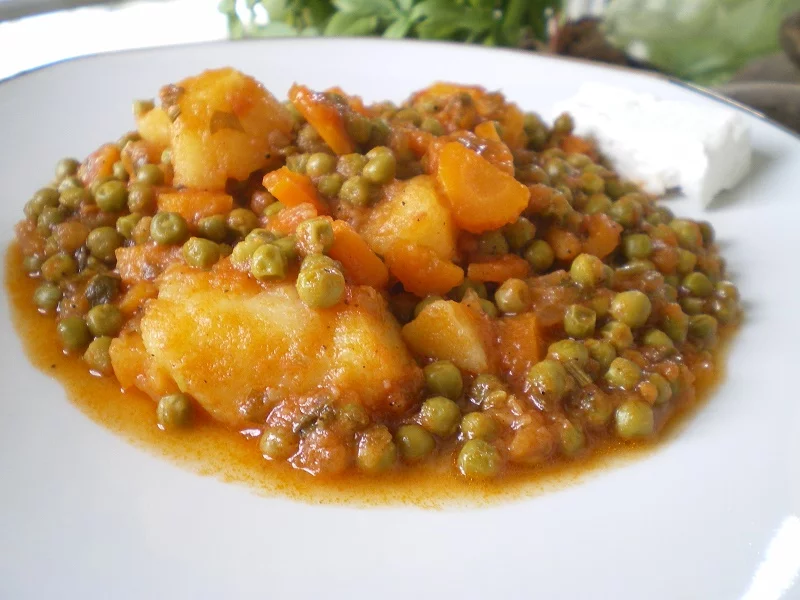 In this dish no sugar or honey is necessary as it will be so sweet from the carrots that people eating it may think that you may have added either sweetener.
This is a very versatile dish and each time I make this dish I find myself adding different herbs and vegetables, such as potatoes, garlic, spring onions, or fennel fronds, depending on what I have on hand.
Arakas laderos (Greek Stewed Peas)
Arakas laderos is a Greek, vegan or Lenten dish, with peas,
carrots, potatoes and herbs cooked, in a rich olive oil tomato sauce.
Ingredients
800 grams fresh peas or 500 grams frozen peas
1/4 cup olive oil
1 onion, finely chopped
1 clove garlic, finely chopped
1 - 2 potatoes, cut in small cubes (optional)
3 - 4 medium carrots, peeled and shredded
4 ripe tomatoes or 500 grams tomato passata
2 cups water
Salt and freshly ground black pepper, to taste
½ cup of parsley, finely chopped
¼ cup dill, finely chopped
Instructions
Heat the olive oil in a pot and sauté the onion until translucent and soft.
Add the garlic and sauté for a few seconds until fragrant.
Add the fresh or frozen peas (no need to thaw) and stir for 2 minutes.
Add carrots (and potato if added) and season with salt and freshly ground black pepper.
Add tomato purée and water, reduce heat and simmer until cooked, for about 45 minutes, stirring occasionally. Add more water if necessary, especially if adding the potato.
Five minutes before the end add the parsley and dill and mix.
Serve with Greek feta which is a must for all "ladera" dishes and crusty bread to mop up the delicious sauce.
Notes
For all stews I use fresh ripe tomatoes during the summer but during the winter I use tomato passata and sometimes I add some tomato paste, as well. Both are equally good.
Nutrition Information
Yield

6
Serving Size

1
Amount Per Serving
Calories

222
Total Fat

10g
Saturated Fat

1g
Trans Fat

0g
Unsaturated Fat

8g
Cholesterol

0mg
Sodium

145mg
Carbohydrates

29g
Fiber

8g
Sugar

10g
Protein

7g
Kopiaste and Kali Orexi!