Patates Lemonates (pr. pah-TAH-tess lae-moh-NAH-tess) or roasted potatoes is one of the most popular side dishes in Greek cuisine.
The traditional recipe is usually made with big potatoes, cut into long wedges, (or whole baby potatoes), cooked with olive oil, salt, pepper, oregano, lemon juice and water.
Cooking for a family of five involves a lot of cooking and baking and it is sometimes difficult to please them all.
A winner dish in my family is patates lemonates sto fourno, which is a side dish you can serve both with meat of fish and some people even love it as a main dish with a salad, especially during lent.
In this recipe I have peeled the potatoes, because a family member doesn't like them that way, but they are even better, if you leave the skin on.
The reason you should leave the skin on is that all the vitamins of the potato are in the skin as also much more flavour.
See also my other recipe for Greek Lemony Potatoes my way, which is a twist of this recipe, much more flavourful!
Another way of making these potatoes are to parboil them for 15 – 20 minutes, then put them in a baking dish with all the ingredients and then roast them.
Baked Potatoes in Parchment Paper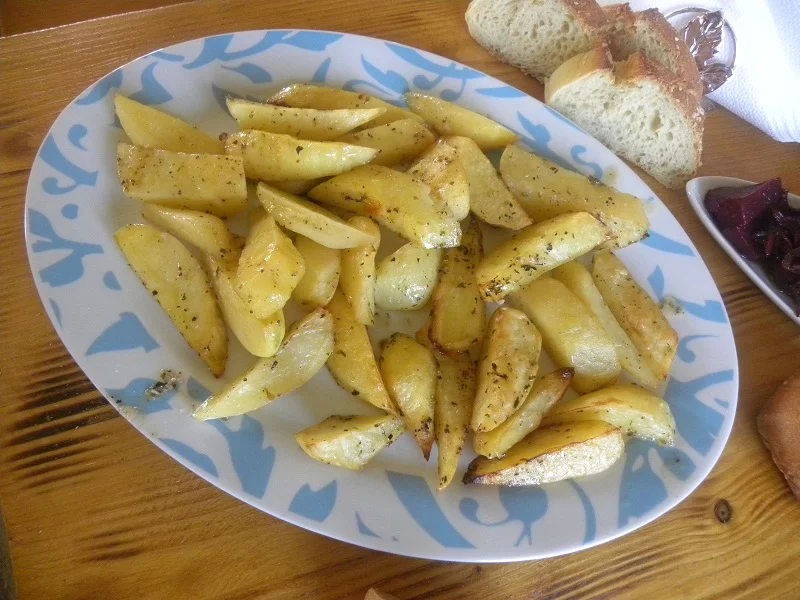 Some times, when I am on a diet, instead of making this side dish or instead of making fried potatoes, I cook them wrapped in parchment paper, which are equally delicious, healthier and with less calories.
They are a nice side dish to baked fish, pork chops or mpifteki, which is a meat patty similar to a burger.
Lemony roasted potatoes, in parchment paper
Preparation time: 5 minutes
Cooking time: 1 hour 30 minutes
Serves: 4 – 5
Ingredients:
5 medium potatoes (1 potato per person)
4 tablespoons lemon juice
3 tablespoons olive oil
1 tablespoon oregano
Salt
Freshly ground black pepper
2 – 3 tablespoons water
Directions:
Peel, wash and cut the potatoes in the middle and then cut each half into three or more wedges, depending on the size of the potatoes, about 2 cm thick.
Sprinkle with salt, pepper and oregano. Add the lemon juice, olive oil and water and mix them well.
Wrap them in parchment paper and then in aluminum foil.
Bake in a preheated oven at 180 degrees C / 350 F for 1 hour.
Open the parchment paper and continue baking until they have a golden colour.
Add more water, if necessary.
Patates Lemonates sto fourno (Greek lemony roasted potatoes)
Cook Time:
1 hour
30 minutes
Total Time:
1 hour
45 minutes
Patates Lemonates (pr. pah-TAH-tess lae-moh-NAH-tess) or roasted potatoes is one of the most popular side dishes in Greek cuisine.
Ingredients
5 medium sized potatoes, cut into wedges (or 15 baby potatoes)
1 tbsp oregano
1 tbsp sea salt
Freshly grated black pepper
1/2 cup olive oil
1/4 cup lemon juice
3/4 cup water
Instructions
Preheat oven to 180° C.
Peel, wash and cut the potatoes in half. Take each half and cut it diagonally into 2 cm. wedges.
(If using whole baby potatoes, make a slit in the centre).
Put them in a baking dish in one layer and season with salt, freshly ground pepper, oregano and mix.
Add the olive oil, lemon juice and enough water to cover the potatoes to the middle.
Cook for about one hour.
Turn the potatoes over and continue baking until roasted on top.
If we notice that they are sticking to the baking dish, just add some more water (about 1/2 cup).
Nutrition Information
Yield

5
Serving Size

1
Amount Per Serving
Calories

357
Total Fat

22g
Saturated Fat

3g
Trans Fat

0g
Unsaturated Fat

18g
Cholesterol

0mg
Sodium

1418mg
Carbohydrates

38g
Fiber

4g
Sugar

2g
Protein

5g
Kopiaste and Kali Orexi!