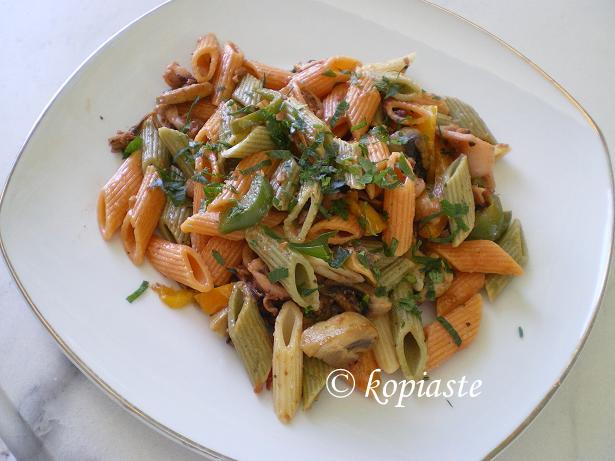 As quick and easy as my dish is, I shall also make a quick post as we are leaving for a few days. We are going to Sparta to our relatives and shall be back next week.
Yesterday, morning we left for the Lake without preparing anything for lunch, so on our way back we stopped at a big supermarket. I wanted to buy some fresh fish, which would be easy to grill but I didn't like what I saw, nor did I like the meat. Instead I grabbed some baby kalamari, mussels (or is it clams, I am not sure of the difference because in Greek they are both called μύδια? I think they are mussels because they were orange in colour) and scallops and for pasta I chose penne.
When we came back I made a quick google search with the four ingredients and found this recipe. I had no sun dried tomatoes or shrimps or fresh basil. Why would I add heavy cream in a nice light dish like pasta? And why add chicken broth in a fish recipe? Although I had some heavy cream home I skipped this ingredient.
All seafood ingredients were frozen and I did not have a lot of time to thaw them. The scallops and mussels (clams?) it was easy to get half of the quantity from the package. The kalamari gave me a hard time as there was too much ice but with a sharp knife I managed to cut half the quantity and put all in a bowl with water. By the time I had my shower and washed the swimming costumes and towels the ice melted.
This is my version, which turned out great. However, if you like the original one you can still do it.
Preparation time: 10 minutes
Cooking time: 20 minutes
Serves: 5
Ingredients:

500 grams of penne tricolore


250 grams of baby kalamari, cut in small pieces

1 cup of clams or mussels

1 cup of scallops

1/4 cup olive oil

2 ripe fresh tomatoes, peeled and grated

1 clove of garlic, chopped

1 small onion, chopped

½ cup of white dried wine

1

cup of

red

, green, yellow

pepper

s

, sliced

7 button mushrooms (agaricus bisporus)
1 cup of bell peppers, cut julien (various colours)


½

teaspoon dried oregano

½ teaspoon dried basil

A pinch of sea salt

Freshly ground pepper

A few tablespoons of finely chopped parsley
Directions:
In a large skillet add olive oil reserving a few tablespoons.

Sauté onion and garlic and add seafood.

Saut

é

again for a few minutes and add wine.

Meantime peel the tomatoes and after blending add to the skillet and mix.

Add oregano, basil, salt and pepper.

Cover with lid and simmer for about 20 minutes until seafood remains with just a little sauce.
Meantime boil water, add salt and cook pasta, al dente, according to the package.

Twenty minutes is more than enough.
While pasta and seafood are cooking, in a separate non stick frying pan add the remaining oil.

Clean mushrooms with kitchen paper, chop and saut

é

them. Add the peppers

and sauté

for a few minutes as well and remove to the platter.

When pasta is cooked, drain and mix with the seafood in the skillet. Finally add the mushrooms and peppers and mix. Serve with some parsley on top.



As lots of children are not fond of mushrooms and peppers, remove some after mixing pasta and then mix in the peppers and mushrooms, for the remaining family.
Have a nice weekend!!