These vegan chickpea burgers (Nistisima Mpiftekia Revithion), are packed with spices and herbs, very healthy and seriously satisfying!
This dish was made long before we left for Athens. I had leftover Revithia Giahni (stewed chickpeas), and we still had some of these zucchini in our garden, so I combined them and made these delicious burgers.
After being in Athens for fifteen days we are back to Assini temporarily as we have a few things we need to do here before going back to Athens again.
The weather forecast looks good for the days we will be here so we did not miss this opportunity and went swimming at Tolo yesterday.
The temperature is around 20o C, not bad for November, but the water although cool was quite pleasant and I can assure you that there are days during summer, when the water is much colder.
Nothing goes wasted in my kitchen, so instead of eating the same meal over and over again I added a few more ingredients and made something totally different.
The addition of zucchini not only makes them soft and fluffy but it is also a huge bonus if you want you children to eat more veggies.
The addition of bulgur, instead of flour or bread crumbs, apart from adding flavour, helps absorb all the fluids.
In a few days the Nativity Fast period will start so for my Orthodox readers these burgers are vegan. On other occasions some crumbled feta can also be added in the burgers.
I am sure your kids will love them, especially if you serve them in a bun and you will be so happy that they have eaten this delicious and healthy dish.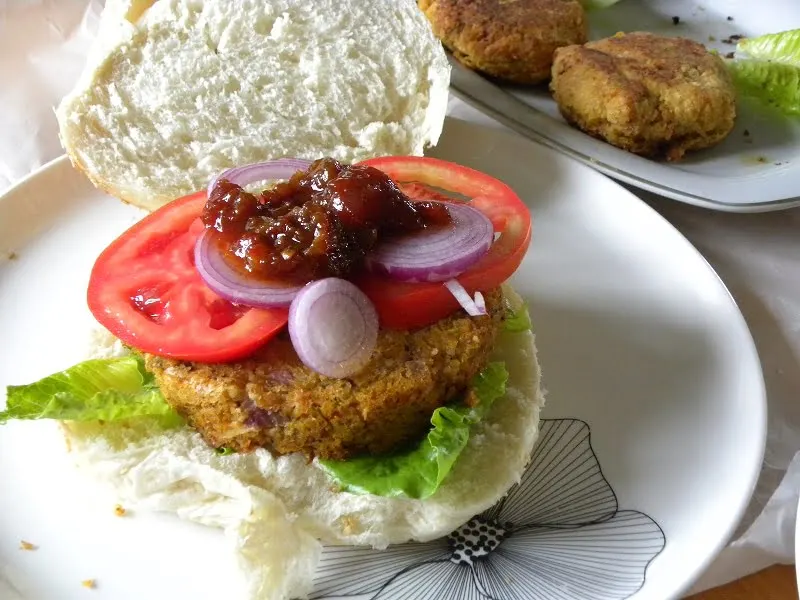 If you are conscious about calories and don't want to fry them, you can also cook them in the oven.
Line a baking tin with parchment paper and bake in a preheated fan forced oven to 140o C for about 35 – 40 minutes, until golden on top. You do not need to turn them over.
Another way to cook them in the oven is to use small ceramic, oven safe, shallow bowls.
Just brush them with olive oil, add the mixture and bake as above. They come out easily and with a salad you have a filling, healthy and delicious meal.
These Greek vegan chickpea burgers (Nistisima Mpiftekia Revithion) are packed with spices and herbs, very healthy and seriously satisfying !
As I have already informed you, my blog has been nominated by BHMAGourmet for an award, in the category "Best Greek cooking in English". If you like my recipes and have not yet voted, you can still vote for my blog until the 14th of December, 2015, here.
We still have to participate in two challenges which will be judged by a committee. One of the challenges is to make frugal recipes which are nutritious and full of flavour and the other category is to make good use of our leftovers, so my today's recipe falls in that category. More recipes with leftovers will follow, so stay tuned and keep voting 🙂
You can find my Greek recipes in my cookbooks «More Than A Greek Salad», and«Mint, Cinnamon & Blossom Water, Flavours of Cyprus, Kopiaste!» both available on all Amazon stores. Read more here.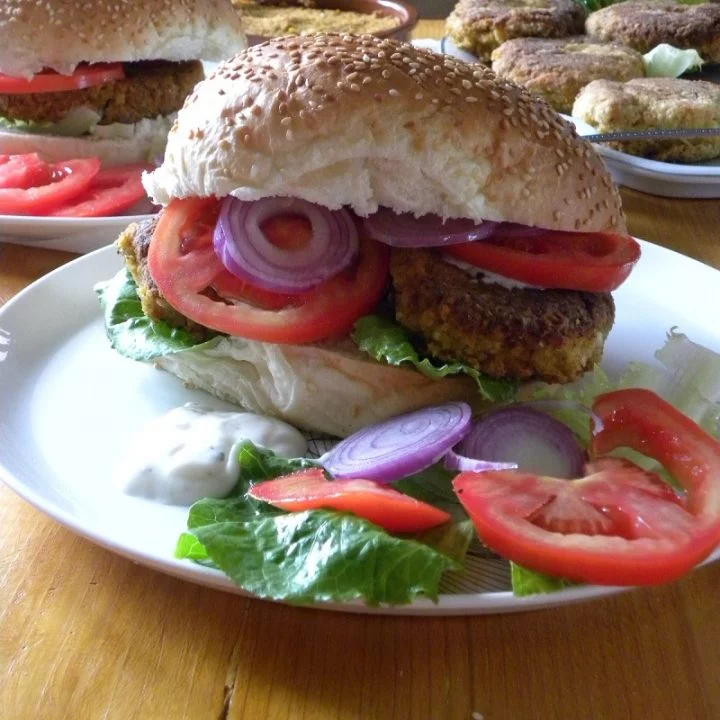 Vegan Chickpea Burgers with Zucchini and Bulgur
Cook Time:
1 hour
15 minutes
Total Time:
1 hour
30 minutes
These vegan chickpea burgers are packed with spices and herbs, very healthy and seriously satisfying !
Ingredients
2 cups leftover cooked chickpeas, from chickpea stew (or use canned chickpeas)
1 large onion, grated
1 garlic clove, mashed
225 grams zucchini (3/4 cup when drained) or 2 medium zucchini
2 tbsp olive oil (if needed)
1 tbsp salt
Freshly ground black pepper
½ tsp cumin
¾ cup Bulgar wheat
2 tbsp all purpose flour
1 tbsp spice mixture
1 tbsp dried mint
1/4 cup parsley, finely chopped
More flour to dredge them (about ¾ cup)
Olive oil for frying (about 1 cup)
Instructions
Grate the zucchini. Put it in a colander and sprinkle with some of the salt. Let it drain for half an hour. Squeeze out any excess water.
Put the onion and garlic in a food processor and puree. If needed, add the 2 tbsp olive oil.
Remove the onion in a bowl as well as the grated zucchini.
Pulse the chickpeas in the same food processor. They should have a little sauce but if they are dry add a couple tbsp water to help them pulse.
Add salt, pepper, cumin, spice mixture, mint, parsley and bulgur and mix well.
Cover with a lid and store in the refrigerator for at least half an hour in order that the bulgur may absorb the humidity from the ingredients added.
Mix in the 2 tbsp flour.
Form them into burgers.
Heat the olive oil and fry burgers on both sides until golden.
Slice each bun in half. Place bottom side on the toaster and toast for a couple of minutes until they are lightly toasted. Place some lettuce on half of the bun, then the burger and top with your choice of accompaniment. I added slices of tomatoes and onions and served them with homemade tomato chutney and garlic sauce.
If you want to bake them, line a baking tin with parchment paper and bake in a preheated oven to 140oC for about 35 – 40 minutes or until golden on top. There is no need to turn them over.
Alternatively brush a 13 cm diametre ceramic bowl with 1 tbsp olive oil. Put some mixture in the bowl and flatten it. Bake as above.
Meantime cut the bun in the middle. Toast the lower part for a few minutes to warm it up (optional) add some lettuce, the burger on top and dress your burger with your favorite toppings such as, tomato, onion and avocado.
I served mine with homemade Tomato Chutney and if not vegan you can also add some Garlic Sauce with Basil.
Nutrition Information
Yield

9
Serving Size

1
Amount Per Serving
Calories

204
Total Fat

7g
Saturated Fat

1g
Trans Fat

0g
Unsaturated Fat

5g
Cholesterol

0mg
Sodium

850mg
Carbohydrates

30g
Fiber

5g
Sugar

4g
Protein

7g
Chickpea Recipes
Chickpeas are one of my favourite legumes which I cook quite often in many variations. Here are a few examples.
Kopiaste and Kali Orexi,