Louvi is a traditional Cypriot dish of black eyed peas, cooked with silverbeet (chard).
Although the word "louvi" is ancient Greek from lovion, plural lovia (λόβιον, πλ. λόβια), in Greece this word is not used any more. Instead the word "mavromatika" is used.
If the recipe you're looking for is for the fresh louvi with kolokoui (marrow) you will find the recipe in the link I posted earlier.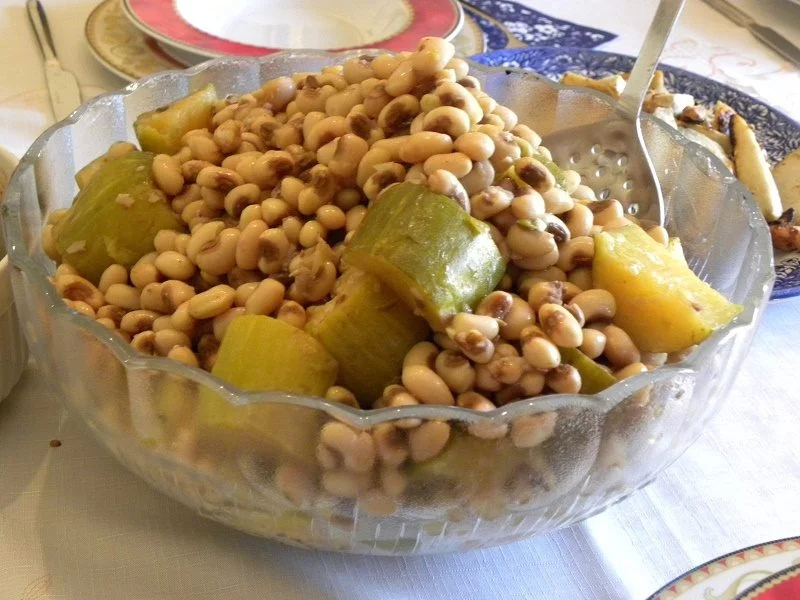 The Cypriot recipe is quite simple as blacked-eyed peas are cooked until almost soft and the silverbeet (chard) is then added and cooked along. It is served with extra virgin olive oil and lemon juice.
My recipe is a bit different with more complex flavour.
What I do is I boil the black eyed peas until almost soft and drain them. I then saute an onion until translucent, add the garlic and silverbeet and put the black eyed peas back in the pot.
I then add finely chopped parsley, dill and lemon juice in which I dissolve a little bit of flour.
The end result is a dish with a very aromatic lemony sauce.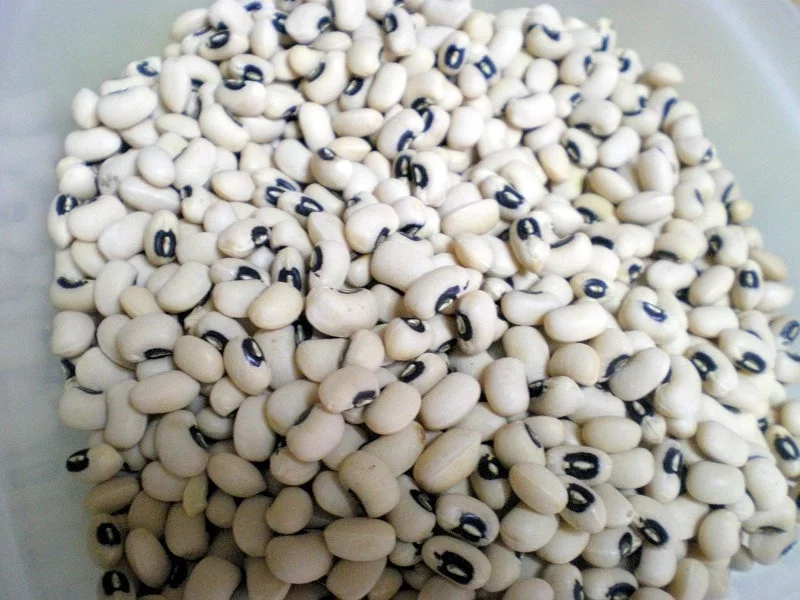 In Cyprus the dried ones are called louvi xero and and when they are still green and tender they are called louvi fresko, whereas in Greece they are called ambelofassoula.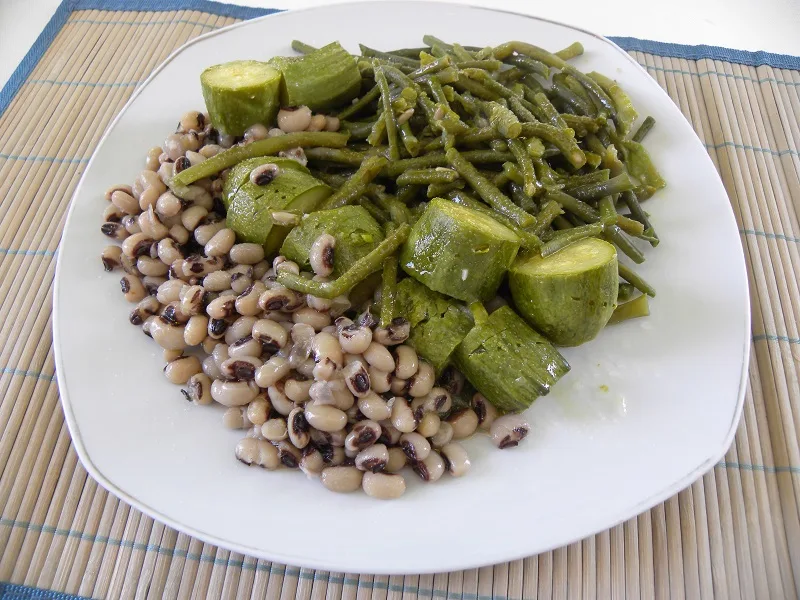 Fresh black-eyed beans (Louvi fresko) can be eaten as a main dish but also as a salad to accompany other dishes.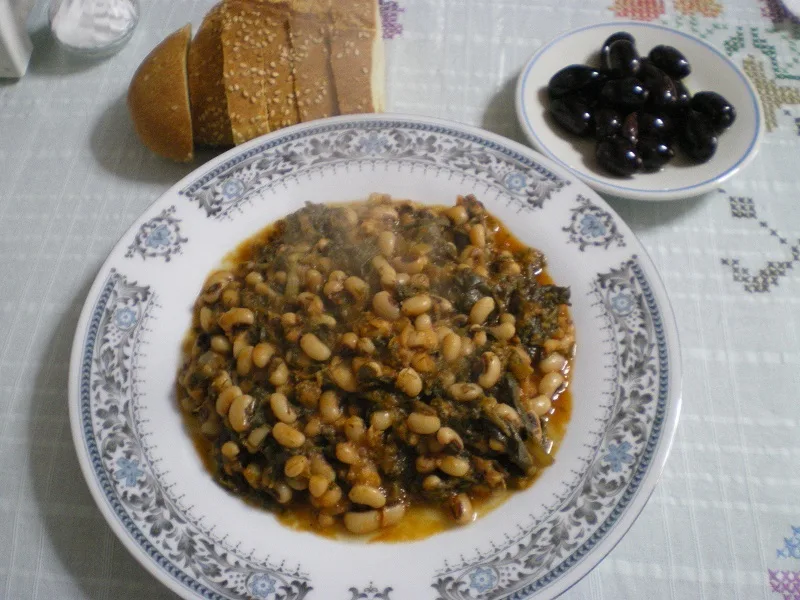 Louvi xero can be eaten as a stew with silverbeet or chard but also as a salad.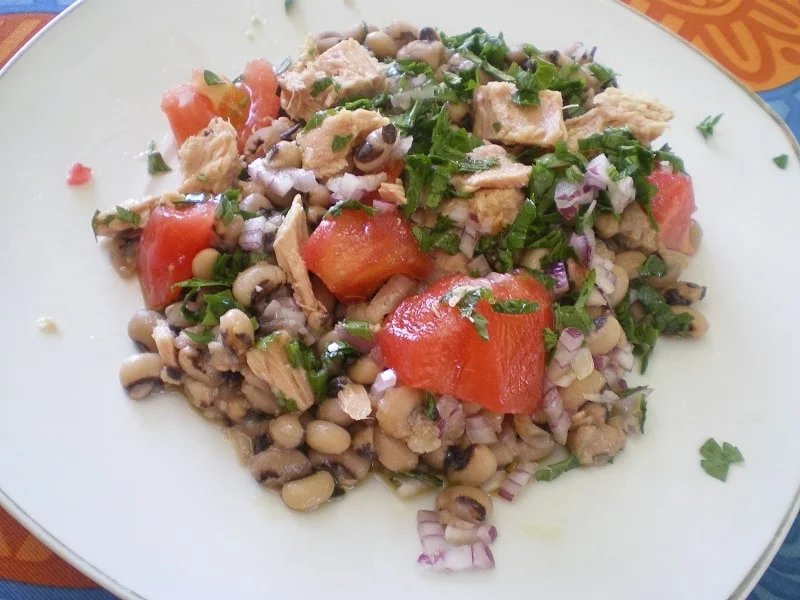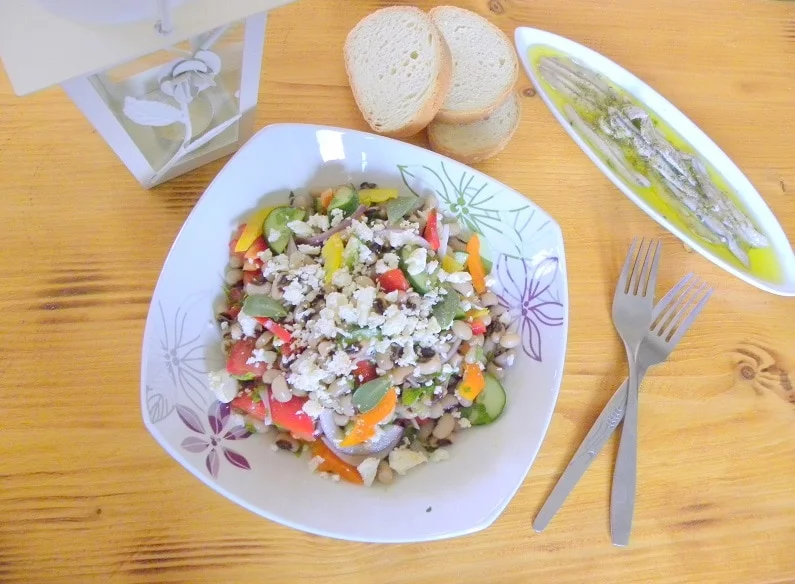 A different Greek Salad with Black-eyed Beans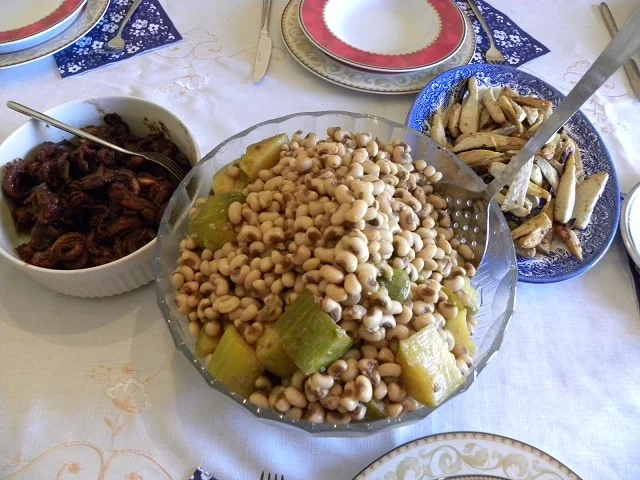 Fresh Louvi me Kolokoui (a special variety of Marrow). On the right side there is a platter with "poulles". Poulles are baby taro (kolokassi).
Black-eyed Beans with Leafy Greens and Quinoa
Dried legumes are among the most nutritious foods available, because they are a good source of protein and can be a healthy substitute for meat, (which of course, has more fat and cholesterol than dried legumes).
Now that I am strictly following the Mediterranean Diet, I make it a point to prepare and serve dried legumes, at least once a week. I am steadily losing about 1 kilo a week and that is a great achievement for me.
Black eyed beans are considered nutritious with a protein content of about 23%, fat content of 1.3%, fiber of 1.8%, carbohydate content of 67% and water content of 8-9%.
As in most legumes, the amino acid profile complements cereal grains. It also contains nictinic acids, vitamins A, B1, B2 and C; and is an excellent source of calcium and folate.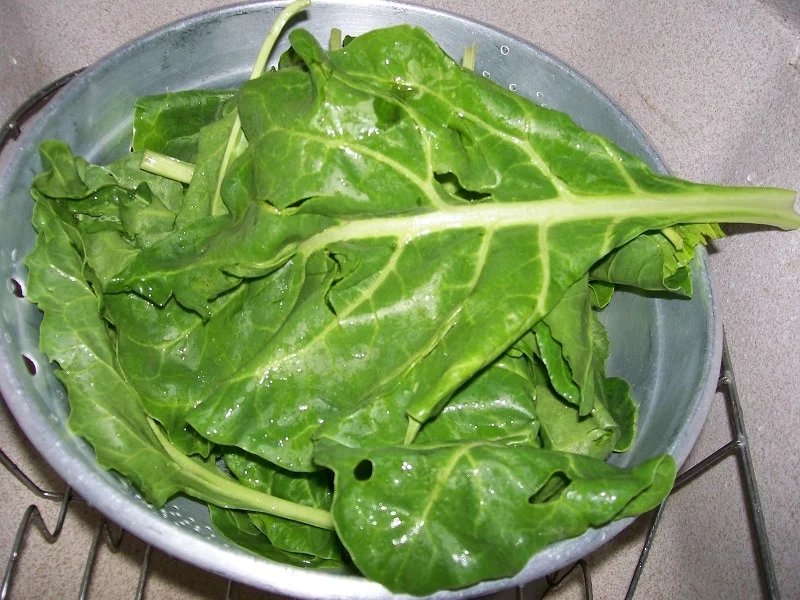 The properties of Chard are so many that I will have to write all day. They are rich in vitamins Κ, Α, C, Ε.
They are also rich in antioxidants, magnesium, potassium, iron, fiber and if you would like to learn more, please read the link provided to learn about its other properties.
Matched with the black eyed beans, which are rich in protein, olive oil and all the other ingredients contained in this dish you can understand how healthy and nutritious this is.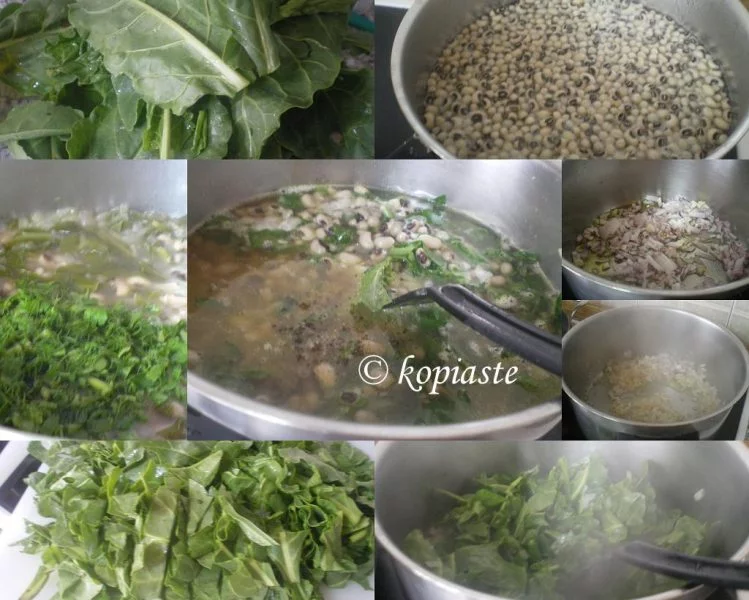 My mother used to cook Louvi me Lahana and to be frank I did not like it very much.
I am not sure exactly how she cooked it but I am sure that she did not sauté the onion and she definitely did not add garlic.
She probably just boiled the beans with the chard and when serving we added olive oil and lemon juice.

I am sending this recipe to Tobias, of Tobias Cooks for his 8th Mediterranean Cooking Event: Cyprus.
For those of you reading my blog for the first time, you may find out about The Mediterranean Diet and find more Healthy Recipes.
Also in my Cookbook More than a Greek Salad, which is more than a cookbook, as in there you will find all you need to know about the Mediterranean Diet, plus 250 healthy Greek recipes, as well as a selection of recipes with with their calories to choose from, in order to program your diet plan.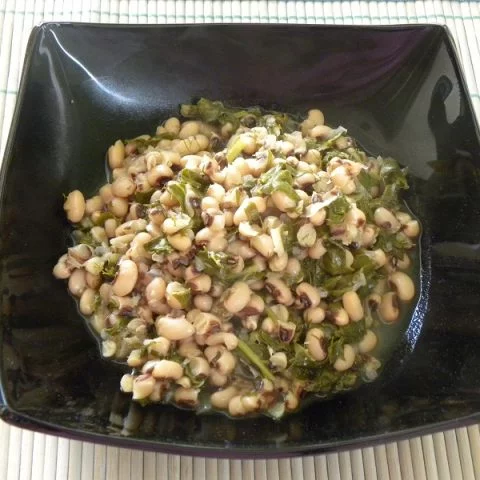 Louvi – Black eyed Peas
Total Time:
1 hour
15 minutes
Louvi is a healthy traditional Cypriot dish of black eyed peas, cooked with silverbeet (chard) and served with extra virgin olive oil and lemon juice.
Ingredients
250 grams black eyed beans
1 bunch of silverbeet or chard (about 3 cups)
1 medium onion, finely chopped
1 spring onion, finely chopped
1 clove garlic, finely chopped
1/4 cup olive oil
2 – 3 tablespoons parsley, finely chopped
1 tablespoon, dill or fennel fronds
Salt (with moderation)
Freshly ground black pepper
4 cups water
1/3 cup lemon juice
1 tsp flour
2 - 3 tbsp parsley, finely chopped
1 tbsp dill, finely chopped
Instructions
Put blackeyed beans in a pot with water and boil for 15 minutes and drain.
Meantime, wash and cut silverbeet in smaller pieces.
Sauté the onion and garlic with olive oil and then add silverbeet and stir.
Add the black eyed peas and season with salt and pepper. Add water to cover all ingredients.
Bring to boil, reduce the heat and simmer until the beans are soft.
Toward the end add the parsley and dill and mix.
Dissolve the flour in the lemon juice and add it to the mixture. Cook for a few more minutes.
Notes
In many countries, louvi xero (dried black eyed peas) must be soaked in water overnight. Follow the instructions on the package. In Cyprus and Greece this is not necessary.
Nutrition Information
Amount Per Serving
Calories

132.72
Total Fat

11.07g
Saturated Fat

1.56g
Sodium

739.05mg
Carbohydrates

8.7g
Fiber

2.55g
Sugar

3.35g
Protein

1.86g
Like this post?
You can hover over this image to pin it to your Pinterest board. Also, please feel free to share it with your friends and fellow bloggers, using the share tools below.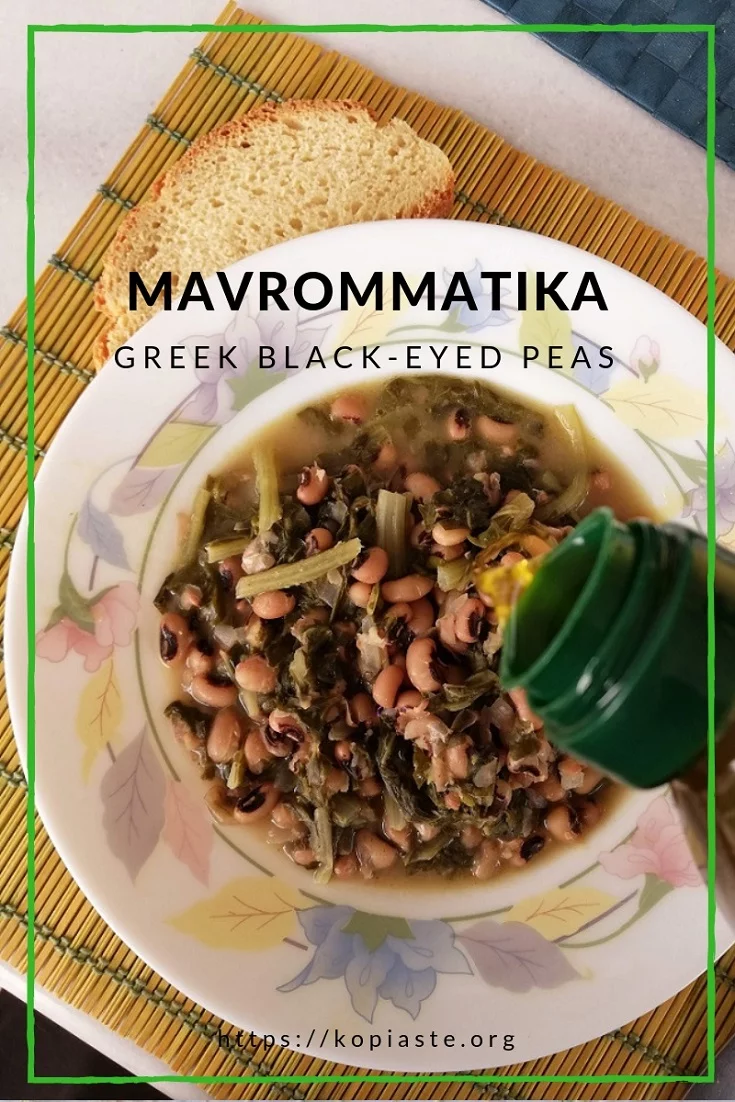 Kopiaste and Kali Orexi!