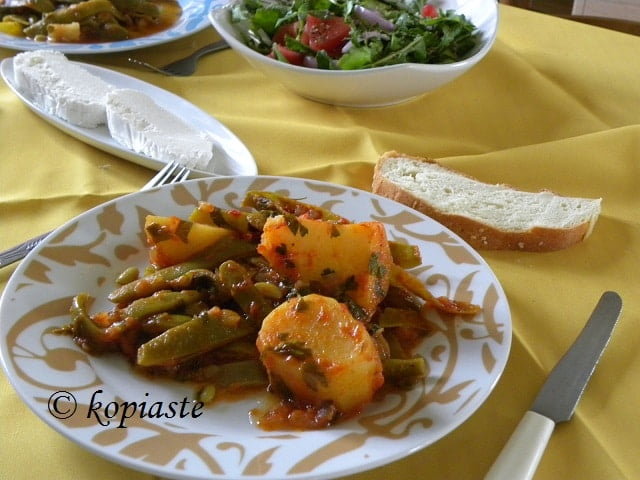 One of my favourite summer dishes is fasolakia yahni, a traditional dish with grean beans, which is easy, tasty, cheap and healthy.   Yahni is the method of cooking and is similar to a stew or ragout.
In Greece we get two types of green beans. Barbounia, which are flat and tsaoulia, which are the round ones.   ( I am not sure but I think the round ones are called string beans and the flat one runner beans).  You can use either type but  I always buy barbounia as I find them much tastier.
Fassolakia can be cooked in many ways.  In Greek cuisine we blanche them and eat them with olive oil and lemon juice, as a salad or stew them with or without meat.
My mother used to cook them with lamb but as I am not a big fan of meat, so  I prefer to stew them with some potatoes, to make a filling meal.
During Easter, I had some leftover lamb which I added to this stew and made it really delicious but eating it once a year is more than enough for our taste.
This is a very simple Greek recipe, coming under the category called "ladera", which means "oily" because they consist of stove-top or oven-cooked dishes with vegetables or legumes, cooked with olive oil.  These dishes are made using very few ingredients but then using olive oil makes anything tastier.
In the winter I make them with frozen green beans and  use canned tomatoes and a tablespoon of tomato paste.  However, now that the tomatoes are cheap and juicy,  I cook them with ripe fresh tomatoes, which also adds additional taste and flavour.  I always add parsely and sometimes I may add just a little bit of  dill (or fennel fronds, if you like the taste) as well.  I don't remember if I have explained before the reason why I add the herbs at the end but when these herbs are cooked for a long time they loose their flavour and aroma, so it is best to add them in the end.
As I said in other posts, when I go to the farmers' market, I usually buy a lot of vegetables and of course you can't eat everything in one day.  In Greece, we also buy fresh fish at the farmers' market, so what I do is if I have bought fish, I cook the fish the same day and start cooking the follwing days with what is more perishable.  If I have bought spinach or other greens, I cook them first.
Other vegetables like green beans can be cooked later on.  So, in the evening when I relax to watch T.V. I  peel the green beans, wash them, dry them and leave them in the refrigerator.  If I do not plan to cook them within the next 2 – 3 days, I freeze them.    Having done most of the preparation the previous day, then they are so easy to make even for busy moms who work and don't have enough time.  I used to cook them when I was working and by the time we had breakfast and got ready for work they were done.   I also do this now that it is hot and want to go to the beach.  This morning before going to the beach, it was so easy to cook them early in the morning.  It didn't take more than fifteen minutes to prepare them and less than an hour to cook them.  I do the same with other vegetables which need to be shelled, such as peas or other beans.
Fassolakia Yiahni (Green beans in tomato sauce)
Preparation time: 15 minutes
Cooking time:  about 45 minutes
Serves: 4 – 5

Ingredients:
1

kilo of fresh or frozen green beans (I prefer runner beans called barbounia)

1/4 cup of olive oil

1

big onion, finely chopped

1- 2 cloves of garlic, finely chopped (optional)

2

big potatoes cut in 4 or 6 pieces each

4 – 5 ripe fresh tomatoes peeled or

1

can (440 grams) of whole tomatoes with their juice

1 tbsp tomato paste

½ cup

fresh parsley finely chopped

Salt and freshly ground black pepper

1 – 2 cups of water
Directions:
Cut the ends and with a vegetable peeler remove the strings of the beans.  Wash them and leave t

hem in a colander to drain.

Heat the olive oil in a saucepan

and sauté the onion and garlic until translucent.

Add the beans and

the potatoes and mix for 3 – 5 minutes. Season with salt and pepper.
In a food processor blend the tomatoes together with the tomato paste and add them to the beans, as well as some water to cover them.
Bring to boil, cover with lid, lower heat and simmer for about 45 minutes, until potatoes are soft and water has evaporated, leaving a nice sauce.
Ten minutes before the end mix in the parsley.
Serve with a Greek salad or some other salad and anthotyro (low fat cheese).
Gavros (fresh anchovies) was so fresh and extra big this Tuesday so I couldn't resist marinating some.   I also bought some piperies Florinis, but this time made something totally different than the last dip I had made.    I also had some leftover yellow split peas (in Greek it is called Fava) from Monday, which I made the most delicious dip, something like a cross between tzatziki and hoummus, so when we came back from the beach, having all these ingredients in the refrigerator, I roasted some bread and prepared a quick appetizer.  I forgot to tell you that on Tuesday I also made some pickled cherries which transformed this appetizer into a gourmet treat.
Well, all these new recipes will have to wait for  another post.