Mpamies (okra) is a summer vegetable and can be very delicious if cooked properly.   It is usually stewed using fresh tomatoes but in this recipe, I chose to stew them adding sun-dried tomatoes as well.
When cooking fresh okra what I learned from my mother was to cut the stem around but without revealing the seeds.
After cutting it carefully that part is dipped in salt, and when all of them are done, they should be sprinkled with wine vinegar and then placed in the sun for about 1 hour. This is the procedure to avoid the slimy.   Keep them covered with a tulle to prevent any flies or other insects from sitting on them.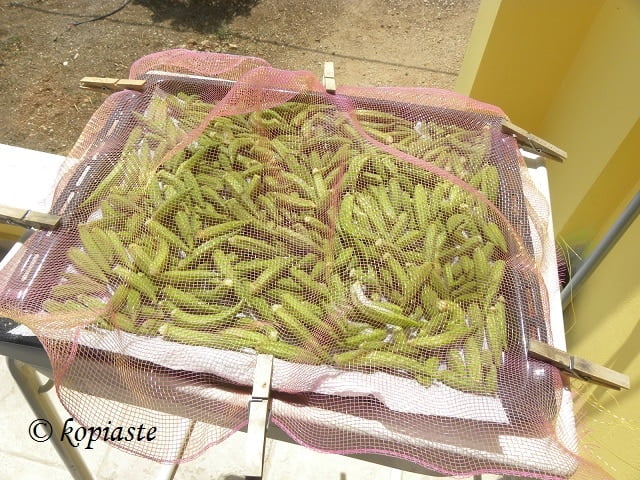 Mpamies start appearing at the Greek farmers' markets around early July.  At this time of the year there are no fresh okra in Greece so I used frozen ones.
To be frank I prefer them because they taste just as good and you save a lot of time without having to do the above procedure.
Now that I am on diet,  I cook "ladera" at least once a week. For those of you who don't know what "ladera" is, this is our Greek vegetarian dishes, which can be anything with seasonal vegetables, cooked with olive oil, because olive oil is their main condiment.
I suppose you are wondering how can I be eating "ladera" when olive oil has so many calories?    The answer is the way of cooking.
In the traditional way of cooking "mpamies" you needed at least 1/2 cup of olive oil (950 calories) to deep fry mpamies and then they were removed to the saucepan and the sauce was made in the remaining oil. I now use a non stick sautéing pan and with only 2 tablespoons olive oil (240 calories),  the dish is lighter and healthier but keeps all the taste and flavour.
In the traditional Greek and Cypriot recipe, which is the same, no garlic is added but I have revisited some of my cooking habits and now I add it in many recipes.  Another ingredient I have been using lately together with tomatoes, is tomato paste, which adds rich flavour to a dish.
Dill is another ingredient I was not really fond of because there was no dill in Cyprus (just fennel fronds) and you will not find it in any Cypriot recipes.  However, in Greece dill is used a lot and you can buy it anywhere, whereas you rarely find fennel fronds in Greece, unless you live in the countryside where it grows abundantly and  you can find it some times at the farmers' market, so I always have some at home to use.
Many people add some sugar in recipes with tomato sauces.  Sugar is added to the sauces to balance the acidity of tomatoes and although at the early stages of cooking I did use a pinch of sugar in my sauces, mainly because I watched Vefa (the first Greek Cook who had a cooking show on T.V.) using it.  I find that Greek tomatoes are so sweet and delicious that this is not needed.
When I was cooking this dish yesterday, when I reached out for the canned tomatoes and the tomato paste I saw the sun dried tomatoes in the cupboard and suddenly a light bulb flashed into my head, like in the cartoons.  I thought it would be a great idea to use them, although a little risky as I didn't know what the outcome would be and the children might not like them but as we say in Greece, "Ο Τολμών Νικά" (O Tolmon Nika – he who dares, wins).
The outcome was more than I expected and the okra were very delicious.  The sun dried tomatoes gave a wonderful deep colour to the sauce as well as rich flavour and the only risk of adding more calories is to mop up that delicious sauce with lots of crusty bread!!
Note:  The sun dried tomatoes I used were not in olive oil, so no more calories were added to the dish.
Mpamies me liastes ntomates (braised okra with sun dried tomatoes)–  Recipe, by Ivy
Preparation time: 10 minutes
Cooking time: 30 minutes
Serves: 3 – 4
Ingredients:
600 grams okra

(Salt and vinegar for fresh okra)

2 tablespoons olive oil

1 large onion, finely chopped

1 – 2 cloves garlic, finely chopped

5 fresh ripe tomatoes peeled or 1 can (500 grams)

whole tomatoes, blended

10 sun-dried tomatoes (or use 1 tbsp tomato paste)

1 tablespoon vinegar (and extra vinegar to sprinkle if using fresh okra)

½ cup parsley, finely chopped

2 tablespoons dill, finely chopped (optional)

Salt and freshly ground black pepper

1 vegetable bouillon (optional)

2 cups water
Directions:
If cooking with fresh okra, see step by step instructions how to clean them here.

(If using frozen okra skip the above step).

Heat the olive oil in a sautéing pan and sauté the onion and the garlic until translucent.

Add the okra and sauté as well for 3 – 4 minutes.

In a food processor blend the tomatoes together with the sun dried tomatoes and add to the okra.

Mix in the parsley and dill and season with salt and pepper, vinegar and finally add the bouillon and the water.

Bring to a boil, cover sautéing pan and cook for about 30 minutes 

or until okra is tender and the sauce thickens.
You can find many more Greek recipes in my cookbook "More Than A Greek Salad", and "Mint, Cinnamon & Blossom Water, Flavours of Cyprus, Kopiaste!" both available on all Amazon stores.
Other relevant recipes:
Kotopoulo me Mpamies (Okra with Chicken)
Mpamies me Bakaliaro (Okra with Pollock fillets)
Kopiaste and Kali Orexi,