The past week the temperature has dropped abruptly and it went at least ten degrees down. With temperatures now being around 16oC, it's time for comfort food to keep us warm.
During summer we would eat dried legumes in salads but now it's time for stews and soups. Dried legumes are cheap and have a lot of health benefits. They are rich in protein, in dietary fibre, in mineral manganese, high in iron content, their soluble fibre helps stabilize blood sugar levels, they are heart healthy and perfect for those wanting to lose weight. For the above reasons, they should be a staple in our pantry, to cook at least once a week. When cooked, they become delicious as they absorb all the lovely flavours of the aromatic herbs and spices we add to them.
I love dried legumes and a few days ago I made them into a stew/soup, in which I added kafkalithres and myronia. These aromatic herbs are not seasonal but when they are in abundance I freeze them so as to use them during the summer. These herbs will start appearing in the farmers' market in a couple of months but until then you can substitute them with some parsley and celery.
Although we are just the two of us, I add the whole package so that we may have leftovers because they get even better the next day. If we still have leftovers even after eating them for two days they will not be waste as I can easily turn them into something else.
Revithia Giahni with Kafkalithres and Myronia
Preparation time: 30 minutes
Cooking time: about 2 hours
Serves: 6
Ingredients:
500 grams chickpeas
¼ cup olive oil
1 large red onion, finely chopped
1 large clove roasted garlic, mashed
3 medium carrots, finely chopped
3 medium potatoes, cubed
500 grams passata
1 tbsp tomato paste
4 cups water
Salt and freshly ground black pepper to taste
1 bay leaf
1/2 cup aromatic herbs (kafkalithres and myronia) or substitute with parsley and celery*
Directions:
Soak chickpeas (I use peeled chickpeas) from the previous evening.
In a large pot boil chickpeas and remove froth forming on top. Rinse and remove any peels that have not been removed. Return to the pot with fresh water and simmer for half an hour. Strain and set aside.
Wipe the pot and heat the olive oil, add sauté the onion until translucent. Add the chopped carrots, the potatoes and the garlic and stir. (At this stage add the celery as well if you are using some).
Add the tomato, tomato paste, bay leaf, salt and pepper as well as water to cover and mix. Bring to a boil, cover the pot with the lid and simmer until the chickpeas are soft and the sauce thickens, for about 1 hour and thirty minutes, stirring at regular intervals so that they do not stick to the pot and burn.
Just before turning the heat off, add the aromatic herbs and mix.
Serve with toasted bread or croutons.
As I have already informed you, my blog has been nominated by BHMAGourmet for an award, in the category "Best Greek cooking in English". If you like my recipes and have not yet voted, you can still vote for my blog until the 14th of December, 2015, here.
We still have to participate in two challenges which will be judged by a committee. One of the challenges is to make frugal recipes which are nutritious and full of flavour, so my today's recipe falls in that category. The other category is to make good use of our leftovers, so stay tuned and keep voting 🙂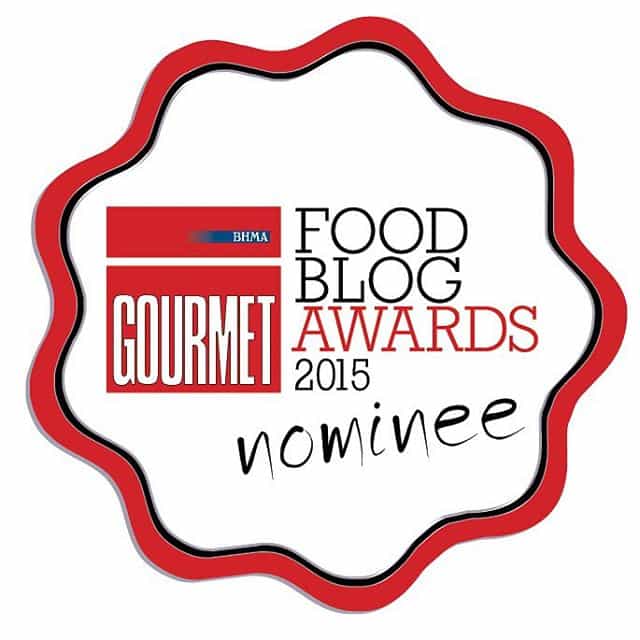 You can find my Greek recipes in my cookbooks «More Than A Greek Salad», and«Mint, Cinnamon & Blossom Water, Flavours of Cyprus, Kopiaste!» both available on all Amazon stores. Read more here.
Other related recipes:
Chickpea Salad with Bulgur Wheat, Feta and Pesto
Revithosalates (Chickpea Salads): Revithosalata, with Chard and Taramas Salad Dressing – Revithosalata, with Tahini Salad Dressing
Kopiaste and Kali Orexi,