Hey there! Welcome or Kopiaste.. to Greek Hospitaly, my virtual kitchen.
I would like to introduce myself and tell you a few things about me and my blog.
About me
My name is Ivy Liacopoulou and I love food! Kopiaste, is all about healthy eating and living. I post tasty and healthy recipes, along with other health and food related things!
I am a Greek-Cypriot, living in Greece for many years.
I grew up in Limassol, Cyprus, which is a beautiful island, of Greek culture, in the Eastern Mediterranean. When I got married to a Greek, we decided to move to Greece.
We lived in Athens for many years and after early retirement we moved to Nafplion, in Peloponnese.
My passion for cooking started by watching my mother cook and helping her in the kitchen, back in Cyprus, where I grew up.
When we moved to Greece, I started learning more about Greek cuisine and learned to cook dishes like giouvetsi, fricassee, pites (pies), hilopites, kokoretsi and magiritsa and other Greek dishes which were not part of the Cypriot cuisine.
I continued cooking my Cypriot recipes and my new family and friends were always happy with what they ate.
My blog (created in 2007)
A few years ago when I stopped working, I wanted to rewrite my old recipes, as the notebooks I had were torn and all greasy after so many years of use.
I decided to copy them on the computer so that I could give a copy to all my children.
My eldest son suggested that since I loved cooking so much, why not create a blog where I could record my recipes and interact with people as well.
That is when I created my blog with a very long and descriptive name "Ivy's Household Recipes and Advice" in August, 2007 and ever since I have been hooked.
The blog was bilingual (in Greek and English) but as I had more visitors and comments from abroad I decided to separate them a few months later and changed the name to "Kopiaste.. to Greek Hospitality" for the Englsh one and "Kopiaste.. stin Kouzina Mou" (Welcome to my kitchen) for the Greek one.
For those who do not know Greek, "kopiaste" (pronouced koh-PEEAH-steh), is an expression we use often in Cyprus and is a polite way of inviting somebody.
It literally means "make an effort to do something" but it is also synonymous to "welcome". We say "kopiaste" when we want to invite someone in our house, to share our food with others or when we open our house to friends and invite them to come and make themselves at home.
So, in my way I am inviting you into my virtual kitchen to share with you all my recipes and all my "little" secrets.
After learning what "kopiaste" means, you may be wondering what "kali orexi" (pronounced kah-LEE OH-rhe-ksee) means, which you may have read at the end of my posts.
Kali orexi means "have a good appetite", or as the French say, Bon Appétit.
My blog focuses mainly on Greek food and the Mediterranean Diet. Greece is known for its fine Mediterranean cuisine and a large number of great dishes and foods.
With a huge archive of Greek recipes at your disposal, you will introduce new colours and variety into your kitchen.
My specialties are healthy Greek and Cypriot dishes but that does not mean that we eat only Cypriot and Greek food, so you will be seeing recipes of other cuisines as well.
We have expanded our tastes with other hearty, sophisticated and elegant meals, which fit with our taste and adapted to the Greek way of cooking always cooking with Extra Virgin Olive Oil and using local Greek ingredients such as Greek herbs and spices or Greek cheeses.
The Mediterranean Diet
Ever since I started blogging in August 2007, I have learned a lot about cooking and to appreciate the Mediterranean Diet. I have been creating healthy recipes of my own, based on the Mediterranean Diet and even taking some traditional Greek or Cypriot dishes and giving them a tweak of my own, transforming them with a more modern approach, into healthier dishes. I find cooking a very creative form of art as you take vegetables, legumes, fruit, meat, spices etc., mix them and combine them together and together with a huge dose of love, you transform them into delicious food.
I pay close attention to the quality of the products I cook with and all my dishes are made from scratch and from the freshest local ingredients available depending on the season. I don't add too much salt in my recipes, for health purposes, so please taste and adjust to your liking.
I love fusion cuisine and as a food blogger I am influenced by food bloggers of different cultures, so if I like one ingredient or technique, I like to incorporate it in some of my daily cooking, with Greek ingredients. I believe that there should be no borders in food but also that we should not forget our roots. This is the reason why I decided to document my Greek and Cypriot recipes, as a heritage to my children.
Cypriot Cuisine
Cypriot cuisine is shaped by the island's Mediterranean climate, geography, and history. The majority of its recipes are based on Greek cuisine and the Mediterranean Diet, which is one of the healthiest in the world, using fresh, wholesome ingredients.
Cyprus's strategic location in the Eastern Mediterranean, situated between the crossroads of three continents, had brought to the island many conquerors and thus its cuisine has evolved into an amalgamation of diverse tastes and textures, with an unmistakable mark that makes it undeniably Cypriot.
We see influences from the Ottomans and our neighbouring Middle Eastern countries but there are also remnants of French, Italian, and Anglo-Saxon influences stemming from the island's occupation by the French Lusignans, the Venetians, the Ottomans and the British.
My Cookbooks
During the course of blogging I challenged myself to cook and record as many Cypriot recipes as possible. That wasn't easy as my late mother never recorded her recipes. I knew a lot of recipes but some were just a mere memory of how they looked and tasted. However, I am the youngest of six children and whenever I needed help I would consult my elder sisters.
Like all Greeks they had their recipes written and measured in glasses and gave very vague instructions like ""add some olive oil, a few potatoes and carrots, a handful of parsley, salt and pepper, wine and water…" Although at the beginning I started writing my recipes the old fashioned Greek way, I soon realized that I had to start cooking professionally, so that my readers could follow accurate instructions. All my recipes were cooked again and measured properly either using grams or cups.
I kept having requests from family, friends and readers of diaspora to publish a cookbook. When I had enough material I decided to go ahead. It WASN'T EASY, but yes, I made it!!
I apologize to my readers that I had to remove some of these recipes from my blog but it was a necessity in order to sell my cookbook.
My first cookbook "Mint, Cinnamon & Blossom Water, Flavours of Cyprus, Kopiaste" was published in December, 2010. A selection of over 150 of the best traditional Greek-Cypriot recipes, fully revised and updated with a fresh, modern new look. These healthy Mediterranean Recipes are bursting with delicious flavours and aromas.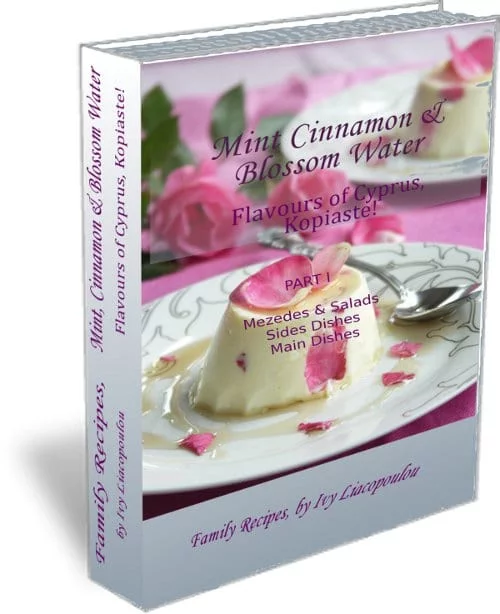 Whether you are a novice cook, just learning how to cook or an experienced cook or maybe you are thinking about a career in culinary arts, this cookbook has everything you need to know about Cypriot Cuisine.
My second Cookbook "More Than A Greek Salad" and "More Than A Greek Salad, Just The Cookbook" focus on a healthy lifestyle, following The Mediterranean Diet.
Order your copy now or
download

the e-book now!

If you have any questions about my recipes, my cookbooks or my cooking classes, please Tweet, e-mail me or post on my Facebook wall.

You can contact me either using the contact form or e-mail me at ivyliacopoulou [at] gmail [dot] com.

I would like to thank you for taking the time to read about me and hope that you will enjoy my recipes.

Kopiaste and Kali Orexi,