This vegan moussakas (or nistisimos, as we call it in Greek), is as delicious as the real one. It is layered with fried eggplants, potatoes and zucchini, with a vegan vegetable filling and a delicious vegan "faux" bechamel sauce.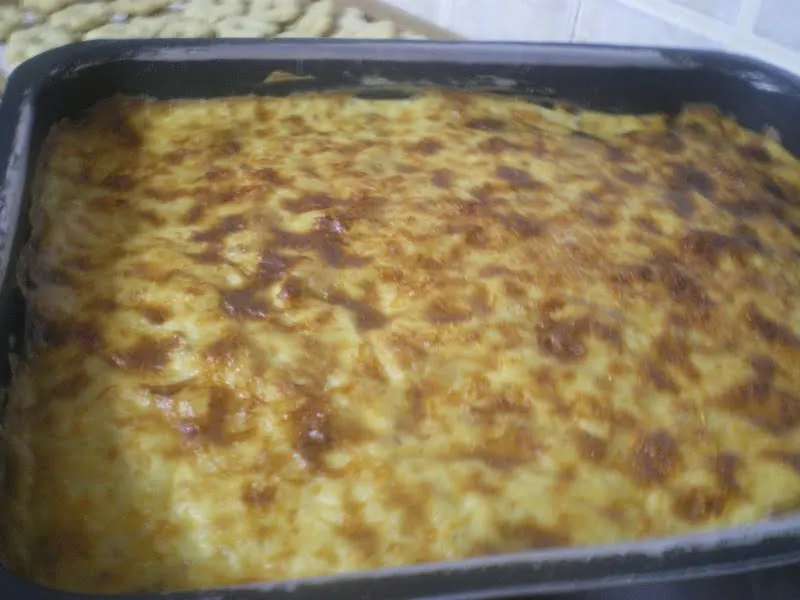 Moussakas, (which is a singular noun and not moussaka, plural moussakas) is one of the most known Greek dishes.
The traditional way of making it is with layers of vegetables, with a meat sauce in the middle, again a layer of vegetables and topped with a Greek béchamel sauce (with eggs and cheese), and topped with more cheese on top.
Doesn't that sound delicious? Well if you want that version of moussakas you will find the recipe in a different post.
When I made the vegan béchamel, I then knew that this was the beginning of a lot of other delicious dishes.
My second recipe using the vegan béchamel after making a vegan pastitsio, was of course to make moussakas.
The dish is so delicious and healthy that even non vegans will admit that this is much better than the original and this will be regularly in our menu, not only during Lent.
The total amount of olive oil used was not more than 1/2 a cup for the whole dish.
I used my sautéing pan instead of frying them and for each vegetable I sautéed I added a tablespoon of olive oil on the pan.
The only vegetable which needed a little bit more oil, was the eggplant as it absorbs the olive oil quickly.
Make sure to peel it and sauté it immediately, as eggplants oxidize and change colour to brown quite quickly.
You have probably seen in many recipes that you have to soak the eggplants in water with salt to remove the bitterness.
This does not apply any more because modern methods of cultivating eggplants have managed to remove the bitterness from the eggplants.
I always prefer to use tsakonikes eggplants, which do not have seeds in them.
However, if you think that the eggplants you usually buy in your country are bitter, then you'll have to soak the eggplants in salted water for at least 30 minutes and then pat dry before sautéing.
Vegetarian Moussakas
If you want to make a Vegetarian Moussakas, just substitute the vegan "faux" bechamel with the real one:
Béchamel sauce:
1 litre milk
60 grams extra virgin olive oil (or butter) ratio tested
60 grams all-purpose flour
3 eggs (reserve 2 egg whites)
½ tsp (or more) salt, (depending on the saltiness of cheese added)
¼ tsp ground nutmeg
½ cup grated graviera, halloumi, kefalotyri or dried myzithra cheese (you can also use pecorino or parmesan)
Instructions:
Before starting, heat the milk. Also beat the eggs and set aside.
In a saucepan heat the olive oil and add the flour, salt and nutmeg and stir
thoroughly using a whisk, until it starts to slightly brown.
Remove the pot from the heat and add the warm milk, stirring constantly, until the sauce is thick and creamy. (Be careful as the hot milk may overflow).
Add the eggs a little at a time, stirring until it is incorporated and gradually
all is added.
Remove from the heat and mix in the grated cheese.
Cover with cling film, until ready to use.
Notes
This quantity is enough to cover a dish made in a 32 x 23 cm baking tin.
If you make too much, when it cools it can be stored in the fridge for two days or in the deep freezer for a longer time.
Vegan Moussakas
Total Time:
1 hour
45 minutes
This vegan moussakas is as delicious as the real one. It is layered with eggplant, potatoes and zucchini, with a vegan vegetable filling and a delicious vegan "faux" bechamel sauce.
If you would like to make a Vegetarian Moussakas, check the post above for the real Bechamel recipe.
Ingredients
4 medium tsakonikes eggplants, partly peeled and cut into thin slices (Japanese or other types of eggplants can also be used)
4 potatoes, cut into thin slices
3 small zucchini, cut into thin slices
½ cup olive oil for frying
Ground cinnamon to sprinkle on top
Vegetable Filling:
¼ cup olive oil
1 medium onion, finely chopped
1 clove garlic, finely chopped
1 small eggplant, peeled and cubed
1 zucchini, finely chopped
1 carrot, grated
1 celery rib, finely chopped
200 grams pleurotus (oyster) or other mushrooms, cut into small pieces
1 cup pummaro (concentrated tomato juice)
1 tbsp sea salt
Freshly ground black pepper
A pinch of oregano and thyme
1 bay leaf
½ cinnamon stick
½ cup parsley, finely chopped
Faux Béchamel Sauce:
4 medium potatoes, peeled and boiled
¾ cup blanched almonds
1 clove garlic
1 tbsp olive oil
1 tbsp vinegar
For the Roux:
50 grams extra virgin olive oil
50 grams all-purpose flour
About 5 cups of the potato water
1 tbsp sea salt
White pepper to taste (optional)
1/4 tsp nutmeg
Instructions
Prepare the filling:
Heat the olive oil in a sautéing pan and sauté the onion until soft. Add the garlic and sauté for a few seconds
until fragrant.
Add the zucchini (courgettes), the mushrooms, the carrots, the eggplant (aubergine) as well as the celery and sauté until they are soft.
Add the tomato as well as the tomato juice, bay leaf, oregano, savory, rosemary and oregano or thyme.
Season with salt and pepper, allspice and cinnamon, add the water and simmer until the vegetables are cooked and remain with a thick sauce.
When they are cooked discard the bay leaf and mix in the parsley.
Fry the vegetables:
Meantime, wash the vegetables and dry them.
Peel the potatoes and cut them into ½ cm thick slices.
Heat the olive in a non-stick frying pan and fry the potatoes on both sides, in batches.
While frying them, cut the zucchini a little bit thinner without peeling them.
Eggplants must be cut just before frying as they oxidize.
Remove in a colander or on kitchen paper. Continue
with the zucchini and fry them on both sides.
There will be some leftover olive oil so remove it in a metallic bowl and leave just about 1 tbsp olive oil in the frying pan.
Fry the eggplants on one side, brush them on top with a little bit more olive oil and fry them on the other side as well. Continue with the remaining eggplants adding a tablespoon olive oil each time and brushing them before turning them over.
Prepare the Béchamel sauce:
Peel, wash and cut potatoes into smaller pieces. Bring to a boil, reduce heat and then simmer until the potatoes are soft.
Drain the potatoes but reserve the water.
In a food processor add the almonds, garlic, olive oil and vinegar and mix until they are pureed, adding a few tablespoons of the potato water, if necessary.
In a separate saucepan prepare the roux. Heat the olive oil over medium heat and mix in the flour, the salt, the pepper and the nutmeg and keep mixing until the flour starts roasting and turns into a light brown colour.
Add the potato water gradually and mix to get a thick sauce. (There might be some leftover water}. Add the hot potatoes and with a hand mixer, puree them in the roux (or you can do this separately and combine).
Add the puréed almonds and mix. Taste and add more salt if necessary.
Assemblingthe dish:
Place a layer of half of the vegetables, in a 32 x 23 x 6 cm (12.5 x 9 x 2.3 inch) baking tin and season with salt.
Mix in a couple of tablespoons béchamel in the vegetable sauce.
Add the vegetable sauce on top of the vegetables, then the remaining vegetables, which again season with salt.
Add the béchamel sauce on top and sprinkle some cinnamon on top.
Bake in a preheated oven to 180o C /350oF (160οC / 320oF for a convection oven) and bake for about 45 - 50 minutes or until golden on top.
Set aside to cool before serving.
Notes
Roux (pr. Rou)is the method of cooking any kind of fat with flour and is the base of makingsauces and gravies, or thickening soups and stews. The mixture is stirred in the hot oil untilthe flour is incorporated, and then cooked until the flour starts changingcolour to a darker shade.
Nutrition Information
Yield

8
Serving Size

1
Amount Per Serving
Calories

765
Total Fat

37g
Saturated Fat

5g
Trans Fat

0g
Unsaturated Fat

30g
Cholesterol

0mg
Sodium

1864mg
Carbohydrates

104g
Fiber

19g
Sugar

19g
Protein

15g
Kopiaste and Kali Orexi!