Ravioles is a Cypriot specialty, similar to ravioli, which are filled with aged grated halloumi, eggs and mint. They are then cooked in the broth of a boiled chicken.
Although ravioles probably have their roots from the Venetian occupation of the island, this Cypriot pasta dough is not made with eggs.
It is same with the usual dough made with flour, olive oil, salt and water, which we use to make other pastry. In the pastry dough, vinegar is also added because it make the phyllo crunchy, but as ravioles are boiled, the vinegar is not necessary.
If you want to make the dough with eggs, see my recipe for Tortellini.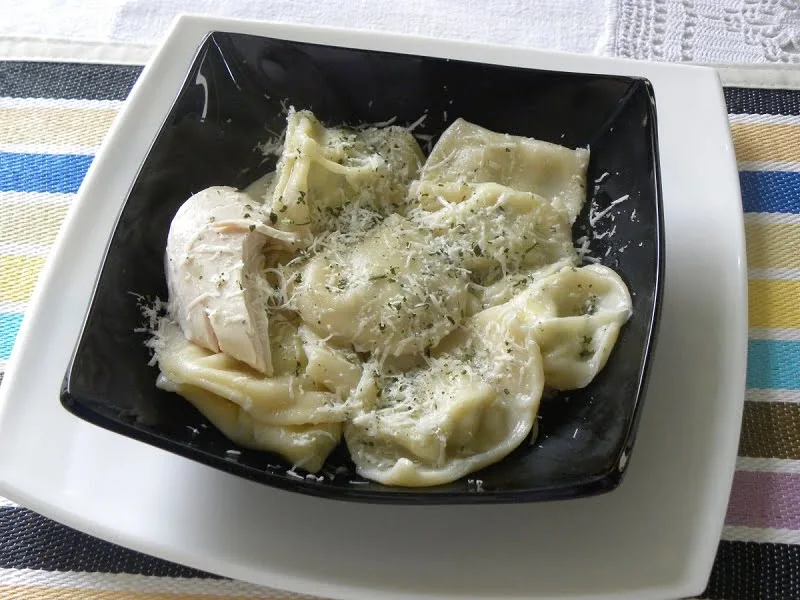 This is the dish my mother would prepare during Tyrini Sunday, the last Sunday before Lent, which means cheesefare Sunday.
On Tyrini the tradition is to cook anything with cheese, such as (tyropita), pasta, bourekia me anari (turnovers), tyropita, biscuits, etc.
How to make Ravioles
The traditional way of make the ravioles is to roll out the phyllo until thin. You can either use a rolling pin to roll out the phyllo or make it using a pasta machine.
Then you add a teaspoon of cheese filling, on one edge, leave a gap of about 3 – 4 cm and continue adding cheese.
Then cover the filling with the phyllo and press the gaps with the finger to enclose the filling.
Finally cut the ravioles, using a glass to form them into a semicircle and boil them in chicken broth or water if you prefer.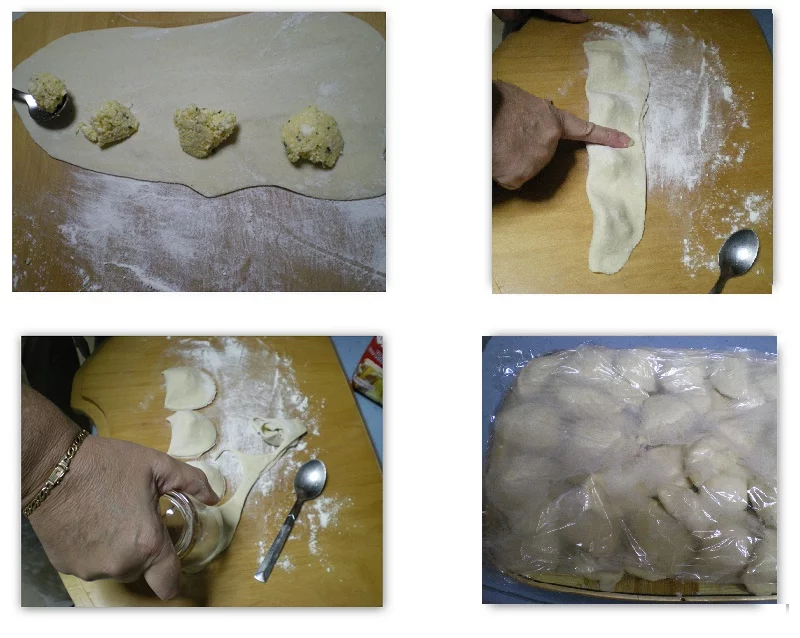 Alternatively, you can cut them in a ravioli press or using a ravioli cutter.
At this stage you can freeze them by adding cling film between the layers.
To cook them, do not thaw them as they will defrost in the hot broth.
Just put them in the boiling water or chicken broth and they will defrost in the water. Boil them for 10 -15 minutes. stirring regularly as they usually float.
A few days ago my son came back from Crete and some friends from Crete, were kind enough to send me a lot of graviera cheese and fresh anthotyro cheese .
So I had to think of something to do because it was a lot to store.
I decided to make some ravioles with the graviera cheese and with the anthotyro I made another Cypriot recipe called "Anarotourta".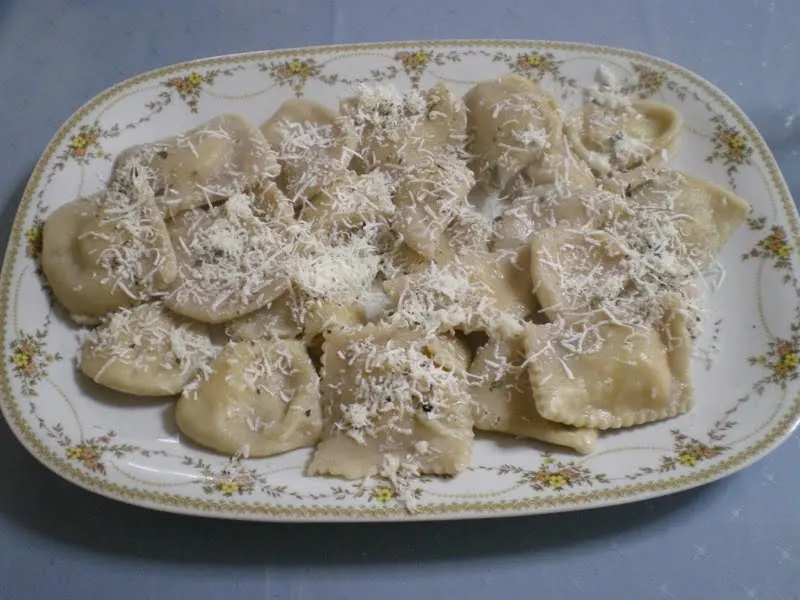 This and many more Cypriot recipes are included in my cookbook Mint, Cinnamon & Blossom Water, Flavours of Cyprus, Kopiaste as well as in Volume 1 of the e-cookbook.
Ravioles (Cypriot ravioli)
Prep Time:
1 hour
30 minutes
Total Time:
1 hour
50 minutes
Ravioles is a Cypriot pasta specialty, similar to ravioli, which are filled with aged halloumi, eggs and mint and are cooked in chicken broth. They are served with grated halloumi on top.
Ingredients
For the dough:
500 grams durum wheat or all-purpose flour
1/4 tbsp olive oil
1 tsp sea salt
1 cup water plus a couple more tablespoons, if necessary
(You can also make the dough with eggs (see link below)
For the filling:
750 grams halloumi cheese, grated
4 large eggs
3 tablespoons dried mint
Extra halloumi and dried mint for sprinkling on top
For Chicken Broth:
Chicken with skin and bones on
8 1- 10 cups of water
1 tbsp sea salt
Instructions
Boil the chicken and reserve the broth.
Prepare the dough. Make the traditional dough or follow the instructions in the recipe or that for Toretellini by adding eggs.
Grate the cheese and mix in the dried mint. Add the eggs one by one and mix until we have a nice mixture which holds together and cheese has been absorbed by the eggs.
Roll out a thin phyllo either with a pasta machine or manually.
Place 1 tsp of cheese mixture at the edge and leaving a gap of about 3cm (1 inch) in between continue adding cheese.
Lightly brush the dough with some water.
Cover with remaining phyllo and press the gaps with your finger.
Cut the ravioles with a drinking water glass, to give a half a semicircle shape or cut them with a ravioli cutter.
Bring chicken broth to a boil. If your broth contains salt, do not add any extra salt as halloumi is salty. Place ravioli in the boiling broth (or water) and cook for about 10 – 15 minutes stirring occasionally, as they will float.
Remove with a slotted spoon into a platter and sprinkle some grated halloumi mixed with dried mint on top.
Serve immediately.
Nutrition Information
Yield

80
Serving Size

1
Amount Per Serving
Calories

62
Total Fat

3g
Saturated Fat

1g
Trans Fat

0g
Unsaturated Fat

1g
Cholesterol

18mg
Sodium

154mg
Carbohydrates

6g
Fiber

1g
Sugar

0g
Protein

4g
"These values are automatically calculated and offered for guidance only. Their accuracy is not guaranteed."
Tyrini Sunday Recipes
Here are some creations of mine with cheese:
PIN FOR LATER
Kopiaste and Kali Orexi,