Today I am going to show you how to make Homemade phyllo, which takes time and skill to make, but if you follow my instructions, it won't be that difficult.
To make phyllo you have to prepare the dough first. You only need flour, olive oil, some salt and water.
Phyllo comes from the Greek word φύλλο which means leaf because the dough is rolled out as thin as a leaf (and even more) but also the word phyllo means sheet.
When the dough is ready it has to rest for at least half an hour to develop its gluten. This resting time is necessary for the gluten to develop and make the dough elastic. If gluten does not develop properly, you will roll out the dough and then it will shrink again.
A lot of people are afraid to make phyllo but it's not as difficult as it may seem. The easiest way to roll out phyllo is using the pasta machine (which I have showed you in a previous video) but today I am going to guide you to learn how to make thin phyllo using a dowel or a rolling pin. Don't expect to make thin phyllo like the store bought one from the first time you attempt to make it, as this requires a lot of practice and professional expertise to achieve that but with my instructions, you will learn the basic technique and you will never want to go back to the store bought one again.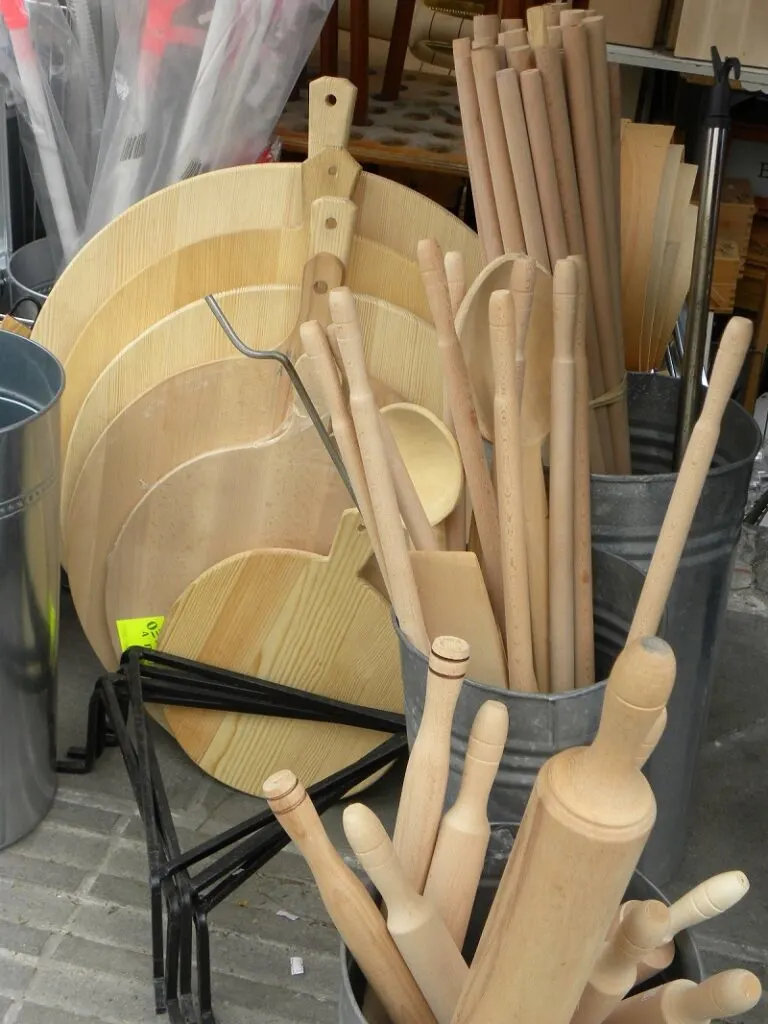 In order to make large, thin sheets of phyllo, it is preferable to use a long dowel rod, like those in the rear of the picture, which are the best. You can use a rolling pin as well but the size of the phyllo will get as big as the length of the rolling pin.
The round boards are used to roll the phyllo on but it's not necessary to use one. You can roll phyllo on any flat surface.
Your first attempt may be a bit disappointing, as the phyllo may tear but be patient and practice, practice, practice. Start with recipes which do not require thin phyllo, such as pizza or galettes.
The amount of olive oil mentioned in the recipe, makes a very flaky phyllo. You can reduce the amount of oil and add more water.
The addition of vinegar makes the phyllo more crunchy. Some people add white dry wine, ouzo, raki (similar to grappa) or lemon juice, instead of vinegar.
How to make Homemade Phyllo
Additional Time:
30 minutes
Today I am going to show you how to make Homemade phyllo, which takes time and skill to make, but if you follow my instructions, it won't be that difficult.
Ingredients
500 grams all purpose flour (or bread flour)
1 teaspoon sea salt
1/4 cup extra virgin olive oil
1 tablespoon red wine vinegar
200 ml water (about 1 cup) plus 2 - 3 tbsp
Instructions
Put the flour in a large bowl and pour in the oil. Using your fingertips rub the flour until all the oil has been absorbed. (This procedure is called "riziazo" in Cyprus). Add vinegar and then water gradually. Mix until the dough is soft but not sticky on your hands.
Place on a floured surface and knead for five few minutes.
To make the dough in your stand mixer: attach the dough hook.
Put all the ingredients, except water, in the mixer bowl and mix on low speed. Add water and mix, gradually increasing the mixer speed, until the dough starts attaching on the dough hook.
Add a few more tablespoons water, one at a time, if necessary.
Stop the mixer and test with your fingers to see if it is sticky. If it is, add more flour.
Cover the dough and let it rest for at least half an hour.
Divide the dough into equal pieces, about the size of a tennis ball (or as mentioned in each recipe). Shape them into discs and then press to flatten. While working with the dough, keep flouring your working surface regularly, with flour, unless you are working on a non-stick mat. Also dust the dough regularly so that it will not stick. You can use either flour or corn flour but using corn flour is much better as it makes the phyllo crispier when baked. Always keep the remaining dough covered, so that it does not dry. Keep rolling out the phyllo turning it clockwise, until it becomes about 20 - 25 cm diametre.
To make the phyllo thinner roll it on the dowel rod and starting in centre of dough, working outward toward edges, with your fingers pressing it gently, try and stretch the dough. Continue until you have the desired thickness.
At this stage your phyllo is ready to be used in savoury or sweet recipes.
Nutrition Information
Yield

1
Serving Size

1
Amount Per Serving
Calories

2300
Total Fat

59g
Saturated Fat

8g
Trans Fat

0g
Unsaturated Fat

48g
Cholesterol

0mg
Sodium

2135mg
Carbohydrates

382g
Fiber

14g
Sugar

1g
Protein

52g
"These values are automatically calculated and offered for guidance only. Their accuracy is not guaranteed."
Greek Pies (Pites)
Greek pies (pita plural pites) are a staple in Greek cuisine. They are very versatile and can be either savoury or sweet. You can make a "pita" with vegetables, meat, fruit, etc.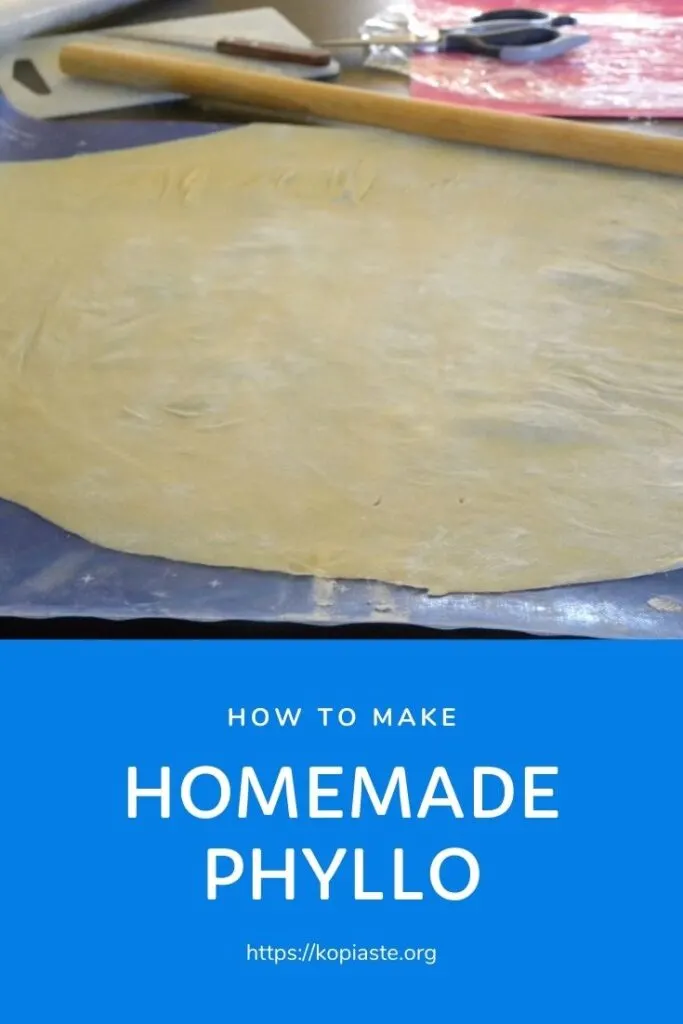 Kopiaste and Kali Orexi,