Halloumi with Caramelized Poached Dry Fruit is a dessert made with grilled halloumi served with dried fruit, poached and cooked with commarndaria.
Although halloumi is not usually used in desserts as it is salty but it pairs perfectly with anything sweet. The taste of the crispy and salty halloumi, paired with the sweet fruit and caramelized peppery syrup sensational!
As I am writing this post, today 17th February, 2008 my relatives in Cyprus are in church, commemorating my mother's death, 12 years ago. She died on 23rd February, 1996 and the mnymosyno (memorial) always take place on the Sunday which precedes the date of death.
This day is always very hard for me because I cannot be there with my other family and share our memories together, so when I saw Apples and Thymes hosting an event about mothers and grandmothers, I thought what a nice opportunity to make my own memorial and share it with my blog co-writers and friends.
My mother gave birth to seven children, one of which died shortly after birth and I am the youngest child, having seventeen years difference from my eldest sister. My mother gave birth to me at the age of 43 and I always remember her as an old lady, as she never dyed her hair and always wore black or dark coloured clothes, as it is a tradition to wear black after the death of beloved ones. Her parents had died and her only brother died when he was around twenty years old. This is a tradition which is found in many other Mediterranean countries as well.
Apart from remembering my mother always in black, I mostly remember her suffering from her rheumatisms. She had a tough life raising six children and for four years she raised us alone as our father had imigrated to England to work. When we joined our father in England four years later, that's when she got the rheumatisms as the climate was not good for her health, so after the doctor's advice that she would keep getting worse, we packed ONLY our clothes and returned back to Cyprus, to start a new life from scratch. Unfortunately my other brothers and sister, stayed back in London to work.
When my father was in England my eldest two sisters, who never left Cyprus, were already engaged to get married and were the only ones who did not go to England. My mother created a home business by turning one of the rooms in the house we lived into a small grocery shop and together with the money our father would send, she managed to build two houses, one for each sister contributing herself in labour force. She became one of the labourers, making cement and whatever other help was needed and in between she would cook and feed both the family and the workers, as well. My sisters managed to graduate high school so they were both working, one in the British Sovereign Base area and the other in the factory of Coca Cola and they also contributed to the expenses.
When my mother cooked she would cook only Cypriot traditional dishes, which of course after so many years of cooking experience she knew by heart, so I never saw her use a cookbook nor did she write down her recipes anywhere. Only later on when my sisters got married and started creating new, "modern" recipes, when she liked them, then she would ask my sisters how to make them, so she learned a few more.
She never had a mixer in her life but I remember those days after we returned from England, when I was the only child staying with my parents, I would help her to whisk the butter and sugar by hand (literally using my hand as a whisk). Can you imaging that and yet the cake turned out fluffy and light as a feather!!! I used to say "Mum, is this okay, my hand hurts", she would smile and say "Just a little bit more, honey, just a little bit more". Again when she would roll out dough, she would always call me to help her and she would explain to me how to roll it out. Although she was in constant pain, I do not remember her ever complaining or ever not cooking with love and affection for all of us.
I don't think that there is a person on earth that will not remember their mother with love. Whenever I remember her it's not easy to hold my tears and I remember her a lot, especially with all the traditional food I cook and which I have learnt from her. There are still a lot of her recipes I have never cooked before but my goal is to collect all her recipes, with the help of my sisters and leave them as a legacy to my own children.
I will share many of her recipes in the future but as today I do not have one of her recipes to share, I have prepared something special with her favourite cheese: Halloumi.
Cyprus is abundant with delicious fruit. From ancient years, they would dry them in the sun (pastá frouta) during the summer, to have them during winter.
In my recipe, dried fruit are poached and then cooked in Commandaria and epsima (concentrated grape syrup) until the syrup is reduced to a caramel consistency.
Halloumi is not usually used in desserts as it is salty but it pairs perfectly with anything sweet. The taste of the sweet fruit and caramelized peppery syrup with the salty halloumi is heaven. Serve poached fruit with halloumi as an appetizer but it is also ideal to serve with ice cream, Greek yoghurt or in other desserts.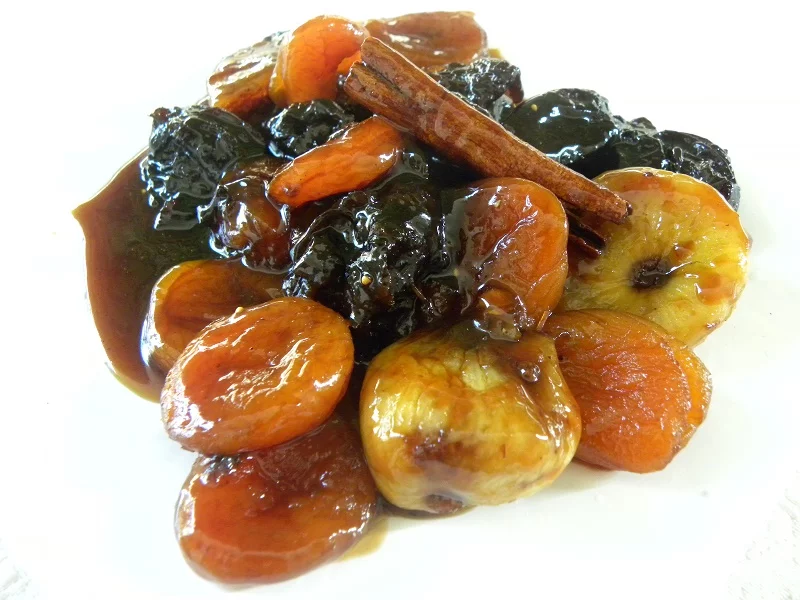 Another way to use the poached fruit is by cutting it into smaller pieces in salads, especially with rocket (arugula). Use some of the syrup to make vinaigrettes.
Halloumi with Caramelized Poached Dry Fruit
Total Time:
1 hour
25 minutes
Halloumi with Caramelized Poached Dry Fruit is a dessert made with grilled halloumi served with dried fruit, poached and cooked with commarndaria.
Ingredients
8 slices halloumi
2 tbsp olive oil
Marinating Ingredients:
110 grams (3.88 oz) dried prunes
130 grams (4.58 oz) dried apricots
125 grams (4.40 oz) dried figs
1 cinnamon stick
6- 7 cloves
5 – 6 peppercorns (various colours)
2 tbsp epsima (concentrated grape syrup or honey)
1½ cups Commandaria (red fortified wine)
Instructions
Marinate the prunes, apricots and figs with Commandaria, epsima and spices for as many hours as you can but not less than one hour.
Cook the fruit in a non-stick frying pan mixing for about 20 minutes until the wine is reduced to half the amount.
Cut the halloumi into 1 cm thick slices.
Heat the olive oil, in another non-stick frying pan and fry or grill the halloumi on both sides, until golden.
Serve the halloumi with some poached fruit and syrup.
Nutrition Information
Yield

4
Serving Size

1
Amount Per Serving
Calories

503
Total Fat

21g
Saturated Fat

9g
Trans Fat

0g
Unsaturated Fat

10g
Cholesterol

45mg
Sodium

374mg
Carbohydrates

73g
Fiber

10g
Sugar

52g
Protein

16g
Update:
In December 2010, I self-published my cookbook with our Cypriot family recipes.
This and many more Cypriot recipes are included in my cookbook Mint, Cinnamon & Blossom Water, Flavours of Cyprus, Kopiaste! which is now available on all Amazon stores.
Kopiaste and Kali Orexi,