Tyropitari pronounced Tee-rho-pee-TAH-ree, plural Tyropitaria, is a homemade pastry filled with cheese and deep fried.
It's an amazing snack or appetizer which you can find in many restaurants in Argolida, Peloponnese but also in some other parts of Greece.
Tyropitari is like a tiganopsomo but shaped differently.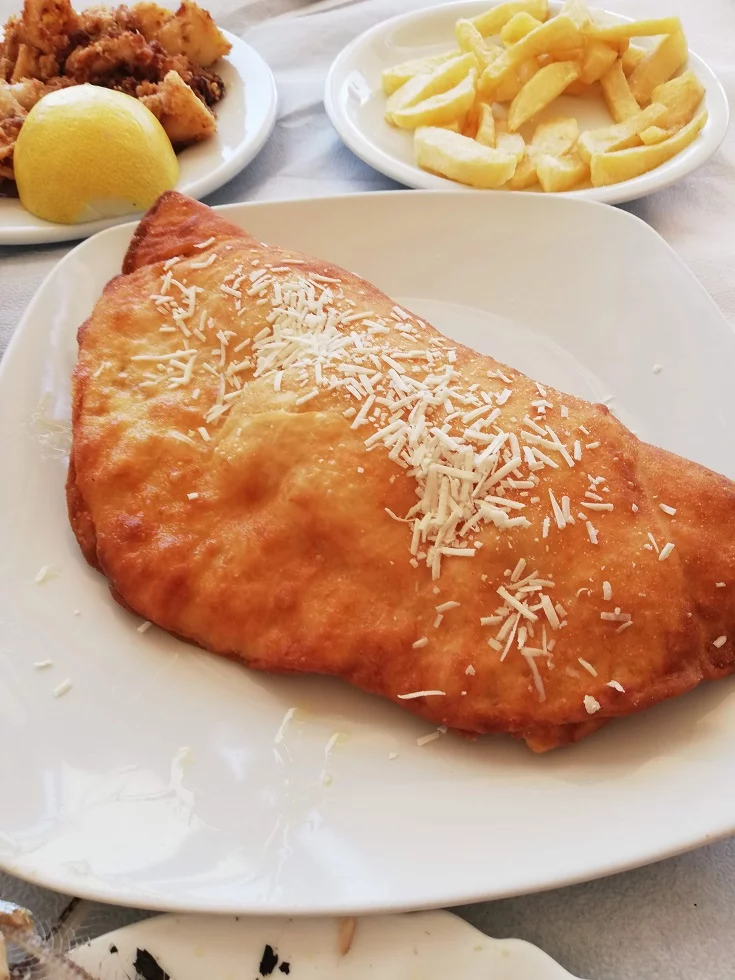 What kind of dough
Tyropitari is quite simple to make.
All you need is yeasted dough, filled only with feta, which melts when it is fried.
The dough is similar to pizza dough.
Flour: You can make it with bread flour or all-purpose flour.
Yeast: You can use dry or fresh yeast. If you have sourdough so much the better.
Starter
Making the starter is essential, especially if using dry yeast, so that you can be sure it will rise.
Dissolve the yeast with lukewarm water (40°C / 105°F). If you do not have a thermometre add one part boiling water and two parts cold water.
When adding the second part of cold water gradually, check the water regularly by dipping your pinky finger in the water.
If you can keep it in the water and count up to five, the water is ready.
Add some sugar (or honey). Sugar is essential as it activates the yeast. (Be careful not to add the salt at this stage)!
Cover with a napkin and check in 10 – 15 minutes maximum half an hour (depending on weather) to see if it bubbles.
If it does not it means that your yeast is not good, so throw it away.
What kind of filling
Tyropitari is filled with only feta. In Greece we have different kinds of feta, such as soft or hard feta or feta which ages in barrels, which is considered the best.
You can just crumble the feta and use it as it is or mix in some Greek yoghurt so that the filling becomes creamier and holds together.
This is the most traditional filling. However, feel free to experiment with other Greek cheeses which melt such as graviera or anthotyro.
If you live abroad and cannot find these Greek cheeses, you can substitute them with goat cheese, mozzarella, ricotta etc.
To flavour the cheese you can add some black pepper.
For a different taste, you can mix in some mint or some finely chopped spring onion.
MAKING THE TYROPITARI
Roll the dough with a rolling pin until thin.
Add the cheese in the middle and then brush the outer part with olive oil. Turn the dough over and press a little the edges. This helps seal the cheese inside.
The most important part is making sure the tyropitari is sealed well, so that the cheese will not ooze out when frying.
You can seal them either by pressing the edges with a for or with your fingers, by twisting and folding the edges.
Frying
While tyropitari is deep fried in restaurants, at home you can shallow fry them or even bake them in the oven with good results.
Add about 2 cm olive oil (or vegetable oil) in a frying pan and fry on both sides, until golden.
Baking
Preheat the oven to 200 C and place the tyropitari on a baking sheet lined with parchment paper.
Generously brush the top with olive oil.
Bake for 20 to 25 minutes until they are golden brown.
When they are fried or baked, sprinkle some grated myzithra or graviera on top and serve while hot. (You can substitute myzithra with Parmesan).
The crispy fried tyropitari is perfect as an appetizer or as a snack with some Greek coffee.
Tyropitari
Tyropitari pronounced Tee-rho-pee-TAH-ree, is a homemade Greek pastry filled with feta cheese and deep fried, which is served as an appetizer.
Ingredients
For the dough:
400 grams all-purpose flour
8 grams dried yeast
1 teaspoon sugar
3/4 cup water
2 tbsp olive oil
1/2 tsp salt
For the filling:
400 grams feta
2 tbsp Greek yoghurt
Freshly grated black pepper
Olive oil for frying
2 tbsp grated graviera or myzithra
Instructions
Prepare the starter: In a bowl add the yeast with 2 tablespoons flour, sugar and some lukewarm water, enough to make a batter and mix. Cover with a napkin and let it stand for 5 - 10 minutes until it starts bubbling.
Attach the dough paddle to the mixer and add the remaining flour, olive oil and salt and mix.
Add the yeast mixture, mix and then add the water gradually and mix again until the dough does not stick on the mixer bowl or your hands. If it is sticky, add more flour.
Cover with cling film and a kitchen towel on top and leave it in a warm place until it doubles in size, about half an hour or more, depending on the room temperature.
Gently punch the dough and divide it into four or six equal parts and roll out each piece of dough until thin.
Crumble the feta and add some grated black pepper, some yoghurt and mix to form a spread.
Add some filling in the middle, leaving about 4 - 5 cm empty. Brush with olive oil and fold to cover the cheese.
Twist and press the dough with your finger or just use a fork to press and seal the edges.
Heat some olive oil in a non stick frying pan and fry the tyropitari on both sides until golden brown.
Remove on kitchen paper to absorb the excess oil.
Serve with some grated cheese on top.
To Bake Tyropitari
Preheat the oven to 200 C and place the tyropitar on a baking sheet lined with parchment paper.
Generously brush the top with olive oil.
Bake for 20 to 25 minutes until they are golden brown.
Nutrition Information
Yield

6
Serving Size

1
Amount Per Serving
Calories

489
Total Fat

22g
Saturated Fat

11g
Trans Fat

0g
Unsaturated Fat

10g
Cholesterol

60mg
Sodium

812mg
Carbohydrates

55g
Fiber

2g
Sugar

4g
Protein

17g
Kopiaste and Kali Orexi!