Kourou is a type of phyllo which I would describe somewhat like tart dough. Kourou is an unleavened phyllo, light and flaky due to the butter and yoghurt it contains.
In Greece you can get many types of tyropita (cheese pie) the best of course made with homemade "horiatiko" village phyllo but you can also get it with puff pastry, with bougatsa pastry, with kataifi pastry, with kourou pastry etc. Each one has a very different texture and taste but each one is better than the other. The filling is usually made only with feta. However, a mixture of other cheese like anthotyro, xynomyzithra or goat cheese takes it to another level. I added NOTHING at all in the filling. No eggs, no cream, no pepper NOTHING, just to highlight the taste of the cheese. If your cheese tastes good, then your tyropita will be perfect.
See in above picture where you can cut the phyllo.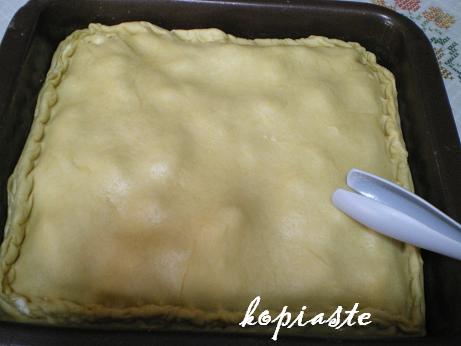 You may also make loukanikopita (sausage pie) with this phyllo: Encase a Frankfurt sausage in the phyllo, brush with egg or oil and bake, et voila.
 Tyropita with Kourou Phyllo
Preparation time: 30 minutes + 15 to rest
Baking time: 45 minutes
Yields: 15 pieces
Ingredients for 4 layers of phyllo
For the Dough
600 grams of  all purpose flour
250 grams  butter (or margarine or)
200 grams  Greek yoghurt
1 egg
1 teaspoon salt
1 tablespoon lemon juice
1/2 teaspoon sugar
olive oil
For the filling

600 grams of Greek feta
400 grams of other cheese (I used xynomyzithra, a Cretan cheese) (or just use 1 kilo feta)
Directions
Bring yoghurt to room temperature and mix with the egg and lemon juice.
Cut the butter into small pieces and mix with the flour, salt and sugar in the mixer's bowl. You can either mix the dough by hand or with the dough hook. Add yoghurt mixture and mix until you have a soft dough which does not stick on the mixer bowl and on your hands. Cover with cling film and let it rest for 15 minutes.
Preheat oven to 180 degrees C / 350 F and grease a baking tin 30 x 25 cm with olive oil.
Flour your working surface and divide dough into four pieces. The two pieces which will be on the bottom must be slightly bigger as they will cover the sides of the tin.
Roll the dough out into a phyllo about 0,3 centimetres, trying to give it the shape of the tin. Roll the phyllo between parchment paper, as it is easy to invert the phyllo into the tin.
After placing the first phyllo, brush it with olive oil and then add the second phyllo. Spread the cheese on the phyllo and continue with third (brushing with oil) and the fourth. If your phyllo is bigger than the edge of the tin cut it with a knife and then you must join all phyllos together, trying to shape them. This is usually done with the fingers but I used tweezers to do this.
Finally brush the last phyllo with olive oil and slightly score with a sharp knife.
Bake in a preheated oven to 180 degrees C for about 45 minutes or until golden brown.
Other relevant recipes:
Kypriaki Tyropita (Cypriot Tyropita with Halloumi)
Patsavouropita, the easiest Greek Tyropita
Tyropita me Maratho and Watermelon Halloumi Salad
Tyropita me Piperies (Savory Cheese Cake with Peppers)
Kopiaste and Kali Orexi!