Cypriot Tyropita is a savoury cake which we make in Cyprus with halloui and mint. Tyropita pronounced ti-RO-pee-ta) means cheese from tyri and pie from pita.
The word "tyropita has a very wide meaning and it can be anything with cheese, made with homemade phyllo, store bought phyllo pastry, puff pastry, kourou pastry, kataifi pastry, or with bread bread dougha and cheese in it, which we make during Easter, a savoury bread (cake) with eggs or even a sweet pastry.
The variety of cheeses to use are endless: halloumi, Paphitiko cheese, feta, graviera, kefalotyri, anthotyros, myzithra the list is endless. A mixture of the above cheeses can be combined or even add some cheese from other countries as well.
Can you think of a better way to start your breakfast? I am sure you can, but here's a kind of breakfast we have in Cyprus. It's a a Halloumi bread or cake, with lots and lots and lots and lots of mint in it. When you think you've added enough mint, just add some more.
The cheese we usually use is aged, homemade halloumi but of course you can use any kind of halloumi, provided you can grate it. I don't say that the halloumi we get in the supermarkets is not good but if you have tasted homemade halloumi, which is quite usual in Cyprus, made with ewe's and goat milk only then you will know the difference. When halloumi is made fresh, it is soft, creamy and rubbery in texture and mildly salty and minty in taste. It is preserved in brine, so as it ages it becomes harder and saltier, with a much robust texture, which makes it easier to grate and the taste gets muvh better as it ages.
This is the perfect cheese to make the Cypriot Tyropita or Halloumopita.
Are you having some friends over for a cup of coffee or a cup of tea? This tyropita is easy to make and you will surely please your guests. No mixer is required, you just mix everything together and bake.
Now I know some of you can't find halloumi but don't worry. (Believe me back in 2007 it was impossible to find halloumi even in Greek supermarkets and whenever we went to Cyprus, it was the first in my list to bring back with us). Now you can find it easily but even if you can't you can buy it online. If you can get hold of some Greek cheese like graviera, kefalograviera or kefalotyri it's still good but kefalotyri might make it a bit salty. A mixture of halloumi and graviera is what I used most of the times when I did not have halloumi.

The same mixture can be used to make mini cakes.
The idea of lining the muffin tin with phyllo was an original idea of mine several years ago, when I made the Sweet tyropita (Cheese Pie). You do not need to use muffin cases but as I was taking them to an event, in the end I put them in the muffin cases for a better presentation and to avoid greasing our hands.
This and many more recipes are included in my cookbook Mint, Cinnamon & Blossom Water, Flavours of Cyprus, Kopiaste!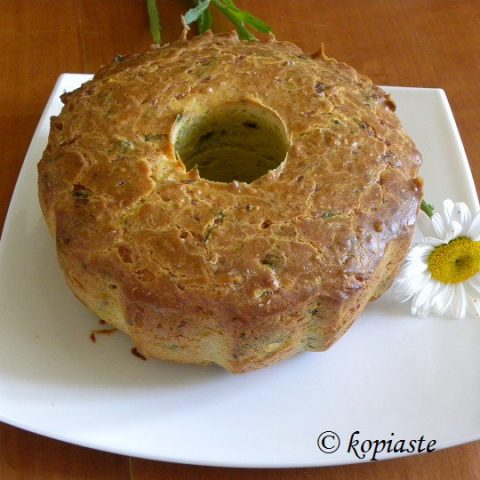 Kypriaki Tyropita (Savory Cypriot Cheese Cake)
Yield: 12

Prep Time: 15 minutes

Cook Time: 1 hour

Total Time: 1 hour 15 minutes

Kypriaki Tyropita is a savoury Cypriot cake made with halloui and mint. Tyropita = τυρόπιτα, (pronounced ti-RO-pee-ta) means cheese from tyri and pie from pita.
Ingredients
3 cups grated halloumi cheese
5 eggs
1 can (410 grams – 14.45 oz) evaporated milk
1 cup peanut oil or good quality mild olive oil
5 - 6 tbsp dried mint or 1 cup fresh mint, finely chopped
2½ - 3 cups of self-raising flour
Instructions
In a big bowl whisk the eggs (no mixer required), add the grated cheese, the oil, milk, dried mint (be generous with it) and the flour.
The amount of flour is between 2 1/2 - 3 cups, depending on how big your eggs are.
Just make it as the texture of a cake and also bake it as a cake. When a toothpick comes out clean, then it's ready.
Grease and flour a 28 cm (11 inch) cake bundt form or a 26 - 28 cm round baking tin and sprinkle some flour.
Pour in the mixture and bake in a preheated oven to 180o C / 350o F and bake for about one hour until the crust is golden brown.
See how crunchy it is outside and how moist inside.
Other relevant recipes:
Patsavouropita, the easiest Greek Tyropita
Tyropita me Maratho and Watermelon Halloumi Salad
Tyropita me Piperies (Savory Cheese Cake with Peppers)
Kopiaste and Kali Orexi!