Have you ever considered using your pasta maker to make homemade phyllo from scratch? You will not believe how easy it is to make homemade phyllo in no time!
I've been using the pasta maker for eons to make phyllo and one day it occurred to me to join the pieces together to make a larger one.
I am very excited that yesterday I made my first video. It was nothing planned but it was one of those rare days that I was alone at home. I had already done the preparation of the dough and filling for Spanakopita, when the idea of making a video popped up.
I know that there are a lot of mistakes in this video and my friends on Facebook gave me some good advice for next time, if ever I decide to do this again, and if I do, I hope next time to do a better job.
What I did was set the tripod on the only free space available in the kitchen and focus on the working area. As you see from the picture and in the video, the stand mixer is where the fruit are and right behind me is the kitchen table.
In order to speak to the camera I had to lower down my body and also later on, while rolling the dough I had to put my back to the camera in order to reach out to roll the phyllo.
As I said, it was not planned and the dough I had made was more than it takes for one spanakopita as I wanted to use the rest to make something else. The amount given in the recipe which follows, is enough for one spanakopita,
Nevertheless, with all the technical mistakes in it, I think that you will understand how to make a good Greek Spanakopita.
There are two types of pasta makers. One which works manually and the other which is an attachment to stand mixers and therefore works automatically, when the mixer is on.
While working with your pasta machine, set it on Number 1, which has the widest gap. If the dough breaks or the stripe of phyllo comes out too narrow, fold the sheet again and repeat, until it comes out fine. While folding it try to get the most of it's width, which is around 15 cm.
Then work your way increasing the number so that the gap becomes narrower and the phyllo comes out is thinner. Number 4 gives a thin phyllo and if you go up to number 5 you will get an even thinner phyllo, but you must be extra careful as it may tear.
The only disadvantage of a manual pasta machine is that you only have one hand free to hold the phyllo, as with the other hand you will be turning the crank, so if you are not experienced, you will need someone to help you turning the crank, in order to have both hands free.
The same procedure applies to the mixer attachment, only this one is numbered from 1 – 9 and rolling it here makes things much easier, as you have both hands free to hold the phyllo as it comes out. However, this is much more expensive than the manual one.

To make pasta, there is a separate attachment, which gives the shape of the pasta, which we will not be using here. See my post for "Makarounotes Chilopites".
After making the phyllo, I made Spanakopita Strifti, which means twisted.
Spanakopita is the most popular Greek pie, made with spinach, aromatic herbs and feta cheese. Other types of cheeses, like anari or anthotyros, which are soft whey cheeses, similar to ricotta can be combined with feta.
How to make Phyllo using a Pasta Maker and Spankopita from Scratch

Preparation time: 15 minutes
Resting time: 30 minutes
Rolling phyllo: 30 minutes, depending on your skills
Ingredients for the dough:
500 grams (1.10 lbs) bread flour or all purpose flour
1 tsp salt
1/2 cup olive oil
1 tbsp wine vinegar
200 ml water (about 1 cup)
Spanakopita Strifti, adapted from my e-cookbook Mint, Cinnamon & Blossom Water, Flavours of Cyprus, Kopiaste, Volume 2
Preparation time: 60 minutes
Baking time: 45 – 60 minutes
Serves: 6 – 9 (as a main dish) or 18 as a snack
Ingredients:
1 dose dough (as above)
Olive oil for brushing (about 1 cup)
Ingredients for the filling:
1 kilo (2.20 lbs) fresh or frozen spinach
3 spring onions
1 small red onion, finely chopped
½ cup parsley, finely chopped
½ cup dill, finely chopped
Myronia and kafkalithres (Chevril and Mediterranean hartwort – whenever they are in season), optional
¼ cup olive oil
300 grams (0.65 lbs) feta, crumbled (or feta mixed with anthothyros)
3 large eggs
Salt
Freshly ground black pepper
Directions:
Sift the flour and mix in the salt. Put the flour in a large bowl and pour in the oil. Using your fingertips rub the oil until the flour has absorbed the oil. Add vinegar and then water gradually (more or less water may be necessary). Mix until the dough is soft but not sticky on your hands. Place on a floured surface and knead for a few minutes.
You can also make the dough in your stand mixer. Attach the dough paddle. Put all the ingredients, except water, in the mixer bowl and mix on low speed. Gradually add water until the dough is ready and does not stick on the walls of the bowl. When the dough starts gathering on the dough hook and forms a ball, it is usually ready. Stop the mixer and test with your fingers to see if it is sticky. If it is, add a little bit more flour.
After your dough is ready, you should leave it to rest for half an hour. This resting time is necessary for the gluten to develop and make the dough elastic. If gluten does not develop properly, you will roll out the dough and then it will shrink again.
Divide the dough into 5 – 6 equal pieces. Shape them into balls and then press to flatten. While working with the dough, flour your working surface regularly with flour, unless you are working on a non-stick mat. Also dust the dough regularly so that it will not stick.
Always keep the remaining dough covered, so that it does not dry.
Set your pasta machine to the smallest number which is number 1. Each time you roll it out, dust it again with flour and continue the same procedure increasing the numbers, until you get the desired thickness. On the manual pasta machines if it is numbered from 1 – 6 go until 4 – 5. On mine it is numbered from 1 – 9, so I go up to 7 – 8.
Meantime, wash the spinach, removing the stems or any damaged leaves and dry. Frozen spinach reduces the time of preparation considerably but defrost before using. Squeeze it with your hands to remove all fluids. Alternatively, if fresh spinach is used, when still wet you can put them in a big saucepan, without any additional water, and bring to a soft boil for about 5 minutes, until it wilts. It will become soft and its volume will be reduced. Place it in a colander to cool and when it can be handled, drain any water by squeezing it. In both cases, cut it into smaller pieces.
Preheat oven to 180o C / 350ο F.
Place the spinach in a large bowl and add ¼ cup of the olive oil, the onions and herbs, as well as the eggs, feta and spices and mix well.
Grease a 30 x 40 cm (12 x 15.75") or 30 cm – 12" baking tin with olive oil. The remaining olive oil will be used to brush the phyllo.
Divide the dough into 5 – 6 parts.
Form it into a ball, flatten the disc and roll out a thin phyllo, flouring it either with flour or corn flour (starch).
Place it on your working surface and cut it in the middle. Put both pieces next to each other and join them, by just pressing with your fingers to make a bigger square or rectangle piece. Brush it generously with olive oil and stretch it further by pulling the edges.
Put some filling on one edge. Roll, once to cover filling and press the two edges so that the filling will not come out. While rolling brush it with olive oil and when done, twist the two ends towards opposite direction. This will stretch the dough and make it even bigger. Place it in an oiled baking tin one roll next to the other.
If making a coil start in the centre and continue until the baking tin is full.
Brush the phyllo on top with olive oil.
Bake for about 1 hour or until golden on top.
If you have leftover phyllo, you can make Pischies, which are pastry with phyllo brushed with olive oil with cinnamon and sugar, pan fried and with honey drizzled on top.
Hope you enjoyed the video and please let me know what you think 🙂
Giveaway & Special Offer for my Readers:
There were 15 comments, number 5 and 16 being pingbacks. The two lucky winners are: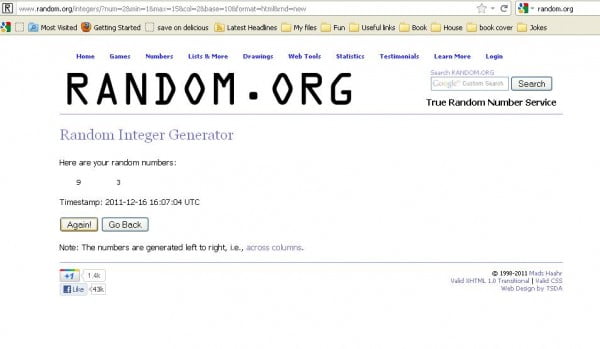 Volume 1 includes a selection of the best Greek-Cypriot savory dishes, mezedes, side dishes and salads. This goes to Jamie, of Life's a Feast.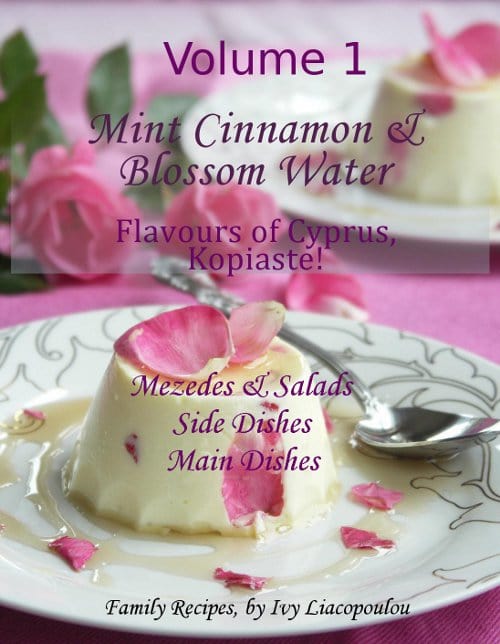 Volume 2, includes Breads, bread products, Pies, Snacks, Preserves and a lot of Desserts. This goes to Rosa, of Rosa's Yummy Yums.

Contratulations to both of you, I shall contact both of you soon.
The special offer with 25% discount is still valid for all the readers of my blog until the 31st December, 2011 . You can use Code JB99K for Volume 1 and Code EP93W for Volume 2.
Last but not least, if you would like to buy the Cookbook in print and are worried that it will not reach you in time, well if you buy it directly from me paying via Paypal, I will also send you the two e-cookbooks within a few hours. Please contact me by e-mail at ivyliac AT gmail DOT com or through the contact page.
If you win or buy the book or e-cookbook, a review is always welcome.
Note: The above offer has expired but you can find the book on all Amazon stores, or directly from my site in pdf format.
Kopiaste and Kali Orexi,