Kotopita is an easy chicken pie and when made with puff pastry it is even easier. In the chicken filling I add some vegetables which are bound together with a bechamel sauce.
During the years I was working I would make it with puff pastry but later on I found it much tastier when making it with my own butter pastry or with Kourou pastry, until I started making it with provencal pastry with is much easier to make and much healthier as it is made with olive oil. Whichever type of phyllo you choose to make it with, they are all delicious.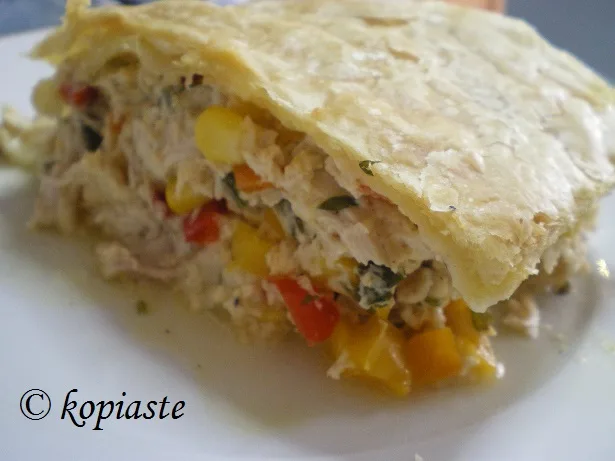 As one of my children doesn't like peppers and the other doesn't like corn, I prepare the mixture with all the other ingredients and then divide it and add the corn to the half mixture and the peppers to other.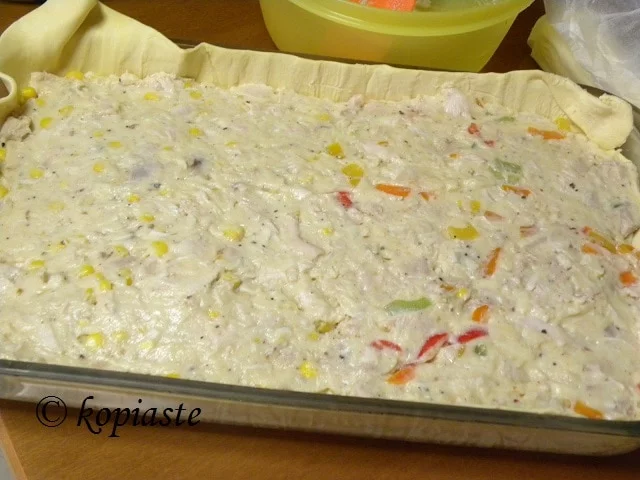 Note:
Do not discard the broth in which the chicken was boiled in. You can use it to make soup (I made some Cypriot trahanas soup with feta) or use it in other recipes.
If making the pie in a smaller baking tin and you have leftover pieces of dough you can put the pieces together and roll them out again, between the paper the puff pastry was wrapped in (or use cling film or parchment paper). Using a cookie cutter you can cut shapes and decorate the pie on top.
As you may see in the picture, instead of using my thumb and forefinger to pinch the edges, I find it much easier to use tweezers.
Kotopita (Chicken Pie)
Ingredients:
For the filling:
1 whole chicken, about 1 1/2 kilo, deboned and skin removed or 2 chicken breasts, boiled, skinned and cut into small pieces

1 cup fresh

or

frozen corn,

boiled for 5 minutes

or tinned corn


1 cup bell peppers, yellow, red, green finely chopped

1 cup of variety of grated melting cheese (mozzarella, regato, kerrygold, gouda, edam, cheddar etc.,) or any combination (I use low fat cheeses)


Salt

Pepper

1

tea

spoon chicken seasoning (I use carino)

1/2 tsp paprika

3 tablespoons finely chopped parsley
For the bechamel sauce:
Directions:

Boil chicken (

see how to clean and boil chicken) and after it can be handled, discard skin, debone and cut into small pieces.

Prepare the bechamel sauce (see step by step instructions).
Combine the chicken with the grated cheese, the parsley, the corn and bell peppers.


Add salt, pepper, paprika and chicken seasoning.

Grease a 40

Χ

30

Χ 5 baking tin and place 1 sheet of the phyllo or puff pastry.

Spread the filling evenly and place the second sheet on top and press the edges of the two pastry sheets together firmly.


Lightly score with a knife (optional) and prick the top sheet with a fork..

Bake the pie in a preheated oven to 180o C for about 45 minutes or until golden on top.
Set aside for 10-15 minutes to cool and then serve.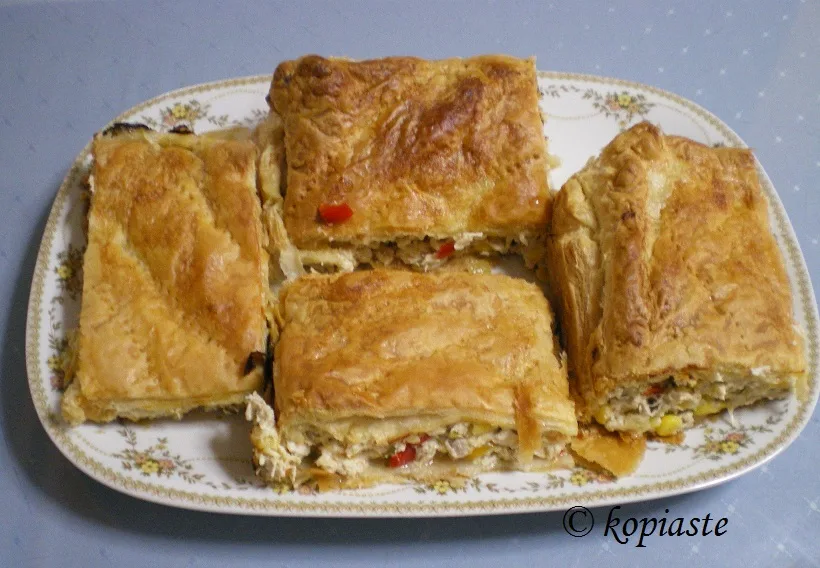 You can find my Greek recipes in my cookbooks «More Than A Greek Salad», and«Mint, Cinnamon & Blossom Water, Flavours of Cyprus, Kopiaste!» both available on all Amazon stores. Read more here.
Other related Recipes:
Kotopita me Prassa (Chicken and Leek Pie)
Kopiaste and Kali Orexi,