Milopita Bougatsa is a Greek Apple Pie, made with cooked apples and spices, which are then thickened with a semolina pudding and enclosed in phyllo.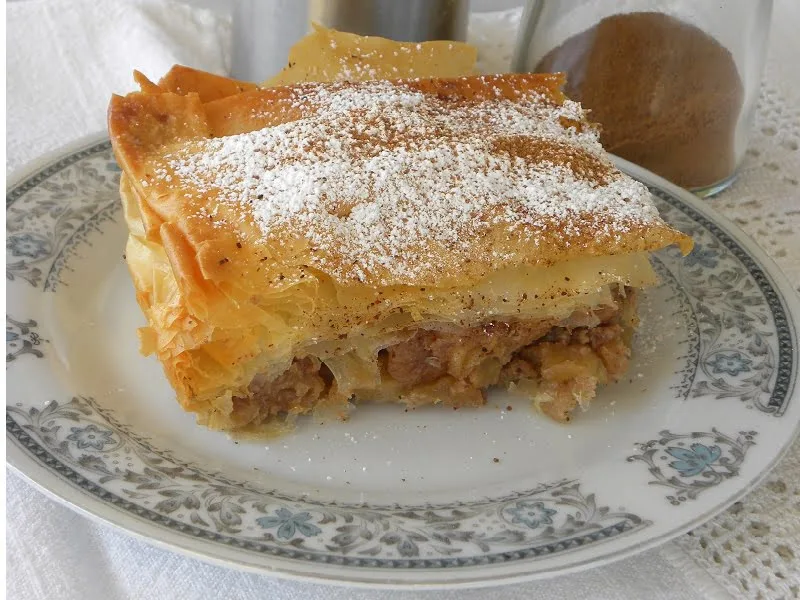 Milopita (μηλόπιτα) pr. mee-LOH-pee-tah means apple pie and Bougatsa (μπουγάτσα) is a Greek custard pie, which I combined the two recipes to make this apple pie with apples from our garden.
Instead of making the classic apple pie crust, I took a shortcut using Greek phyllo pastry.
I cooked the apples with spices and during the cooking process, a lot of juices were released.
I needed to thicken those juices, so I made a pudding mixture, with semolina, milk and an egg, which I mixed in the cooked apples in order to set those juices.
What apples can I use?
There are many varieties of apples but not all apples are good to make apple pies. The best are those which are firm and tart or sweet.
Before our apple tree gave us apples, my favourite variety was Granny Smith, but I also like using Golden or Red Delicious, Jonagold, Starking delicious and Golden Russets, known in Greece as "Mila Tripoleos".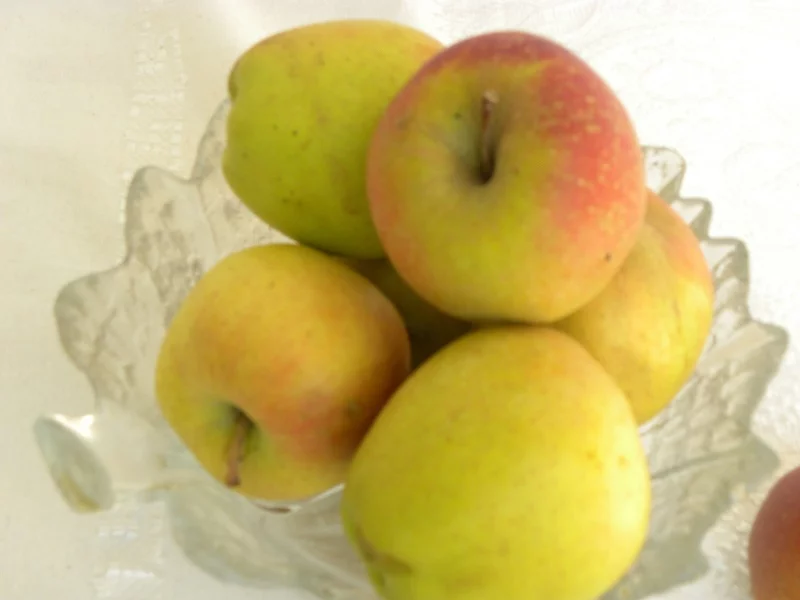 When planting our apple tree, 5 – 6 years ago, I remember taking pictures of the name of the variety.
I do not remember the name, but when I have time, I will go through my pictures to see if I can find it.
Anyway, these apples are perfect for apple pies or applesauce as they are firm and tart.
One day, after a Fall storm, with strong winds lots of apples fell down.
I had some phyllo in the fridge so instead of making an apple strudel, I decided to use it to make this Milopita and more applesauce.
The Apple Pie Filling
I made the apple pie filling with our apples, brown cane sugar, cinnamon, cloves, raisins and walnuts.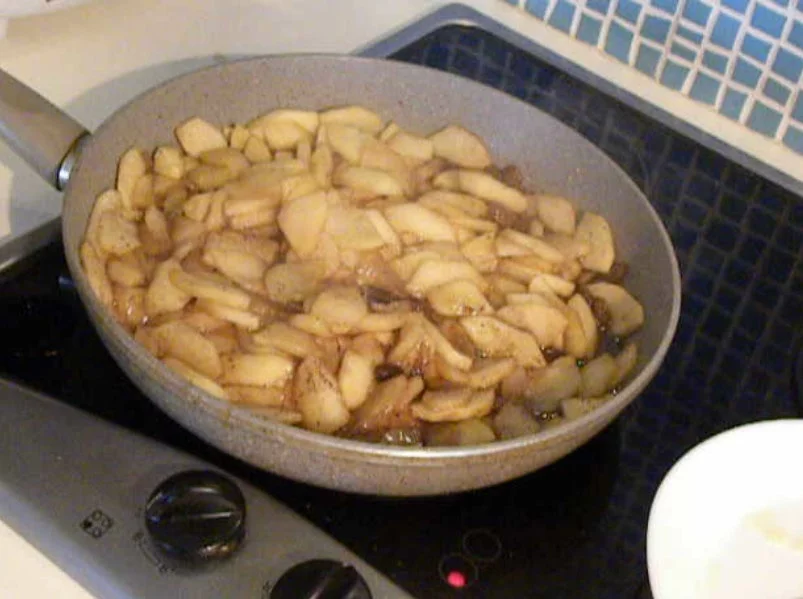 When peeling and chopping the apples, keep them in water with lemon juice, as they oxidize and become brown.
While cooking the apples, you will see a lot of juices being released from the apples.
Those juices are full of flavour, so in order to thicken the pie filling, I add a mixture of milk (I used goat milk), semolina and an egg, to help it set.
Making the Apple Pie
When the filling cools, we then enclose it in phyllo pastry.
You can read how to handle phyllo and find some useful tips in my post for Galaktoboureko.
After layering 3 or more sheets of phyllo as your base, spread the filling on top.
Cover with some of the overlapping phyllos and add more phyllos on top brushing them regularly with clarified butter.
Before baking the pie, score the pieces with a sharp knife.
If you do not do this before baking, later on, when cutting it, it will crumble into many pieces.
Serve while still warm with some icing sugar and cinnamon on top. If you like, you can add a dollop of ice cream or some whipped cream to accompany it.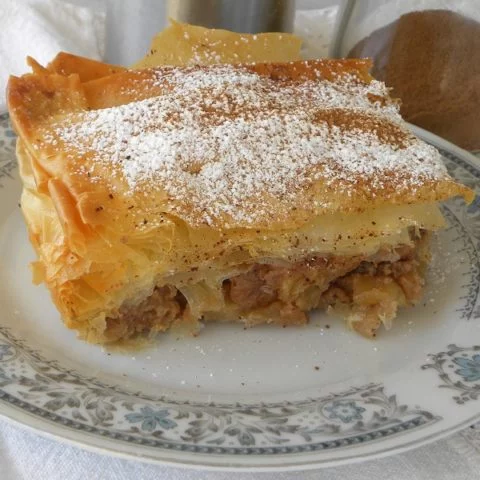 Milopita Bougatsa (Greek Apple Pie with Phyllo)
Total Time:
1 hour
35 minutes
Milopita Bougatsa is a Greek Apple Pie, made with cooked apples and spices, which are then thickened with a semolina pudding and enclosed in phyllo.
Ingredients
110 grams clarified butter
20 grams butter
5 phyllo sheets
Filling:
6 apples x 65 grams, peeled, cored and cut into thin slices
1/3 cup Corinthian raisins
2 tbsp cinnamon liqueur
½ cup walnuts, coarsely chopped
160 grams (about ¾ cup) can sugar
1 tsp cinnamon
½ tsp cloves
Pudding:
185 ml (less than a cup) goat or other milk
1 egg
30 grams fine semolina
Instructions
Prepare the filling:
Wash, peel, core and slice the apples in four pieces. Keep them in the water with the lemon juice until ready to use. This will prevent them from oxidizing.
Cut each quarter into smaller pieces about 1 cm thick.
Put them in another bowl with lemon juice until all quarters are cut.
Gather all the ingredients. Crush the walnuts into smaller pieces.
Heat some butter in a big frying pan and simultaneously clarify the remaining butter.
Drain the apples and sauté them in the big frying pan for five minutes.
Add the sugar, cinnamon and cloves and mix.
Meantime clarify the butter. See instructions here.
Continue cooking the apples for about 30 minutes. The apples will release their juices and become soft. Add the raisins and mix.
Prepare the pudding.
Break the egg in a bowl; add the goat milk and semolina and whisk to combine.
Add the mixture to the apples, a little at a time, mixing continuously until it is incorporated.
Set aside to cool and for the pudding to set. Add the walnuts.
Prepare the Pie:
Brush each phyllo with the clarified butter.
Lay three sheets of phyllo on the Pyrex, alternating them from horizontal to
vertical.
Press them with the brush so that they sit well on the Pyrex.
Add the filling and spread it evenly over the phyllos.
Brush the other phyllo with butter. Fold it in the middle and brush it again.
Brush the remaining phyllos
Bring the overlaying phyllo sheets on top of the filling one by one and using a slightly buttered brush, arrange them on top.
Add the folded phyllo on top and fold the sides to fit your Pyrex.
Continue with the remaining overhanging phyllos, always brushing them.
Finally brush the last one and fold it to fit your Pyrex.
Add it on top, tucking the edges inside.
Slightly score the phyllos on top into pieces, without reaching the filling.
Cover it with grease proof paper and refrigerate for half an hour.
Bake in a preheated convection oven to 160o C / 320o F, for 35 minutes or until golden brown on top.
When it slightly cools, serve warm, adding some icing sugar and cinnamon on top.
Nutrition Information
Yield

8
Serving Size

1
Amount Per Serving
Calories

664
Total Fat

22g
Saturated Fat

11g
Trans Fat

0g
Unsaturated Fat

10g
Cholesterol

66mg
Sodium

130mg
Carbohydrates

114g
Fiber

4g
Sugar

94g
Protein

5g
Apple recipes
Do you have apples and don't know what to do with them? Check out some more recipes with apples.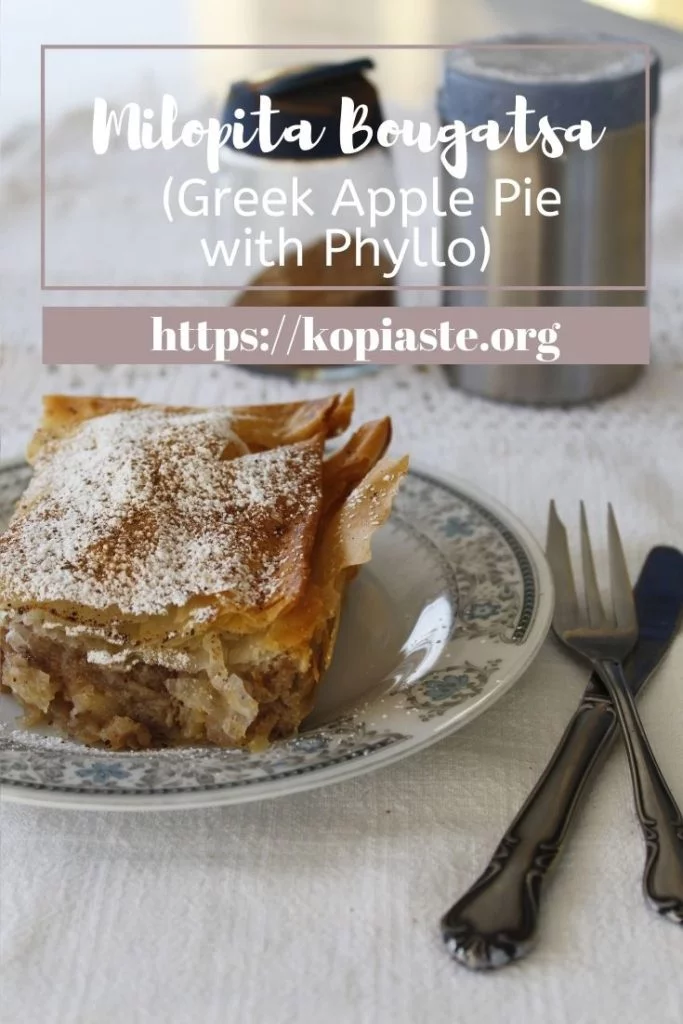 Kopiaste and Kali Orexi!