Plastos, which is a type of pita (pie) from Thessaly, is a much easier version of spanakopita, which is gluten-free as it is without phyllo, made with spinach and corn meal, which is equally delicious.
I add two Greek herbs "myronia" and "kafkalithres" which you may not find. You can substitute these two aromatic herbs with fennel fronds or dill, if you prefer.
Plastos, in Greek means "fake" because it is made without phyllo.
You can also find it under the name platsarià, platsàra or patsarià (pr. mblatsarià, mblatsàra or mbatsarià) in Epirus.
I have posted a similar recipe in the past called Badjina which is again a pita without phyllo but its main ingredient is pumpkin or butternut squash and Greek cheese whereas plastos is with herbs and cheese.
We have been away for a couple of days after a short visit to our house in Assini. Please bear with me as I have a few exciting things to share with you.
First of all it's been a while since I updated my other blog as unfortunately things did not turn as we expected but still we are trying very hard to make it suitable for living, in order to spend some time there during the summer, until we relocate.
We have almost finished the ground floor and here is a peak to my new kitchen.
A few days ago when I posted the picture of a Spanakopita without phyllo on Facebook, I promised that this would be my next post, after being asked for the recipe by some friends.
However, yesterday when I posted about our trip on my other blog I also posted a recipe called Koukoulopita me Kolokythi, which is like a galette with zucchini.
That recipe has a whole wheat phyllo but I am mentioning it here as well as you can make Plasto me Kolokythi (zucchini), which would be exactly the same recipe without the phyllo but much easier.
A few days later, I had more zucchini which I made into a Zucchini, Feta and Halloumi Tart.
On another note, an article of mine about "Old Cypriot Wedding Traditions" has recently been published in Cypriot Status Magazine.
I have posted about this in my Cypriot blog and for those of you who are interested in Cypriot traditional recipes, I have posted some of the traditions as well as the recipe for Ressi, which is our wedding food.
The recipe of Plastos was made during spring when kafkalithres and myronia were in season but you can still make it without these aromatic herbs. You can also add leeks, fennel fronds, dill, mint etc.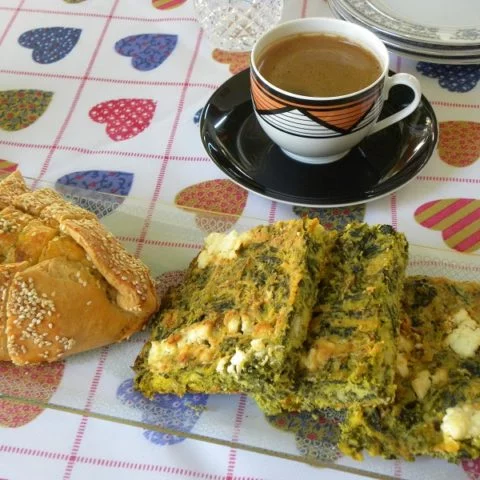 Plastos, Spanakopita from Thessaly
Total Time:
1 hour
30 minutes
Plastos, which is a type of pita (pie) from Thessaly, is a much easier version of spanakopita without phyllo, made with spinach and corn meal, which is equally delicious.
Ingredients
500 grams spinach
2 large green onions (about 2 cups - including green parts)
1/2 cup finely chopped kafkalithres
1/2 cup finely chopped myronia
1/4 cup dill, finely chopped
1/4 cup parsley, finely chopped
3 eggs
200 ml milk
1 tbsp baking powder
400 grams corn meal plus 50 grams
Salt and freshly ground black pepper
300 grams feta plus 150 grams feta
1/3 cup olive oil plus another 1/3 cup olive oil
Instructions
Wash the spinach and squeeze out all the fluid. Wash, dry and finely cut all the vegetables.
In a bowl whisk the eggs and add milk and 1/3 cup olive and mix.
Crumble 300 grams feta and add to the egg mixture, as well as 400 grams corn meal, baking powder, salt and freshly ground black pepper. Add all the vegetables and mix well with a spoon.
From the other 1/3 cup oil, use half of it to wet the baking tin and use the remaining 50 grams of corn meal and sprinkle it over the olive oil.
Using a spoon add the mixture, spoon by spoon to cover all the surface of a very large baking tin (35 x 40 cm / 14 x 16 inches).
Crumble remaining feta on top and with a spoon add the remaining olive oil.
Bake in a preheated oven to 180°C / 350°F for about 1 hour or until golden on top.
Serve as a snack with Greek coffee or as a side dish.
Nutrition Information
Yield

9
Serving Size

1
Amount Per Serving
Calories

344
Total Fat

29g
Saturated Fat

10g
Trans Fat

0g
Unsaturated Fat

17g
Cholesterol

108mg
Sodium

733mg
Carbohydrates

11g
Fiber

2g
Sugar

3g
Protein

12g
Greek Pies (Pites)
Greek pies (pita plural pites) are a staple in Greek cuisine. They are very versatile and can be either savoury or sweet. You can make a "pita" with vegetables, meat, fruit, etc.
Kopiaste and Kali Orexi,