This delicious mushroom pie is made with homemade kourou phyllo (a shortcrust pastry with Greek yoghurt), mushrooms, leeks milk, eggs and feta.
One of my favourite ingredients is mushrooms but making a mushroom pie was out of the question as two out of five members of my family hate mushrooms.
My son George also loves mushrooms as much as I do and has been asking me for quite a long time to make a mushroom pie.
When we were discussing the menu for Foodbuzz 24, 24, 24, he mentioned this again, so this time I could not refuse.
It's not that I don't use mushrooms at all, but I always find a way to cook something in which I can add them the last moment, so that the others will eat it as well.
I make pies quite often but as I had never made one with mushrooms, a few days before I had to test it before making it for the buffet, so when I made a chicken pie for the rest of the family, I made more phyllo and made a small one (19 cm pan) just to try it.
How I made the mushroom pie
I prepared the kourou dough first and after dividing it into two pieces and wrapping each with cling film I put it in the fridge.
I then sautéed the leeks first, together with garlic and spring onions and cooked them with balsamic vinegar until they were soft.
I then sautéed the mushrooms separately. I used two kinds of mushrooms: white portobello and white agaricus (button mushrooms).
I added fresh rosemary which matches well with mushrooms and as the mushrooms released a lot of fluids, I added some flour to absorb the juices. I set them aside to cool.
I then rolled out the two phyllos.
I add the largest one in a 30 cm tart pan and added the fillings.
Then, I whisked the eggs with the milk and crumbled some feta in. I poured this mixture on top of the mushrooms and covered it with the other phyllo.
From the pieces of phyllo I trimmed, I made the decoration.
The verdict:
This dough makes a very flaky phyllo which makes savory pies delicious. When I made the previous pie I kept a slice to try it in the evening and see how it tasted cold and if the crust would still be crispy.
Fortunately, it was perfect, so I prepared the phyllo the previous day and rolled it out and placed it between parchment paper in the refrigerator.
I also prepared the filling from the previous day and had each ingredient stored separately. I didn't want to prepare the whole pie from the previous day as I didn't want the phyllo to become soggy. So, the first thing I made on Saturday morning was to assemble the pie, which took me about ten minutes and baked it while I started cooking.

Here is a collage of the small pie I made as I did not have time to take a proper picture of the other one. The ingredients given is for a 30 cm tart pan. T
his pie serves 8 as a main course, served with a salad but for the buffet, I cut it into around 30 small pieces.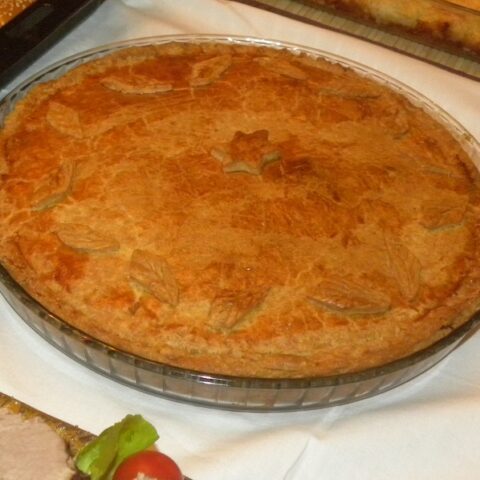 Homemade Greek Mushroom Pie with Leeks (Manitaropita me Prassa)
Prep Time:
1 hour
20 minutes
Additional Time:
30 minutes
Total Time:
2 hours
35 minutes
This delicious mushroom pie is made with homemade kourou phyllo (shortcrust pastry), mushrooms, leeks milk, eggs and feta.
Ingredients
Kourou Phyllo
250 grams butter
1 Greek yoghurt (200 grams) 2%
1 tablespoon sea salt
500 grams self raising flour plus 1 or 2 more tablespoons
Filling:
¼ cup olive oil
3 leeks, finely chopped
3 spring onions, finely chopped
2 clove garlic, finely chopped, divided
2 tablespoons balsamic vinegar
550 grams Portobello and button mushrooms, sliced
1 tsp butter
1 cup parsley, finely chopped
Salt and freshly ground black pepper
2 sprigs fresh rosemary, chopped
200 grams feta
2 eggs
½ cup milk
Instructions
!For Kourou phyllo:
Cut the butter into small pieces.
Sieve flour in a large bowl and add salt . Add the butter and mix with your hands. Add yoghurt and mix until the dough comes together and forms a ball. (A few more tablespoons of flour may be needed).
Divide the dough in two parts, one of which should be slightly bigger. Form them into a ball and then flatten them. Wrap each in cling film and refrigerate for half an hour before rolling out.
Roll out phyllo on a non stick working surface about ½ cm thick.
!For filling:
Heat half of the olive oil in a sautéing pan and sauté leeks, onions and garlic until translucent. Season with salt and pepper and add the vinegar and mix. Drain and reserve the juices.
Heat the butter and sauté the garlic for a few seconds and then add the mushrooms. Add 2 tablespoons of the leek juices, season with salt and pepper, add the rosemary and cook until they release all the juices.
Mix for a few minutes, add the flour and mix until all the juices are absorbed. Set aside until they cool and mix in the parsley.
Beat the eggs and reserve a few tablespoons.
Preheat the oven to 180o C.
Roll out the biggest dough.
Brush a 30 cm tart pan with olive oil and place the dough. Brush with the beaten egg. (This will prevent the dough from absorbing any juices).
Add the leeks and on top the mushrooms.
In the remaining eggs, crumble feta and add enough milk to make it creamy.
Spoon this mixture on top of the mushrooms.
Finally add the second phyllo on top, trim any excess dough and seal the two together.
Decorate the pie on top with leftover pieces of dough and brush with the reserved egg.
Bake in a preheated oven for about 45 – 55 minutes, until golden brown.
Greek Pies (Pites)
Greek pies (pita plural pites) are a staple in Greek cuisine. They are very versatile and can be either savoury or sweet. You can make a "pita" with vegetables, meat, fruit, etc.
Kopiaste and Kali Orexi!!