Agginaropita is a delicious Greek pie made with artichokes and leeks. It is is great for lunch with a salad and leftovers can be eaten for breakfast or brunch.
This month's Tried & Tested is featuring Kevin of Closet Cooking. This event was an original idea by Zlamushka of Spicy Kitchen.
Each month a blogger is featured and we have to choose one of his/her recipes and recreate it and blog about it. This month's host, is Hema of Salt 2 Taste.
Kevin makes delicious recipes. Take a look at his blog and you will find lots of delicious recipes from around the world: Canada, America, Greece, Italy, Vietnam, Thailand, China, India etc. You will have no problem finding one to recreate.
I took a look at Kevin's Greek recipes and I saw Agginaropita, which is an Artichoke-cheese pie, which he had made from Maria's blog.
I've been wanting to make this pie for a long time as I love artichokes, so I knew what I wanted to make as soon as I saw this recipe.
I rarely copy recipes, except when it's something unknown to me and I want to see how the original version is.
I usually work with what ingredients everyone eats and that is what I have at home.
However, since this event was about trying and testing, I planned the recipe in advance and have not changed anything to Kevin's recipe except for adjusting the ingredients to a larger quantity.
My children are not really fond of artichokes but they like "pites" (pies) and they did eat some but the rest of us, we loved the pie and enjoyed it very much. You can find Kevin's recipe here.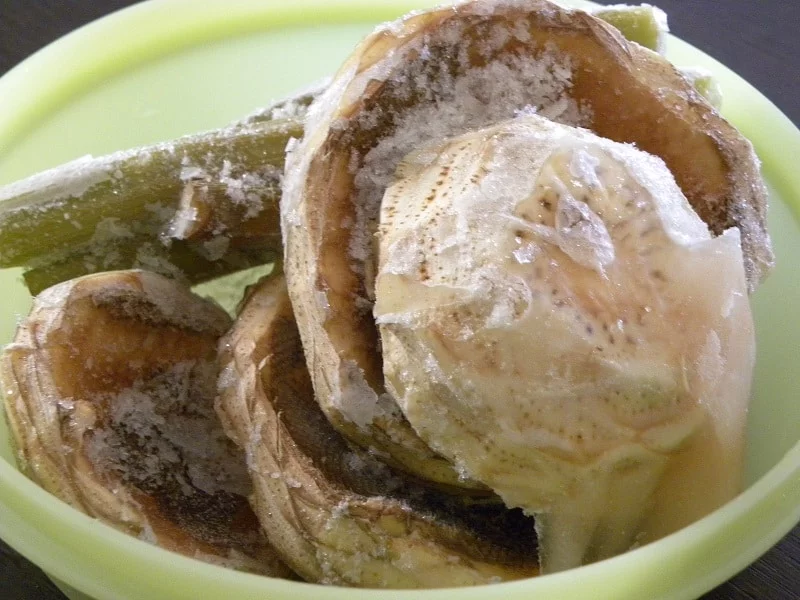 I used frozen artichokes and had some more leftover, so a few days later I made it again but this time instead of making the pie with ready made phyllo, I preferred to make my own phyllo and made individual pies (galettes).
In Greece we have another pie called Prassopita, which is a leek pie.
Although, I have made that one last year, I haven't posted it yet, as well so many others waiting patiently to be posted.
I wanted to make a combination of prassopita with some artichokes and instead of adding feta, I added xynomyzithra and some blue cheese.
Since these two pies are connected and similar in ingredients, I am posting my version as well.
Artichoke Recipes

Here are a few more ideas how to cook artichokes.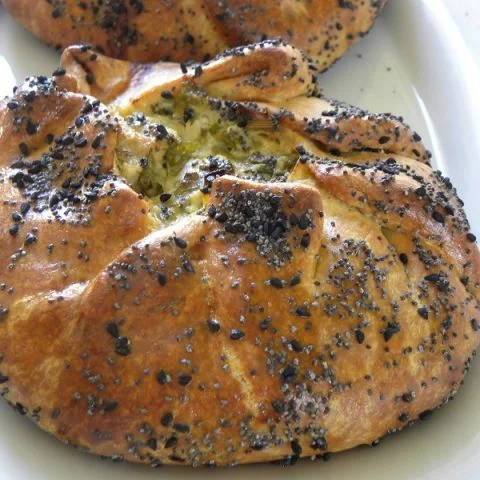 Agginaropita Me Prassa (Artichoke & Leek Galette)
Total Time:
1 hour
45 minutes
Agginaropita is a delicious Greek pie made with artichokes and leeks. It is is great for lunch with a salad and leftovers can be eaten for breakfast or brunch.
Ingredients
For the pastry dough :
3 cups bread flour
1 cup all purpose flour
½ cup olive oil
½ cup tepid water
1 tsp salt
2 eggs
For the filling:
3 tablespoons olive oil
6 leeks (only white part), finely chopped
6 artichokes, quartered
1 onion, finely chopped
1 tsp salt
1 cup white wine
350 grams xynomyzithra
100 grams blue cheese
1 cup parsley, finely chopped
1 cup dill, finely chopped
3 eggs
Freshly ground black pepper
1 tablespoon poppy seeds
1 tablespoon black sesame seeds
1 egg, for brushing
Instructions
Prepare the dough, see detailed instructions here and here.
Position rack in top third of oven and preheat to 180°C. Line a large baking tin (33 x 40 cm) with parchment paper.
Clean the artichokes, se detailed instructions here.
Wash all the vegetables. Cut the green end of the leeks.
Heat the olive oil in a sautéing pan and sauté the leeks.Add the onion and the artichokes as well as the salt and sauté until translucent.
Add the wine, cover the sautéing pan and cook for ten minutes, or until the wine has been absorbed.
Remove from the heat and leave it for about 30 minutes to cool.
Meanwhile, chop the parsley and dill, crumble the cheeses with a fork and add the eggs and pepper and mix well.
Add this to the leeks and mix well.
Divide the dough into six equal parts and roll out each pie into a disc about 20 cm., diameter.
Spread 1/6 of the leek mixture over dough, leaving a border on all sides. Fold the border in over filling. Brush folded edge with the egg and sprinkle the sesame and poppy seeds on top.
Bake galette until crust is golden brown, about 45 minutes.
Cut each galette into 4 pieces and serve warm as an appetizer.
Nutrition Information
Yield

6
Serving Size

1
Amount Per Serving
Calories

834
Total Fat

38g
Saturated Fat

9g
Trans Fat

0g
Unsaturated Fat

27g
Cholesterol

199mg
Sodium

1134mg
Carbohydrates

94g
Fiber

11g
Sugar

6g
Protein

26g
Other Relevant Recipes
:
Kolokythopita me Myzithra (Savory Pumpkin Pie)
Kotopita me Prassa (Chicken and Leek Pie)
Tyropita me Maratho and Watermelon Salad
Homemade Spanakopita from scratch
PIN FOR LATER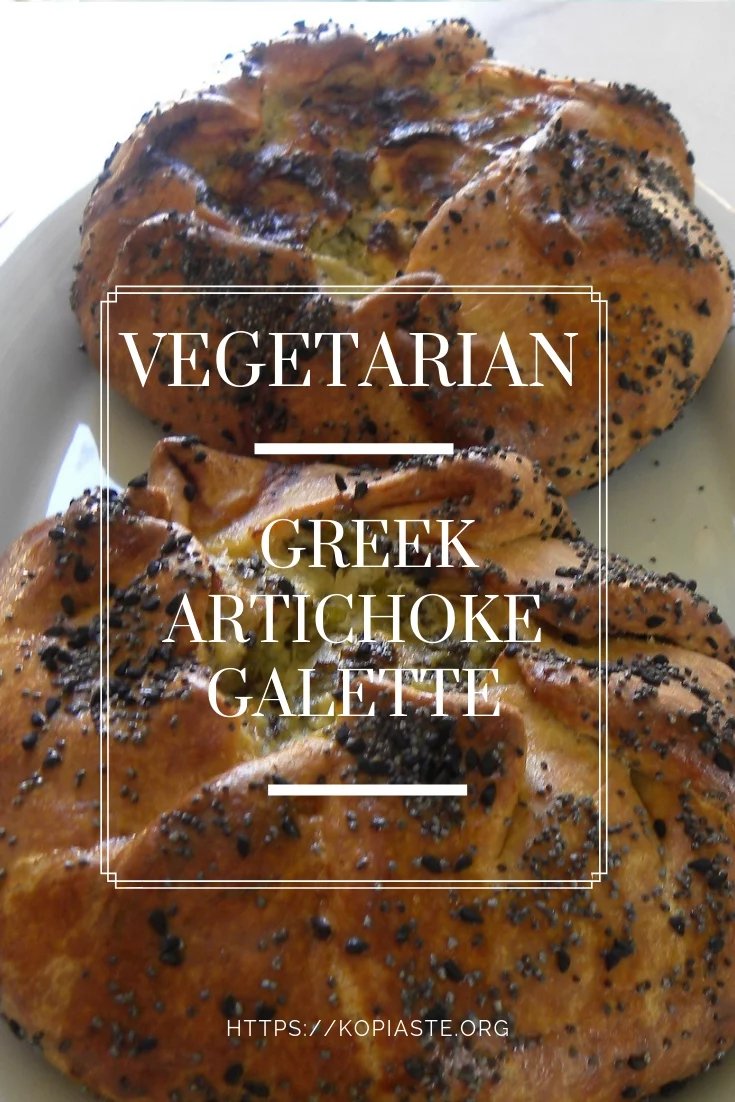 Kopiaste and Kali Orexi,