Magiritsa (pr. mah-ghee-RHEE-tsah), is a traditional Greek Easter offal soup which is the first thing served after the midnight mass on Saturday evening.
After the fasting period, which may be from a few days or up to forty eight days (and not forty as many think), this soup apart from delicious, is light and good for the stomach.
Magiritsa is made with some finely chopped baby lamb intestines as well as the lamb offal, finely chopped, lettuce coarsely chopped and blanched, dill and spices which are cooked until the offal are soft and then an avgolemono sauce is added, to thicken the soup.
I've seen recipes adding rice to this soup but traditional magiritsa does not have rice in it.
If you do not like offal, you can substitute them with oyster (pleurotus) mushrooms which have a meaty texture.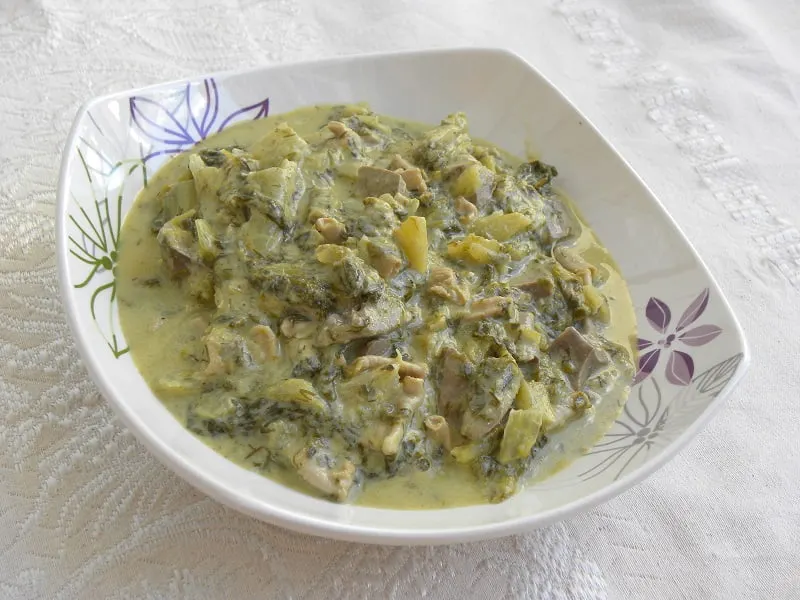 In some parts of Greece they make magiritsa either by adding tomato or by adding rice.
In our family we use neither rice or tomato, although in Sparta where we usually go for Easter they do use tomato in the sauce.
If you don't like liver, you can substitute it with pleurotus (oyster) mushrooms.
This is the time when we also crack our Easter eggs and say "Christos Anesti" (Christ has risen from the dead).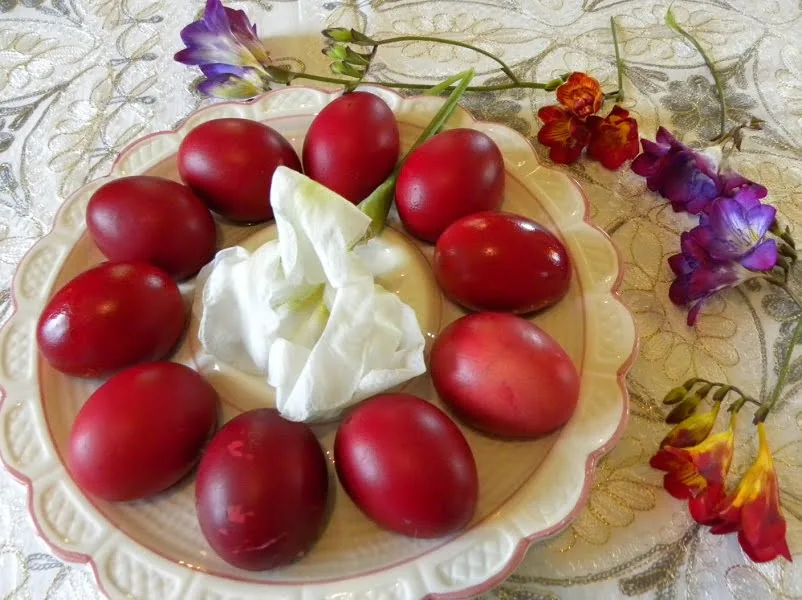 We dye them red symbolizing the blood of Jesus and we crack them to remember the cracking of the stones when the earth opened and stones cracked during His resurrection.
Magiritsa
Total Time:
1 hour
15 minutes
Magiritsa is the Greek soup, made from lamb offal, lettuce and avgolemono sauce and the first meal served after the 40 days fasting of Lent.
Ingredients
1 lamb liver, including lungs and sweetbreads etc.
½ kilo lamb bowels
3 - 4 lettuces, depending on size, coarsely cut
½ cup olive oil
1 small red onion, finely chopped
4 spring onions, finely chopped
1 clove garlic, finely chopped
1 cup finely chopped dill
1 cup finely chopped parsley
Salt and freshly ground black pepper
3 egg yolks
½ cup of lemon juice
1 tbsp corn flour (optional)
Instructions
Wash the lettuce as well as the herbs.
Cut the lettuce in big pieces and boil for ten minutes and then strain them, adding some cold water.
Wash the offal and the bowels. Boil the liver, lungs, sweetbreads for ten minutes and after straining cut them in very small pieces (not bigger than 2 cm).
In a pot sauté the onions until translucent. Add the garlic and sauté for a few seconds until fragrant.
Add the liver and bowels and sauté as well.
Add the lettuce, salt, pepper and water to cover and simmer for about 30 – 40 minutes.
Add the herbs and cook for five more minutes.
Remove from heat and set aside for 10 minutes.
Prepare the avgolemono sauce (egg and lemon sauce).
Avgolemono sauce
In a separate bowl, beat the eggs and add the lemon juice. While beating, add the corn flour and mix until it dissolves. Take a ladle of stock from your pot and slowly add it to your egg and lemon mixture while whisking.
Add avgolemono into your pot and mix.
Leave it to rest for 10 minutes and then serve.
Nutrition Information
Yield

6
Serving Size

1
Amount Per Serving
Calories

514
Total Fat

40g
Saturated Fat

11g
Trans Fat

0g
Unsaturated Fat

26g
Cholesterol

294mg
Sodium

177mg
Carbohydrates

6g
Fiber

2g
Sugar

2g
Protein

32g
Greek Easter Recipes and more
Here are some of my Easter Recipes and a few ideas of what to do with your leftovers. I have also included some cakes for those celebrating.
Kalo Pascha (Happy Easter)
Kopiaste and Kali Orexi,