This Greek roasted pork is stuffed with bacon, halloumi, feta, as well as other ingredients then it is wrapped in vine leaves and baked in the oven with potatoes.
Today is a public holiday as we are celebrating "Ochi" day.
Ochi, means NO and this is what Greece's prime minister, Ioannis Metaxas, replied on 28 October, 1940 to Mussolini's ultimatum to allow Axis forces to enter Greece at the beginning of WW2.
I invited my nephew and niece, who are students here in Athens to come celebrate with us.
I prepared this lovely pork roast stuffed with bacon and haloumi, baked together with delicious lemony potatoes.
Happy "Ochi" Day!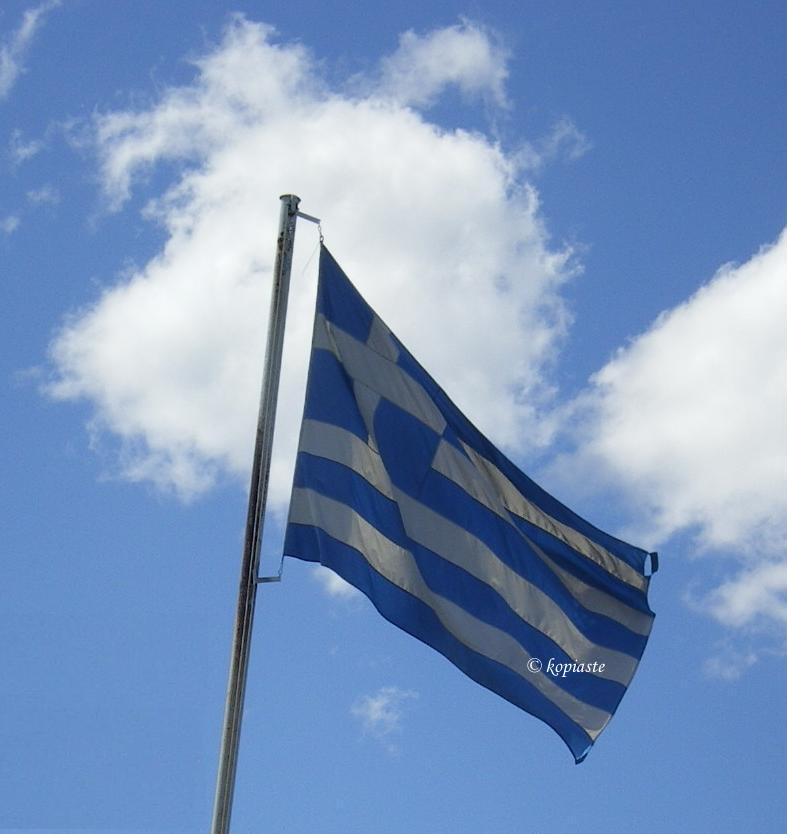 What can I say about this dish except that if you like the ingredients you will be thrilled by the taste and it is a dish easy to make.
You can serve it at buffets or on any special occasion and your guests will surely be thrilled.
The roast, is very easy to prepare, cooks easily and presents well.
The vine leaves impart a lovely, lemony flavour flavour to the meat.
Vine leaves are usually used to make dolmades in Greece, but they are also use in other Greek recipes as well.
If you do not have a vine from where to get them, in Greece they are sold fresh at the farmers' market during spring or brined during the rest of the year.
I am lucky to have a vine in our garden, so I collect them when tender, wash them, let them drain, label them to know how many in each packet and wrap them in a roll with cling film. I store them in the deep freezer and use them year round.
You can also get them in supermarkets or various specialty shops, brined, in a jar. You will need to soak the brined leaves in cold water for an hour to remove any excess saltiness before using them.
However, if you can't find them, you can just use the parchment paper and then wrap it again in foil.
You can make the same recipe with boneless lamb, goat or chicken.

Roasted Pork stuffed and wrapped in vine leaves
Cook Time:
2 hours
30 minutes
This Greek roasted pork is a twist to a classic dish made with lamb, which is perfect for any festive occasion.
Ingredients
1 ½ - 2 kilos boneless pork leg or butt
Salt
Freshly ground black pepper
Oregano
8 – 10 slices bacon
Olive oil (about 1 cup)
8 slices halloumi cheese
100 gr. feta cheese crumbled
2 tablespoons mustard
1 onion blended
2 cloves garlic blended
2- 3 tablespoons olive oil
2 tablespoons fresh (chopped) or dried mint
2 tablespoons finely chopped parsley
16 vine leaves boiled
1 cup water
Juice of 1 lemon
For garnishing (optional)
Various vegetables sautéed, such as mushrooms, onions, carrots, Brussels sprouts etc.
Instructions
Ask your butcher to cut the meat and to flatten it so that it may be stuffed and rolled. Sprinkle with salt, pepper and oregano.
On a parchment paper lay the vine leave and place the meat on top of them.
Sauté the bacon in a non-stick frying pan, without oil. Drain on kitchen paper.
In a food processor blend the onion and the garlic with a few tablespoons of olive oil and add this on top of the meat.
Place the bacon, halloumi cheese, feta cheese, some mustard and the parsley and mint on top of the meat.
Then roll the meat and put a couple of toothpicks to secure, then wrap with the vine leaves and finally with the paper.
In a baking tin place the potatoes. If they are small, pierce them with a knife and if they are bigger cut into big pieces, add salt, pepper, oregano, lemon juice, oil and water. Place the meat roll in the centre.
Preheat the oven to 180 degrees C and bake until the potatoes are ready. Half way through turn the potatoes and add more water if necessary. When done remove the paper and the toothpicks.
Allow to cool down before slicing.
Like this post?
You can hover over this image to pin it to your Pinterest board. Also, please feel free to share it with your friends and fellow bloggers, using the share tools below.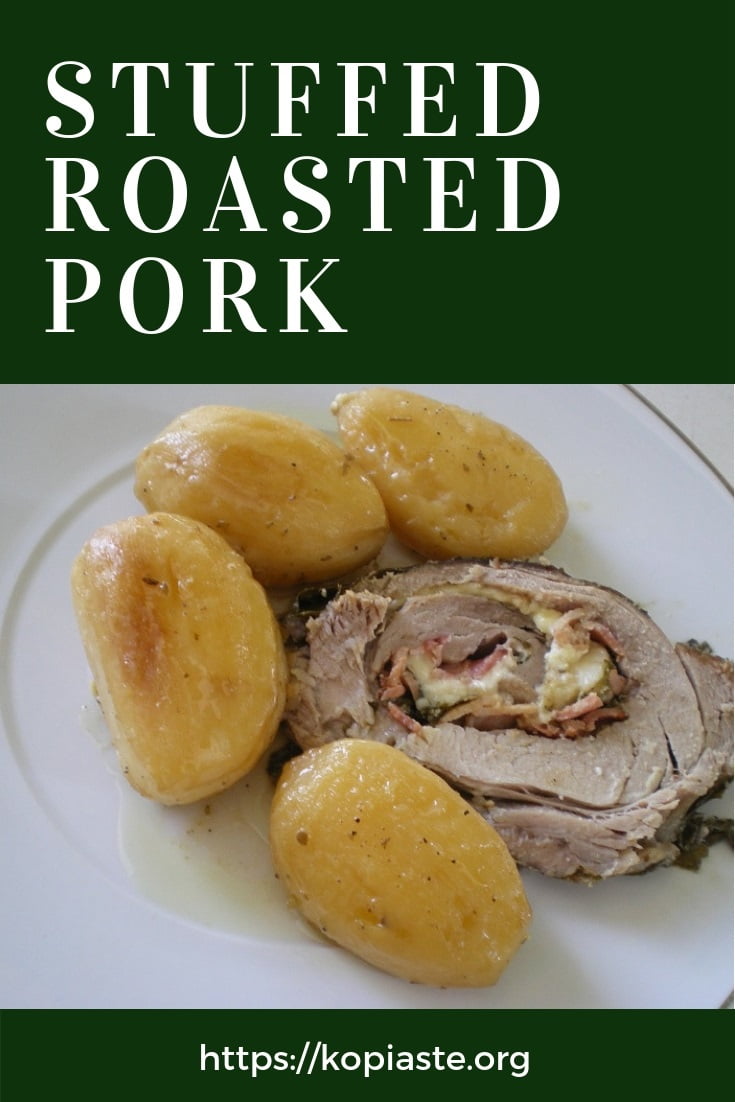 Kopiaste and Kali Orexi,