Galaktoboureko, (pr. gha-lahk-toh-BOO-reh-koh), also written Galaktomboureko, is a traditional Greek dessert, possibly the king of sweets for many in Greece and the one I prefer the most.
It is a semolina custard dessert, baked between phyllo dough, then drenched in a scented syrup when finished.
Each phyllo is brushed with local ewes' and goat butter or in case you cannot find any, clarified butter can also be used.
In the middle there is a custard cream made from semolina, flavoured with vanilla and lemon.
The remaining phyllos are layered on top and when the dessert is baked a sugar syrup is added on top.
It's one of my favourite desserts and if I didn't mind the calories, I could eat this for breakfast, lunch and dinner and not want anything else.
In Greece and Cyprus in the old years they used to say that you are not a worthy housewife if you didn't know how to make thin phyllo from scratch
Nowadays it's much easier to make galaktomboureko or other recipes using store bought phyllo, because it's much easier.
Individual Rolls
You can also make individual ones, wrapped in a roll.
To make the rolls, cut the phyllo sheets in the middle, from the narrow side.
Brush the phyllo with some butter.
Add about two to three spoonfuls of cream, 4 – 6 cm below the edge and fold one of the sides on top of the cream, then fold the other side and then fold the remaining to form a roll.
Place them in a baking tray, next to the other and bake until golden.
Finally add the syrup.
Some small secrets to make the perfect Galaktoboureko
What kind of Butter do I use?
Traditionally, galaktoboureko is made with fresh ewes'milk butter, which gives a distinct and rich flavour to the dessert. Seee my recipe Ivy's Lemony Galaktoboureko.
We can, however, use cows'milk butter, which must be clarified before using.
The reason we clarify the butter, is that it can reach a much higher smoke point than regular butter.
This is the main reason we use it to make savory pies or desserts, so that the phyllos do not burn.
What kind of phyllo should I use?
In Greece we have many types of phyllo but to make desserts we usually use two types. One is called "phyllo kroustas", which means crusty phyllo, similar to "filo dough" sold abroad and the other one is called "Vyritou", which litterally means Beirut type, which has eggs in it and it is thinner than phyllo kroustas.
In Greece phyllo pastry is sold either fresh or frozen. If using frozen, make sure to thaw it from the previous day in the fridge.
Phyllo dries easily and crumbles during hot weather or even if the air-conditioning is on.
Although I've worked with phyllo with temperatures ranging from 35 – 43 degrees C, I have never used a damp cloth on top, which I see in many instructions.
Just keep it covered with cling film, or a clean towel.
Any leftover phyllo should be wrapped again in the wax sheet paper it was originally packaged and put back in the package.
The opened edge of the package should be sealed either with adhesive tape or with a stapler, so that it is again vacuum packed.
If properly sealed, it can be stored in the fridge for at least two weeks.
Any type of phyllo you choose to use, each sheet must be well buttered. The addition of butter on each one will prevent them from sticking to each other, will help them bake but will also add flavour to the dessert.
Layering the phyllos
The phyllos must be layered in such a way, so that they overhang from the baking tin. After the filling is added, they are folded one by one, on top of the filling. This way the filling is sealed inside and not oozing from the sides.
Those pieces which are in the corners or the sides of the baking pan are the best because they have more phyllos on them!
When we finish adding the layers on top, we lightly score the pieces but without reaching the cream. This way it will allow steam to come out and when baked the pieces will be cut easily, without cracking.
At the end we sprinkle a few drops of water on top. This is optional but will make the phyllo much crispier.
Note: These tips apply when making any other recipe, using store bought or homemade phyllo.
The Cream Filling
A custard, similar to pastry cream is made with ewes' or cows' milk and thickened with fine semolina. The semolina gives the cream its texture, which is kind of granular.
Note: From what I have read, Norther American semolina is much coarser than Greek semolina.
In that case, if you cannot find Greek or other European semolina, you can whiz it in a blender or use corn flour (starch), instead. The texture may differ a bit but it is still very good.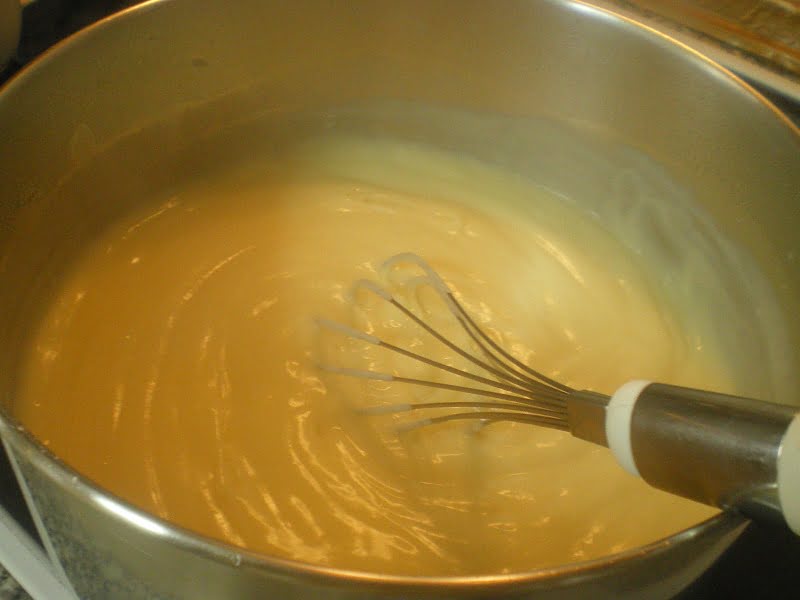 The cream has to cool before adding it on the phyllos, so cover it with cling film, so as not to make a crust on top.
Flavour
Galaktoboureko is usually flavoured with vanilla and lemon zest.
The syrup
The syrup has to be made first, so that it may cool by the time the dessert is ready.
It is a very simple sugar syrup, which is flavoured with cinnamon, cloves and lemon peel. After it boils for five minutes, we add lemon juice. This will give additional lemony flavour to the dessert but it is also necessary, so that the sugar will not crystallize again. You can watch a video here.
As soon as the dessert is out of the oven, we add the syrup, which must be cold by that time of lukewarm.
We let it stand for at least two hours in order to absorb the syrup but also for the cream to set, before cutting it into pieces.
A similar recipe as well as many more Greek recipes are included in my cookbook Mint, Cinnamon & Blossom Water, Flavours of Cyprus, Kopiaste as well as in my e-cookbook Volume 2.
Galaktoboureko (Greek semolina Pudding wrapped in phyllo)
Total Time:
1 hour
20 minutes
Galaktoboureko, is a semolina custard dessert, baked between phyllo dough, then drenched in a scented syrup when finished.
Ingredients
6 phyllo sheets
Water to sprinkle on top
Cream filling:
1 litre milk
4 eggs
130 grams (about ¾ cup sugar)
130 grams fine semolina
½ tsp vanilla or citrus essence or 1 packet (10 grams) lemon scented vanilla sugar
1 tbsp lemon zest
1 tbsp butter (optional)
Syrup:
1 ½ cups sugar
1 cup water
2 tbsp honey
1 stick cinnamon
3- 4 cloves
1 lemon peel
4 tbsp lemon juice
Instructions
Begin by preparing the syrup first as it has to be cold or at least lukewarm, when pouring it over the galaktoboureko when baked: Put the sugar, water, lemon peel and the spices in a saucepan. Bring to a boil and simmer for 5 minutes. Mix in lemon juice and remove from the heat.
Prepare the filling:
Heat the milk reserving about half a cup cold milk to add to mixture. In another pot add the semolina, the eggs, sugar and the cold milk and stir well with a balloon whisk. When the milk is hot pour to mixture stirring continuously. Put on the heat and mix constantly until cream sets. Add the butter and vanilla and stir. Cover the surface with cling film and set aside for a while to cool.
Assembling the dessert:
Grease a baking pan (25 x 17.5 cm – 10 x 7 inches) with butter. Layer four sheets of phyllo, brushing each one with butter and place them alternating from horizontally to vertically, part of it covering the sides of the baking tin.
Add the cream and then start folding the protruding edges, one layer at a time, brushing them with butter. Brush the remaining two phyllos with butter and fold them in the middle. Add them on top and cut the protruding phyllos around the edge of the baking tin.
Using the brush tuck the sides to go inside. Brush the last one with butter and score lightly until the knife reaches the level of the cream. Wet your hands with water and sprinkle a few drops on top. Repeat once more.
Bake in a preheated oven to 170οC / 338oF for about 35 minutes for about 45 minutes (If baked in a fan-forced oven bake to 160oC/320oF) or until golden on top.
Remove galaktoboureko from the oven and add the syrup gradually with a spoon to wet it. It may seem that the syrup is too much but it will soon be absorbed.
Set aside to cool completely before serving.
Leftover, must be refrigerated.
Recommended Products
As an Amazon Associate and member of other affiliate programs, I earn from qualifying purchases.
Nutrition Information
Yield

12
Serving Size

1
Amount Per Serving
Calories

270
Total Fat

5g
Saturated Fat

2g
Trans Fat

0g
Unsaturated Fat

2g
Cholesterol

71mg
Sodium

150mg
Carbohydrates

49g
Fiber

1g
Sugar

28g
Protein

8g
Traditional Greek Desserts
Some of the most common Greek sweet pies:
Kopiaste and Kali Orexi!