This Salted Caramel Lemon Poppy Pound cake is easy to make and is moist, buttery and subtly lemon flavoured.
What is a Pound cake?
A pound cake is a traditional American type of cake, with Northern European origin, which is quite popular in the cuisine of Southern United States.
It is called a pound cake because its four main ingredients sugar, eggs, butter and flour are used in equal amounts, in this case 1 pound (1 lb = 453.592 grams).
In Britain, the same cake is more commonly known as Victoria Sponge.
Last week it was my husband's birthday and I made this cake for him.
Instead of making the usual sponge cake, this time I decided to make it with a pound cake.
Is it a cake or a Sponge?
There are two kinds of pound cakes.
They both use 1 part butter – 1 part sugar – 1 part egg – 1 part flour but use a different method of preparation:
One is made with the creaming method, which is beating first the butter with the sugar and then adding the eggs and flour.
The result is a dense cake
The second one is the foaming method, which starts with beating the eggs with the sugar and then adding the butter and flour.
The result is a more airy cake.
The easiest cake!
This is a very easy recipe as you don't have to remember the amount of ingredients to use.
For example, a block of butter is 250 grams, so you weigh the same amount of flour, the same amount of sugar (here you can add less, if you prefer) and the same weight of eggs, without the shell. Four large eggs are about 250 grams.
On the other hand, you decide to make a cake and see that you have only three eggs.
No, you don't have to rush to the supermarket to buy more eggs. Weigh your eggs and add the same amount of sugar, butter and flour. The only thing that changes here is that you will need a smaller baking tin!
I have made pound cakes many times, each time with several minor changes, which I doubt if I will ever find time to post each one separately.
When I don't have to stop to take photos or videos, it doesn't take more than fifteen minutes to prepare this cake!
If you don't want to add a filling, you can make it as a classic coffee cake, with or without a glazing on top.
Based on this recipe, if you are an experienced baker you can make your own adjustments by adding milk, yoghurt, sour cream, brown sugar, honey, chocolate and of course different flavours.
To start with, I had a packet of butter at home but I used a little bit for another recipe so the sponge was made according to the amount of the leftover butter I had.
I reduced the amount of sugar as I would add some syrup to wet the sponges.
I wanted to make two small sponges but unfortunately I only have one, rather big, spring-form baking tin, so I improvised by using two aluminium disposable baking tins.
After baking the sponges, I then cut the base of one of them and used it to hold the filling while it set.
However, the base and the top are not of the same dimensions so it did not fit perfectly, as a result some of the pudding fell to the sides.
That was not really a problem as when I unmolded it, it look pretty good, as the cream covered half of the sponge.
I don't know if this idea of mine is original but I wanted to add a layer or salted caramel on top.
I have made caramel hundreds of times and while I was making it, I was thinking when writing the post to warn people trying it for the first time to be cautious not to burn themselves, as the hot caramel sticks on the skin making a horrible burn.
When adding the cream I wore a kitchen mitt just in case it splattered but all went well, until the following morning ..
As salted caramel is fluid, my idea was to use gelatine to help it set and stay on top.
The first layer was practically absorbed by the sponge. As the baking tins I used did not fit perfectly to the cake, when adding the caramel it dripped to the sides, which was not what I wanted.
So, I decided to add it gradually in order to get a good layer on top.
If you use two spring form baking tins, then you can add all the caramel at once and let it set.
I suggest that you make the cake from the previous day as it needs a few hours to set.
The amount of salt added to the caramel is a matter of taste and I didn't want mine to be too salty, so you can adjust it to your own taste.
A small accident
The following morning we were planning to go to Nafplion right after breakfast, as it was farmers' market day and I also needed to do some shopping.
Before leaving, I wanted to take a picture to post on Facebook and wish my husband a happy birthday, not that I did not wish him in person but you know how it is!
However, maybe because I hadn't quite woke up yet, a few things went wrong and I almost ruined the cake!
I had the cake on the top shelf of my fridge but as my fridge is small I put it on top of some Tupperware containers and while taking it out, it accidentally touched the bottom of the freezer and, of course, the caramel stuck to it, removing a piece of sponge as well.
I wanted to cry as the cake was damaged and not at all suitable to take a picture.
After a while and thinking of ways to salvage the cake, when I removed it from the baking tin, I saw the caramel which had dripped to the sides of the platter.
I "glued"the piece of sponge back on the cake and I collected as much caramel as I could, I melted it in the microwave, to make it fluid again and added it on top.
However, as I was taking the hot caramel out of the microwave, I accidentally dropped some on the floor and it splashed right on the side of my foot.
Thank God I did not heat the caramel too much but just enough to make it runny again so it was not very hot.
Although it hurt and should have reacted quickly and put some olive oil or butter or margarine on my foot (it has been tried and tested by me many times and it does work), I did not want the caramel to harden again.
It only took a few seconds to finish but by the time I added some margarine on my foot, it hurt and a blister appeared.
It was not severe as shortly after the pain was gone, leaving a small reddish scar but at the time it hurt and was not in a mood to add the whipped cream carefully.
Well, the surface was not as pretty and shiny as it was originally but it was much better than before and too good not to share.
I can assure you though that it is one of the best cakes I have made.
A moist, buttery and subtly flavoured lemon sponge, with pastry cream between the layers and topped with salted caramel and whipped cream.
What's not to like!
I am linking this recipe to the Abbecedario Culinario Mondiale an event organized by Trattoria MuVarA where we will be visiting 27 countries around the globe, going alphabetically.
Today's even is hosted by Simona Carini, of Briciole, who will be our host for the letter M as in Minneapolis (United States).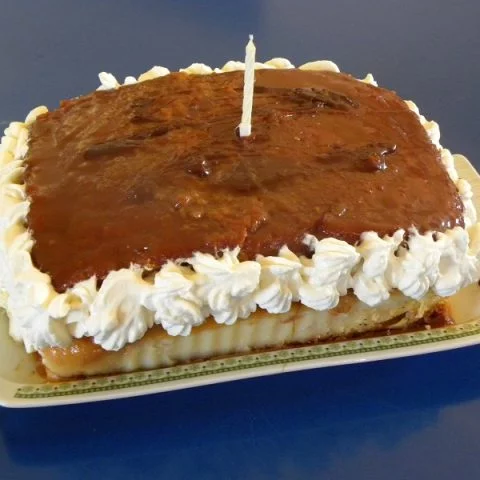 Salted Caramel Lemon Poppy Pound Cake
A moist, buttery and subtly flavoured lemon sponge, with pastry cream between the layers and topped with salted caramel and whipped cream.
Ingredients
Sponge Cake:
200 grams sugar
4 large eggs (65 grams each with shell), room temperature
235 grams butter, room temperature
200 grams all purpose flour
35 grams corn flour (starch)
Pinch of salt
1 tbsp lemon zest
1 tbsp baking powder
1 sachet lemon scented vanilla sugar (10 g)
2 tbsp poppy seeds
Pastry cream:
1 cup milk, heated reserving about ¼ cup cold
2 egg yolks
40 grams (about 2 heaped tbsp) corn flour
50 grams (about 2 heaped tbsp) sugar
1 packet lemon scented vanilla sugar
1 tbsp lemon zest
1 tsp butter
Salted Caramel Frosting:
1 cup sugar
1/4 cup lemon juice
2 – 3 tbsp water
1 tbsp butter
1/4 tsp (or more if you like) coarse sea salt
200 ml heavy cream
3 sheets gelatine
1 cup water
Whipped Cream:
200 ml heavy cream
1 tbsp honey (or more if you prefer it sweet)
1 packet lemon scented vanilla sugar
Additional ingredients:
4 tsp citrus syrup to wet the sponges
Instructions
To prepare the sponge:
Combine dry ingredients in a bowl.
Whisk the eggs with sugar until white and frothy. Add the butter and flour mixture gradually, alternating each ingredient.
Line two baking tins (22 x 15 x 7 cm) with parchment paper and divide the batter.
Bake in a preheated oven to 170o C fan forced for about 30 minutes or until a knife inserted in the centre comes out clean.
Remove from the oven and set aside to cool.
Pastry cream:
Heat the milk reserving some cold milk.
Put all the remaining ingredients, except the butter, in a pot, add the cold milk and whisk to combine all the ingredients. Add the hot milk, turn on the heat and whisk until the cream sets. Add the butter and mix. Cover with cling film and set aside until almost lukewarm.
Salted Caramel:
Put the gelatine leaves in a bowl and cover with water. Let them soak for ten minutes until soft.
Put the sugar, lemon juice, water and butter in a skillet or preferably a non-stick frying pan.
Mix until sugar dissolves.
Bring to a boil and reduce the heat to medium and using a wooden spoon mix until the sugar caramelizes. Keep mixing until it turns brown.
Remove from the heat and add the heavy cream carefully as it may splatter. Mix again and put back on the heat. Add the gelatine leaves (without the water) and mix until the gelatine dissolves. Remove from the heat and set aside to cool.
Whipped Cream:
Put all the ingredients in a bowl and whisk until peaks form.
Refrigerate until ready to use.
Assembling the Cake:
Place the first sponge on a platter and wet it with half of the syrup*.
Cut the bottom of the aluminium baking tin and put it around the sponge cake.
Add the pastry cream.
Put the second sponge on top and wet it with the remaining syrup.
Add a layer of salted caramel (about 1/4th) to cover the surface. Set aside and wait for the remaining caramel to cool. Pour the remaining gradually (two or three times) with a spoon to cover the surface and wait for a while before adding the remaining layers.
Refrigerate for several hours or preferably overnight until it sets.
Remove the aluminium tin and decorate with whipped cream.
Nutrition Information
Yield

12
Serving Size

1
Amount Per Serving
Calories

563
Total Fat

33g
Saturated Fat

20g
Trans Fat

1g
Unsaturated Fat

11g
Cholesterol

178mg
Sodium

366mg
Carbohydrates

63g
Fiber

1g
Sugar

43g
Protein

7g
"These values are automatically calculated and offered for guidance only. Their accuracy is not guaranteed."
PIN FOR LATER
Other related Recipes:
Three Tiered Lemon and Raspberry Mini Wedding Cakes
Kopiaste and Kali Orexi,