Sockerkaka is a delicious sponge cake from Sweden, which is very easy to make.
In Swedish, the two words Socker kaka, separated, mean sponge cake but both of them together literally translates as "sugar cake".
Sockerkaka photo, courtesy John Duxbury of, Swedish Food
In Sweden they bake the cake in these special moulds, called "sockerkaksform" but if you have a bundt cake or other fluted baking tin, you can still make this cake.
You can buy a "sockerkaksform" in good kitchen stores or online. Search for baking tins (pans) called"Bundt", "Kugelhopf", "Gugelhupf" or simply"fluted cake ring". They are all very similar, so choose a non-stick tin with an attractive pattern.
When I decided to make this cake, it was for my husband's name day on the 26th October, which in Greece is celebrated even more than birthdays.
I decided to make it in a spring-form pan in order to make a birthday cake for him.
You may also be interested in:
White Chocolate Cream Cheese Cake
For this reason, I doubled the original recipe. However, the amount of sugar seemed too much for my taste.
As I wanted to add a frosting on the top, I used half the amount of sugar. It came out perfect.
Instructions for the recipe
Line a 23 cm spring form pan with parchment paper and grease and flour the sides.
Melt the butter and add the liquid so that the temperature of the butter drops.
I added water to the butter but you can substitute it with fresh fruit juice or milk.
Prepare all the dry ingredients. Put the flour, baking powder, salt and vanilla sugar in a bowl and mix to combine. You can sieve them if you like, but I did not.
Note: If you want to make a chocolate cake "Chokladsockerkaka" remove 4 tbsp flour and replace with 4 tbsp cocoa powder.
After beating the sugar with the eggs until white and fluffy, gradually add the wet ingredients (butter + water) and then all the dry ingredients.
Bake the cake and remove to wire rack to cool.
Pomegranate syrup
As pomegranates are in season, I made some pomegranate syrup, which I used to wet the sponge but also to flavour and sweeten the filling.
The pomegranate syrup was enough for both cakes.
Decorating the cake
I made the same cake twice, so below you will find instructions for two different options for decoration and you can choose whichever you prefer.
First option
The first time, I made the filling of the cake with a light and fluffy mousse, with melted couverture chocolate, whipped cream and pomegranate syrup.
Attach the whisk attachment to a standing mixer or use a hand mixer. Whisk the heavy cream on medium-low speed until foamy, about 1 minute. Add the pomegranate syrup and vanilla, increase the speed to high and whip until soft peaks form, for 1-2 minutes. Refrigerate.
Melt the chocolate over a double boiler. Remove it from the water bath and mix with a spoon until it chills but still be runny.
Whisk the cream again on low speed, adding the melted chocolate spoon by spoon, until you add it all and it is incorporated.
Keep the cream refrigerated until ready to use.
To decorate the cake, I made a glaze with white chocolate, cream cheese and double cream.
Melt the white chocolate over a double bath.
Whisk the heavy cream with the cream cheese and vanillin.
When the white chocolate cools, add it to the cream cheese.
Second option
The second filling was made with cream cheese, double cream and Greek yoghurt. When these three ingredients were combined and whipped, I removed 1/2 cup which I used in the glaze. I added some icing sugar and pomegranate syrup to the remaining cream. To give it a pink colour, I added 2 drops of red food colour.
I made the glaze with white chocolate, pomegranate syrup, vanilla and reserved cream from filling. After adding the filling in the middle, there was some leftover cream, which I mixed in the glaze.
Assembling the Cake
Cut the sponge in layers. For the first cake I cut it in four slices and wet each slice with pomegranate syrup. The second time, I cut it in two slices.
Put the first slice in a platter and fit the ring around it.
Add one third ( 1/3) of the chocolate cream.
Repeat with the other slices and cream, until you add them all.
Refrigerate for an hour and remove the ring.
Put the glaze on top and decorate with the pomegranate seeds.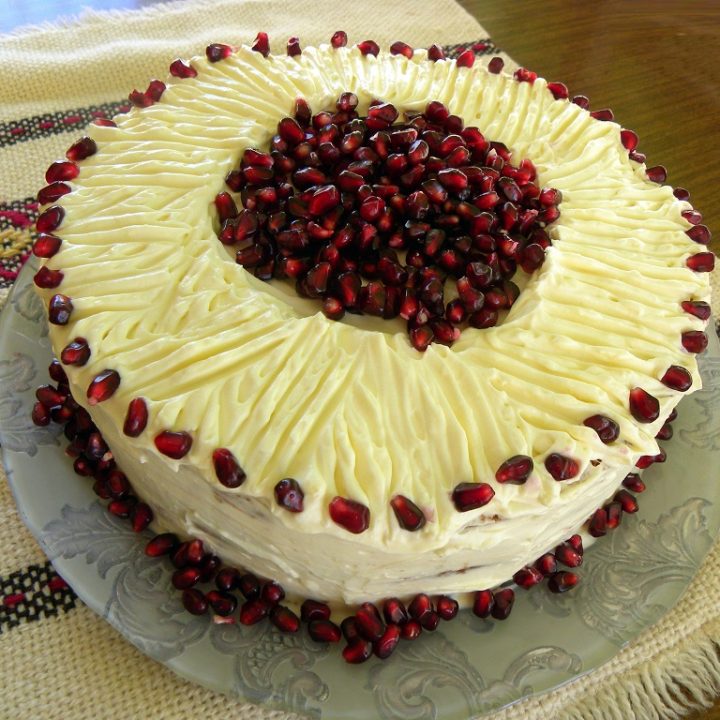 Sockerkaka Pomegranate Sponge Cake
Total Time:
1 hour
15 minutes
Sockerkaka, is an easy and delicious sponge cake that comes from Sweden. It can be eaten as it is or made into a birthday cake.
Ingredients
Sponge:
150 grams butter
200 ml water
6 large eggs
320 grams sugar
2 vanillins
½ tsp salt
320 grams all-purpose flour
2 tbsp baking powder
Pomegranate syrup:
3 pomegranates (reserve the seeds of half of the pomegranate for decoration)
1 cup sugar
1 cup water
2 tbsp lemon juice
Chocolate filling:
250 grams couverture chocolate
500 grams heavy cream
¼ cup pomegranate syrup
White Chocolate Cream Cheese topping:
250 ml heavy cream
125 grams white chocolate
200 grams cream cheese
1 vanillin
Cream Cheese and Yoghurt filling:
200 grams heavy cream whipped
200 grams light cream cheese
200 grams Greek yoghurt 2%
1 tbsp icing sugar
¼ tsp vanilla essence
(reserve 1/2 cup cream after being whipped)
¼ cup pomegranate syrup
2 drops red food colouring
Glaze:
125 grams white chocolate melted
3 tbsp pomegranate syrup
¼ tsp vanilla essence
½ cup of above cream
Leftover pink cream
Instructions
Directions:
Preheat the oven to 180o C and place the rack in the middle of the oven.
Line a 23 cm spring form pan with parchment paper and grease and flour the sides.
Melt the butter, remove from the heat and add the water.
Beat the eggs with sugar on high, for about 5 minutes, until light and fluffy.
In the meantime, combine all the dry ingredients.
Add the butter and water gradually.
Lower mixer speed to low and add the dry ingredients.
Pour the mixture into the prepared baking tin.
Bake for 50 - 55 minutes or until a knife inserted in the middle comes out dry.
Remove to a rack to cool. Pass a knife around the sides and remove the cake from the pan.
Serve as it is or decorate as you like.
Recommended Products
As an Amazon Associate and member of other affiliate programs, I earn from qualifying purchases.
Like this post?
You can hover over this image to pin it to your Pinterest board. Also, please feel free to share it with your friends and fellow bloggers, using the share tools below.
Kopiaste and Kali Orexi!