Brandy Sour is a Cypriot cocktail made with Cypriot brandy, homemade lemon squash, carbonated water and angostura.
It was first developed at the Forest Park Hotel, in the hill-resort of Platres, for the young King Farouk of Egypt, who often stayed at the hotel during his frequent visits to the island.
The Brandy Sour was introduced as an alcoholic substitute for iced tea, as a way of disguising the Muslim monarch's preference for Western-style cocktails.
"When life gives you lemons, make lemonade!". So true. In real life, when things turn sour, we should do out best and try to make them sweet. But when your neighbour gives you tons of lemons what should you do with them, apart from the obvious lemonade?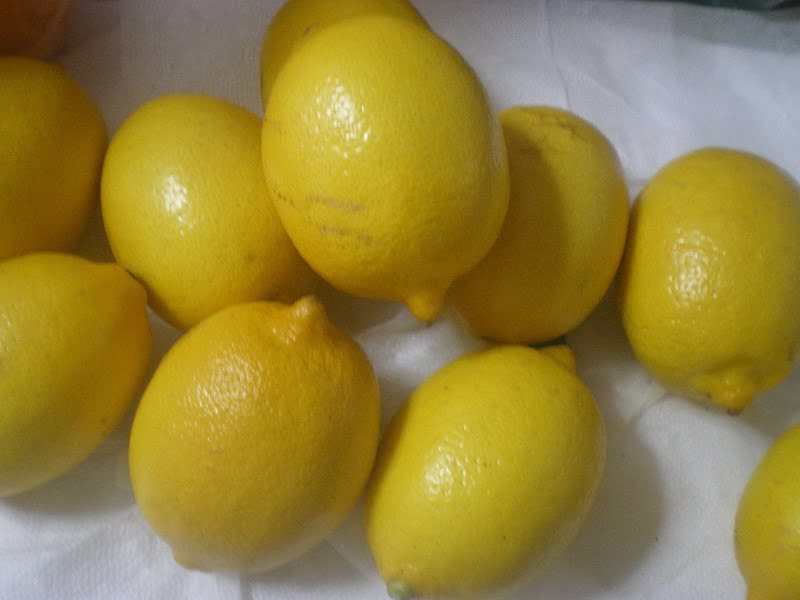 I had lots of lemons at home left from last Tuesday when I visited the farmers' market and I didn't know what to do with them. I had two alternatives about the lemon juice. I would either put it into ice cubes to freeze it, to be used whenever I needed some (but I usually have a lot of lemon ice cubes in the refrigerator) or I would make lemon squash, which we used to make and drink in Cyprus and had this in mind for a long time now to make. I wasn't sure what to make with the peels, a spoon sweet, a liquer or maybe both?
I have never made Limoncello before but this is something I also want to make soon but I was not ready for it yet. Eventually I decided to prepare a lemon spoon sweet, as I did with the bergamot a few months ago and I started cutting the lemon peels the same way. I wasn't lucky as the peels were very thin so they were not suitable for the spoon sweet. (See more recipes in my other blog).
I gave it a quick thought and said to myself "Why not?" I would experiment and make lemon marmalade.
The lemons I had were about 2 kilos and they made 500 ml of juice. I strained it and placed it into a pot with sugar. It's so simple that I can hardly call this a recipe by here it is:
How to make Homemade Lemon Squash
Ingredients:
500 ml fresh lemon juice

3 cups sugar
Directions:
Put both ingredients in a pot and mix it with a wooden spoon for the sugar to dissolve.

When it comes to a boil, lower heat and simmer for 6 – 7 minutes. Remove any froth forming on top with a slotted spoon.

R

emove from the heat and allow to cool.

Store in glass bottles in the refrigerator, upto 1 year.
Now, it's ready to be used as a nice quenching drink for the hot, summer days ahead of us.
Homemade Lemonade (Lemonada)
Ingredients:
84 ml (3 oz) concentrated lemon juice (or more/less on how sweet you like it)
Cold water
Ice cubes
Slice of lemon
Directions:
Add cold water or soda to concentrated lemon squash, ice cubes, decorate with a slice of lemon, stirand enjoy!
I also remembered a cocktail which was very popular in Cyprus called Brandy Sour.
Depending on the age of the brandy they are labeled accordingly. V.S.O.P. means "Very Superior Old Pale" or 5-Star, aged at least five years in wood.
Although Branndy is typically taken as an after-dinner drink, in Cyprus the lighter brandy is drunk with food, just like any other wine.
Brandy Sour recipe
Makes: 1
Ingredients:
2 oz of KEO V.S.O.P. brandy
3 oz of lemon squash
Ice cubes (plus carbonated water or soda to fill the glass)
A slice of lemon
2-4 drops of bitters (Angostura or Cypriot Cock Drops brands)
Sugar for the top of the glass
Directions:
Wet the glass with the slice of lemon and dip into some sugar.

Add brandy, lemon squash and mix.Add ice cubes, water and decorate with the lemon slice and serve.
Note: (1 oz = 28 ml)
Cheers!

Kopiaste and Kali Orexi,