Sharing is caring!
Koulourakia Paschalina are Greek Easter Traditional Cookies, which are crispy outside and soft inside, full of orange flavour.
They are the perfect treat with coffee or tea.
Like most cookie recipes, this one as well has a lot of variations.
In others they add orange juice and orange rind, in others they do or do not add ammonia carbonate of baking soda, in others they add almond slivers, in others they add sesame seeds on top, sugar, etc.
Instead of brandy, some add ouzo in the cookies giving them an anise flavour. Others add milk instead of orange juice.
Most of the traditional Greek desserts like these Lambriatika koulourakia or tsourekia I learned to make them here in Greece and the recipes were given to me by my husband's family.
I made some changes to their recipe and added butter instead of oil and the taste was much better.
Traditionally, these cookies were not made in Cyprus, where I lived until I got married, as we make flaounes for Easter.
However, during the last decades, with the use of the internet there is no single Greek recipe which they do not make in Cyprus as well.
How to make Koulourakia Paschalina
Put the flour in a large bowl and add baking ammonia, baking powder, vanilla powder, orange zest and salt. Whisk to combine.
Attach the K paddle to your stand mixer or use an electric hand mixer and cream the butter and sugar until light and fluffy.
Add the eggs, one at a time, beating in well before adding the next.
Add the orange juice and brandy and mix.
Add the flour, a little at a time, mixing in well before adding more until it is smooth but not sticky on the hands.
Put it in a bowl, cover with cling film, and refrigerate for 15 minutes.
In order to make the cookies the same size, weigh the dough, about 30 grams each.
Put it is on your working surface and taking small pieces of dough form long cords, about 15 cm long and about the thickness of a woman's pinky and shape them as you like.
Line your baking tin with parchment paper and place them a little spaced apart as they will rise.
Form the cookies into various shapes. Here are some examples.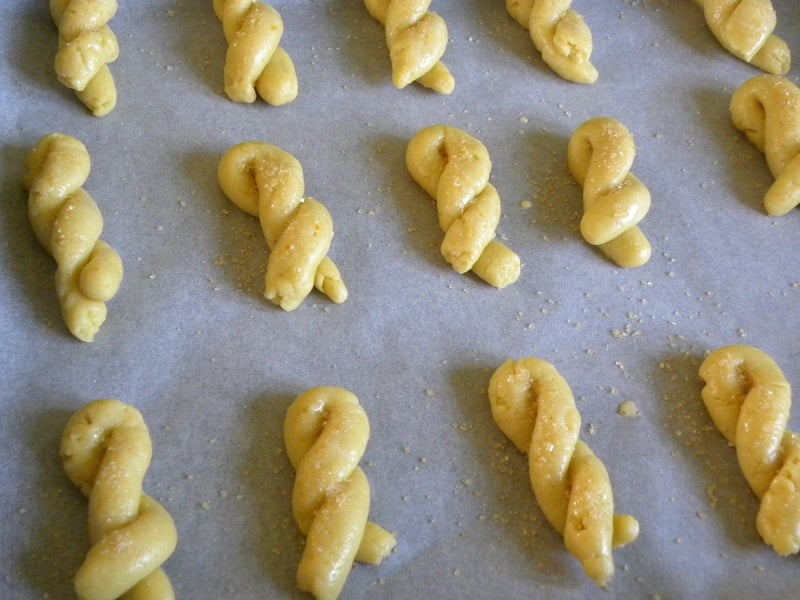 Fold the cord in the middle and twist it to make a simple "braid".
Just form them into a simple "S" shape.
Form them into two spirals each facing a different direction.
Just fold the cord in three.
Although these are not very traditional, you can pipe them using a star shaped nozzle.
Beat the egg yolk with some milk and brush the cookies.
Preheat oven to 180o C / 350o F (or 160o C if fan forced) and bake for about 15 minutes depending on your oven or until lightly browned.
Remove on a wire rack to cool and store in an air tight container.
On another note, Manina, of Manina's Cooking, informed me that I was one of the five lucky winners to win Marcus Wareing's fantastic cookbook, with my entry Pecan Cookies dessert and my One Perfect Ingredient which was whipped cream.
I am very excited and look forward to receiving it soon.
LIKE THIS POST?
You can hover over this image to pin it to your Pinterest board. Also, please feel free to share it with your friends and fellow bloggers, using the share tools.
PIN FOR LATER
Kopiaste and Kali Orexi!

Sharing is caring!