Dakos or Ntakos, (pronounced NTAH – kos) is the name of a Cretan barley rusk.
This salad is made using this rusk as its base and it is topped with finely chopped tomatoes, capers and olives, topped with xinomyzithra (a whey cheese made in Crete) or a mixture of feta and anthotyros (similar to ricotta) and flavoured with oregano.
The rusk is also called krithrokoulouro or Koukouvagia (owl) in Crete, but to be frank I don't know why they are so called.
Probably because the rusks look like the owl's eyes 🙂
Dakos is a healthy and delicious salad or a light meal on its own and very healthy.
Our visit to Crete

From all the places I have been in Greece, Crete is my favourite.
The Cretan people are wonderful and very hospitable.
Wherever you go they will offer you tsikoudia also called raki or what is called tsipouro in other parts of Greece, Zivania in Cyprus or grappa in Italy.
Tsikoudia is an alcoholic drink made from leftover pomace after making wine.
Tsikoudia or Raki
Tsikoudia or Raki is the traditional Cretan alcoholic drink, which is made from the leftovers of the grapes when making wine.
The pomace is distilled and what is produced is a very strong drink containing 35 – 65% alcohol.
It has a very strong taste and this you will receive as a treat from the locals in every village, city, restaurant, or coffee shop.
Even when traveling on the Cretan ships you will be offered tsikoudia.
By accepting it is a confirmation of a new friendship and part of the welcoming procedure.
A couple of shots are enough to make you stumble so don't overdo it if you don't want to get drunk.
Their food is fantastic. Spicy and aromatic.There isn't a single herb you can't find in Crete.
When we were traveling to Sfakia, we stopped near the edge of a gorge and I picked some sage.
Travelling around you will see the goats on all hillsides, and maybe that's the reason the meat is so nice and tasty.
As for their cheeses, most of them are unique and not made in other parts of Greece, staka, malaka, xynomyzithra, myzithra, graviera, kefalograviera, the list is endless.
No wonder why every neighbourhood in Athens, has its Cretan products' shop.
There is one just near my house and today I got the barley rusks and myzithra.
Most of the herbs I have, I've brought them from Crete when I visited during summer.
Dakos Salad
One of our favourite things we used to eat in Crete is Dakos Salad.
What is a Dakos rusk?
Dakos rusks, either big or small ones, are bread made with barley, which are shaped round, sort of like a bun, and then baked.
Then they are cut in the middle and baked again, until they dry. This makes them very hard.
So, to use them, they are wet under the tap just for a few seconds or quickly dipped into a bowl with water to make them soft.
Some people prefer to wet them with extra virgin olive oil.
Finely cubed (not grated) tomatoes, together with pitted olives and capers are added on top, to add extra moisture, and soft fresh xinomyzithra cheese, salt and oregano are added on top of the tomato mixture.
(I also like to add some finely chopped fresh basil in the tomato).
Finally, some more extra virgin olive oil and oregano are added on top.
In Chania, they use xynomyzithra, a local cheese which is produced only in Chania and is something between feta and myzithra.
A mixture of feta and myzithra or anthotyros (whey cheeses similar to ricotta) will also work well.
An amazing salad which by itself can also be a hearty and a light meal.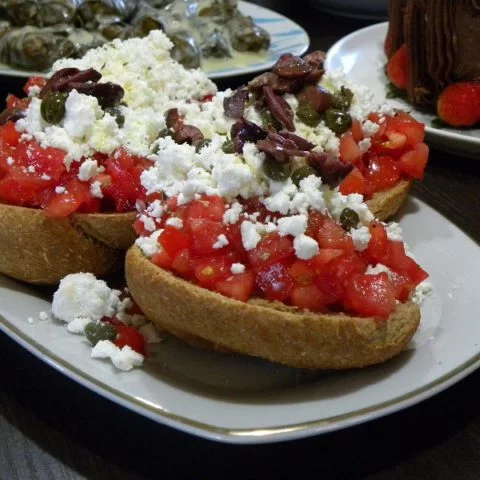 Dakos Salad
Dakos is a Cretan salad made with barley rusk, finely chopped tomato, capers and olives, topped with Xinomyzithra (a local Cretan cheese).
Ingredients
2 small or 1 big barley rusks
2 tbsp extra-virgin olive oil
2 ripe tomatoes, cut into 1 cm dice
Sea salt
Freshly ground black pepper
½ tsp dried oregano
4 olives, pitted and cut into smaller pieces
1 tbsp capers
A couple of basil leaves, finely cut
150 grams xinomyzithra or crumbled feta cheese and anthotyro
More olive oil and oregano to serve
Instructions
Wet the rusks with water and then add a tablespoon of olive oil.
Cube the tomatoes and season with salt, pepper and oregano.
Add the remaining olive oil as well as the olives, capers and basil and mix.
Spread the tomato mixture over the dakos.
Add the crumbled cheese on top.
Finally drizzle the leftover olive oil and a sprinkle of some more oregano on top.


Notes
In Chania, they use xynomyzithra, a local cheese which is produced only in Chania and is something between feta and myzithra.
A mixture of feta and myzithra or anthotyros (whey cheeses similar to ricotta) will also
work well.
Nutrition Information
Yield

4
Serving Size

1
Amount Per Serving
Calories

236
Total Fat

16g
Saturated Fat

7g
Trans Fat

0g
Unsaturated Fat

8g
Cholesterol

35mg
Sodium

579mg
Carbohydrates

18g
Fiber

3g
Sugar

3g
Protein

7g
Kopiaste and Kali Orexi!