Arni Exohiko, pronounced Ar-KNEE Eh-ksoh-hee-KOH, meaning lamb country style, is a dish which comes from Roumeli, usually made using leftover lamb, vegetables and cheese, wrapped in a parcel and baked.
You can wrap it with puff pastry or phyllo.
I made mine using leftover Lamb Kleftiko, which I wrapped in puff pastry.
I used graviera and kasseri cheeses but you can use other cheeses like feta, halloumi, gruyere, pecorino etc. There were lots of leftover vegetables as well, so I added those as well.
If you do not have leftover lamb but you want to cook it from scratch, you can make a stir fry with lamb adding a variety of vegetables such as onion, garlic, leeks, finely chopped carrots, peas, corn, spinach, peppers, mushrooms, etc. When it cools you continue with the procedure mentioned in the recipe.
Not making lamb? Try it with leftover roasted pork, Galopoula Gemisti (Cypriot Stuffed Turkey) or chicken.
If you decide to wrap the filling in phyllo instead of puff pastry, you should brush each sheet either with oil (preferably olive oil) or melted butter and score it on top before baking.
You can also make individual pouches or packages, instead of a larger one (see this recipe of mine) or you can make your own phyllo as in Arniopita, which you can see in the video.
Scroll at the end for the recipe.
FREE Christmas e-book
I'm very happy to be able to share a FREE Christmas e-book with my friends and readers.
The e-book "Christmas, A World of Flavors" is a compilation of 34 Christmas Recipes, written by Food Bloggers and Chefs around the globe, including yours truly.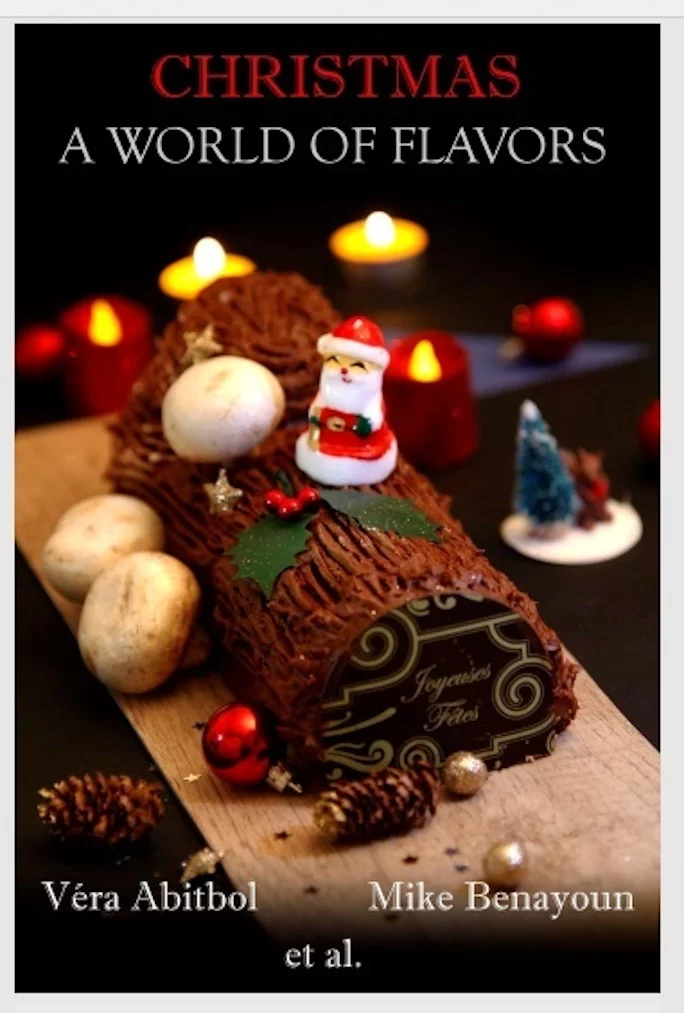 Mike and Vera of 196 Flavors designed and created this gift, by asking Food Bloggers and Chefs to contribute one of their traditional Christmas recipes from their country, to create this e-cookbook.
My contribution was Kourabiedes, which is a Greek Christmas Cookie.
On our part, now we the contributors, offer this e-book to you for free to thank you for being our readers, some of you from the beginning of our journey.
I am sure there are plenty of recipes that you will want to cook once you get this e-book in your hands.
Why make the same food or desserts you make every year and be bold enough to try something totally different this year.
You can see the Table of Contents here:
In case you have any problems downloading this free e-book, please let me know and I will send you the e-book by e-mail.
If you would like to share back the love, you can vote for me here, just by liking at the end of the page.
My blog has been nominated by BHMAGourmet for an award, in the category "Best Greek cooking in English".
If you like my recipes and have not yet voted, you can still vote for my blog until the 14th of December, 2015.
Enjoy! May you have a Merry Christmas and a wonderfully, blessed New Year!
You can find my Greek recipes in my cookbooks «More Than A Greek Salad», and«Mint, Cinnamon & Blossom Water, Flavours of Cyprus, Kopiaste!» both available on all Amazon stores. Read more here.
Arni Exohiko (lamb country style)
Lamb Exohiko (country style) is a dish which comes from Roumeli, usually made using leftover lamb, vegetables and cheese, wrapped in a parcel and baked. It can be wrapped in parchment paper or phyllo.
Ingredients
About 4 cups Leftover Lamb Kleftiko cut into very small cubes
1 sheet puff pastry
1 cup grated graviera and kasseri
3 eggs (minus 1 egg yolk)
½ cup milk
1 tsp mustard
A pinch of salt
Freshly grated black pepper
1 - 2 tbsp olive oil
Egg wash:
Instructions
Cut the leftover lamb into smaller pieces and put it in a bowl.
Beat the eggs, reserving one of the yolks and mix in the milk, cheese, salt, pepper and mustard. Pour over lamb and mix.
Brush the borders of the puff pastry with the olive oil.
Add the filling on the wider side and wrap, using the parchment paper.
Beat the egg yolk with the milk and brush on top.
Decorate with leftover puff pastry.
Bake in a preheated oven to 180oC / 350o F, for about 30 – 40 minutes or until golden on top.
Serve with a salad.
Nutrition Information
Yield

10
Serving Size

1
Amount Per Serving
Calories

385
Total Fat

28g
Saturated Fat

11g
Trans Fat

0g
Unsaturated Fat

15g
Cholesterol

172mg
Sodium

229mg
Carbohydrates

3g
Fiber

0g
Sugar

0g
Protein

28g
Lamb Recipes
Although people believe that in Greece we eat a lot of lamb, that is not really true. Lamb is the last in our meat recipes but I do have a few to share with you.
Kopiaste and Kali Orexi,