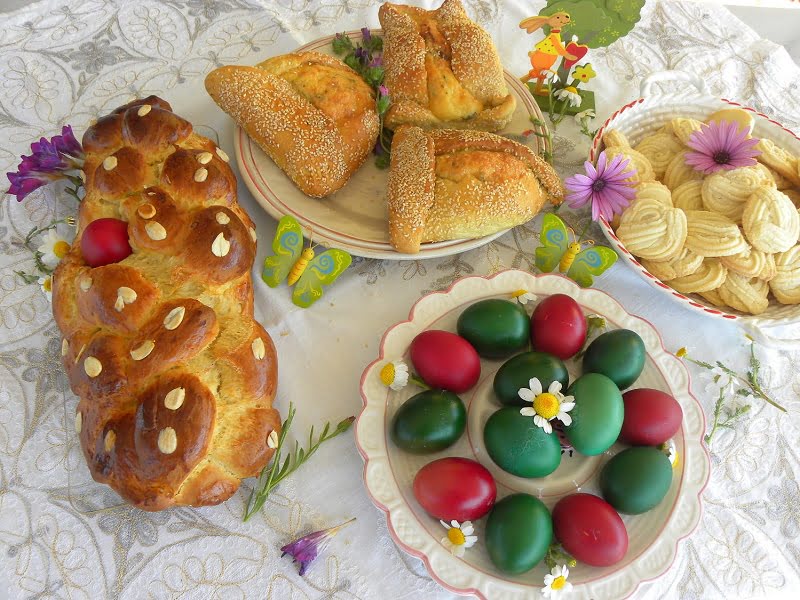 Greek Orthodox Easter is just around the corner, so if you would like to get an idea of what to prepare, I have put together some of my Easter Recipes and a few ideas of what to do with your leftovers.
On Easter day a lot of people celebrate their name days: Lambros – Lambrini, Anastasios – Anastasia, Tasoula, Tasia, Paschalis – Paschalia, Anestis or whatever their pet names may be.
Depending on what date the Easter day falls, it may also coincide with other name days.
George, Georgia and Zoe will also be celebrating after Easter.
This happens whenever Easter is after the 23rd April, (the celebration of the feast of St. George), the name day is moved to the first Monday after Easter or, as it is sometimes called, to the Monday of Bright Week.
The feast of Zoodochou Pigis (Life-giving Source) is usually celebrated on the first Friday after Easter.
Happy Name day to you all!
Easter celebrations
The first thing we eat after the midnight church service is an offal soup called Magiritsa (pr. mah-ghee-RHEE-tsa). It is a light soup which is good for the stomach after the fasting period.
On Easter Sunday most families gather together to celebrate. Traditionally a whole lamb on the spit, called "ovelias" is made as well as "kokoretsi".
They are accompanied by salads and appetizers, drinks and of course lots of Greek music.
Here are some of my Easter Recipes for you to try.
I have also included some desserts in the list, for those who will be celebrating their name days.
Greek Easter Recipes and Leftovers
Here are some of my Easter Recipes and a few ideas of what to do with your leftovers. I have also included some cakes for those celebrating.
LIKE THIS POST?
You can hover over this image to pin it to your Pinterest board. Also, please feel free to share it with your friends and fellow bloggers, using the share tools.
PIN FOR LATER
Kopiaste and Kali Orexi!