Glyko kerassi (Cherry preserve) also called "glyko tou koutaliou", is one of the best traditional fruit preserves, which can be served alone or used in many other desserts.
Cherries have a remarkably short growing season and in Greece this period is between  June and end of July.
In Cyprus I remember we could eat cherries, as early as May but by June they were gone.
There are a few types of cherries, such as wild cherries, Bind, Lambert, Rainier, Royal Ann and Sour Cherries.  In Greece we don't have so many.  
During the beginning of the cherry season they are quite expensive, around 6 Euros a kilo and now that the season is almost over, they are about that price again.
When I went to the farmers' market a few weeks ago and found some cheap cherries, I could not resist buying some to make some cherry preserve, which in Greece we call a spoon sweet.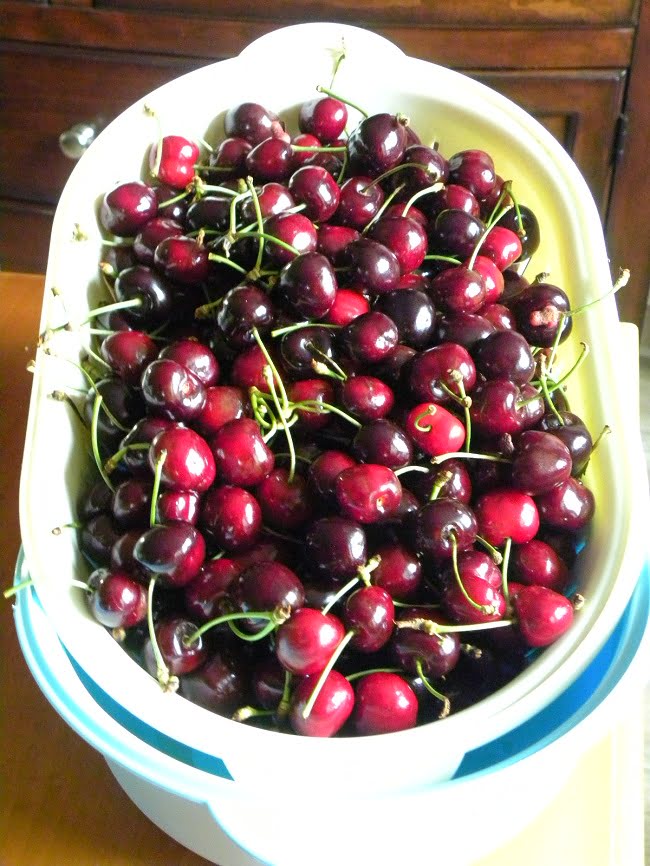 It doesn't matter if the skin is read, dark red or the creamy yellowish red. The most important element is that the cherry must be big and firm.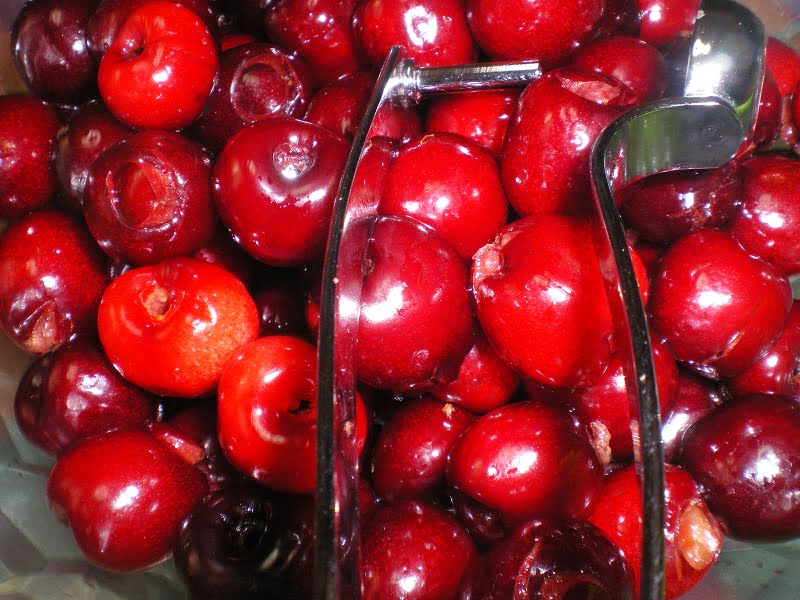 The most difficult part of the procedure is pitting the cherries but I use a small manual cherry pitter which makes the procedure much easier than the way my mother used to pit them, using a hair clip.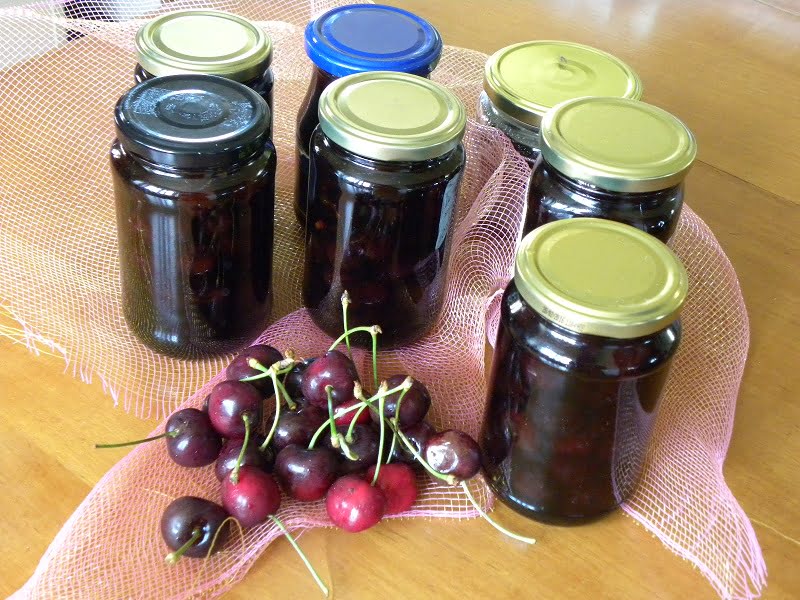 It's a little bit more harder but it's a good solution, so I decided to make this video after pitting 2 kilos of cherries to show you how.  Sorry the video is not professional but it's a kind of "selfie video" as I didn't have anyone to help me with the video but I think you can get the idea.
As I wrote in other spoon sweets before making any spoon sweet it is better to put them in  pickling lime as this makes the end result to have a spoon sweet firm and crispy but if you make it without using  it, it is still delicious but a bit wrinkled and soft.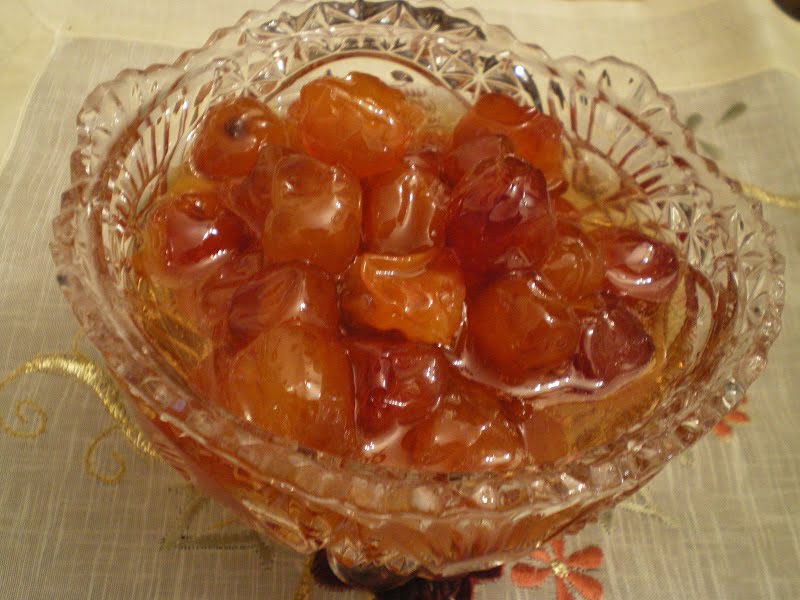 This preserve was made without picking lime.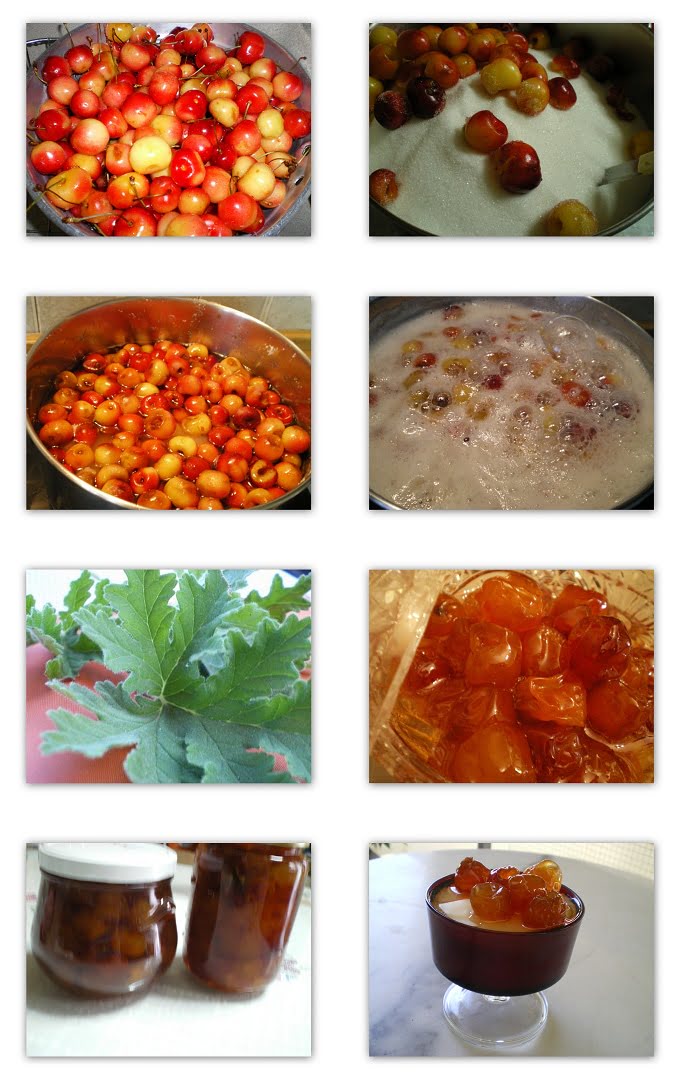 The traditional ingredient for flavouring spoon sweets is with fragrant geranium leaves (pelargonium graveolens) and I love this aroma.  If you cannot find any,  you can substitute it with vanilla or add a piece of cinnamon stick in the syrup.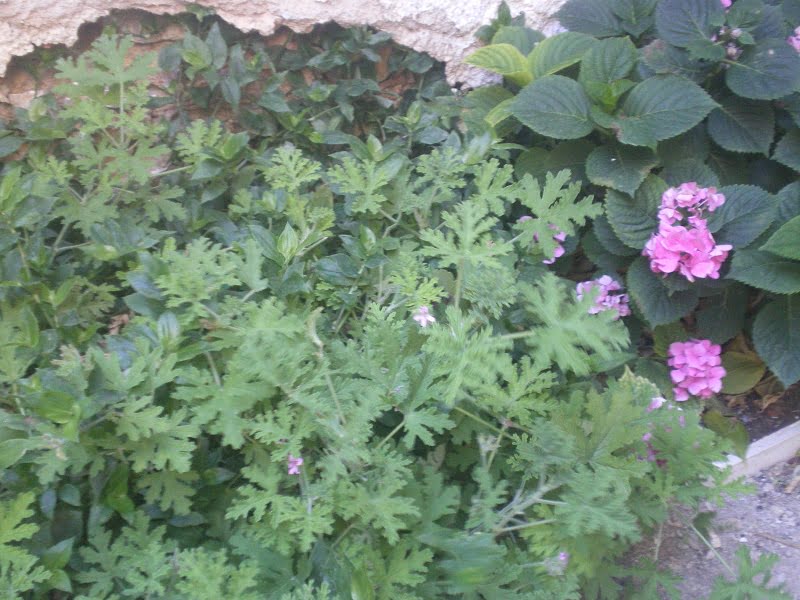 Glyko Kerassi (Cherry Preserve)
Total Time:
2 hours
45 minutes
Glyko kerassi (Cherry preserve) also called "glyko tou koutaliou", is one of the best traditional fruit preserves, which can be served alone or used in many other desserts.
Ingredients
2 kilos of cherries
1/2 cup of water
2 kilos of sugar
2 spoonfuls of lemon juice
Extra lemon juice (3 spoonfuls)
2 – 3 fragrant geranium leaves (or 1 teaspoon of vanilla essence)
(1/2 cup of pickling lime dissolved in 2 litres of water) optional (see next recipe)
Instructions
Wash the cherries well. Remove the stems and pits using a pit remover.
Place cherries in a pot and cover with cold water and the lemon juice and leave it for an hour.
Drain them and reserve the water.
Place them back in the pot, covering each layer with sugar and part of the water, until all the cherries and all the sugar have been used, and leave them overnight or until the sugar dissolves.
The following day bring the cherries and sugar to a boil over high heat. Skim off foam as it rises to the top with a slotted ladle.
Lower heat and simmer for about 1 hour, until the syrup thickens. Add the 3 spoonfuls of lemon juice and geranium leaves or vanilla or cinnamon and allow to boil for another few seconds. Remove from the heat and set aside to cool completely.
Place in sterilized airtight glass jars to and store in a dark closet.
Alternatively, after step 5, bring to a boil, lower heat and using a thermometre the preserve is ready when the temperature reaches 105 degrees C. At this stage, add the lemon juice and turn off the heat.
Update:  June, 2009
This year I made the spoon sweet with pickling lime and used a different variety of cherries.
Glyko Kerasi (Cherry Spoon Sweet)
Preparation time:
5 minutes for washing

5 minutes for removing stems

10 minutes for washing again

45 minutes removing pits
Cooking time:
1 hour simmering

15 minutes again
Ingredients:
2 kilos cherries
50 grams (1/2 cup) pickling lime
2 litres water
2 kilos sugar
1/2 cup water
2 – 3 fragrant geranium leaves
1/4 cup lemon juice
Directions:
Dissolve Lime in Water.Wash the cherries and remove the stems.Place in the lime water (enough to cover the cherries) and leave them in the lime water for 2 hours.  Then wash thoroughly and remove the pits.

Place a layer of sugar and layer of cherries in a big pot ending with some sugar on top and wet the sugar with the water and leave it until the juices of the cherries wet the sugar.  This will take overnight.

The following day bring to a boil and simmer for 1 hour, stirring occasionally.
When foam starts forming on top remove with a slotted ladle.  This may be done 2 – 3 times.
Remove from the heat and allow it to cool.
Bring to a boil again and simmer for 15 minutes.
Add the geranium leaves (or vanilla or orange blossom water), the lemon juice and simmer for another 15 minutes
Update:  2012
The previous years I had nothing new to add.  This year however, I added 5 geranium leaves (again using 2 kilos cherries) and five minutes before it was ready I added 1/2 cup of honey.
The cherries were nice and crunchy but the syrup was divine.  The honey certainly added to the flavour of the syrup but the addition of more pelargonium leaves added amazing aroma to the syrup.
Serve alone, or as a topping on Greek yogurt, panna cotta, ice cream, cheesecakes, Crêpes or pancakes, puddings or other desserts.
The syrup is also ideal to wet sponge cakes or to make fruit compotes or liqueur.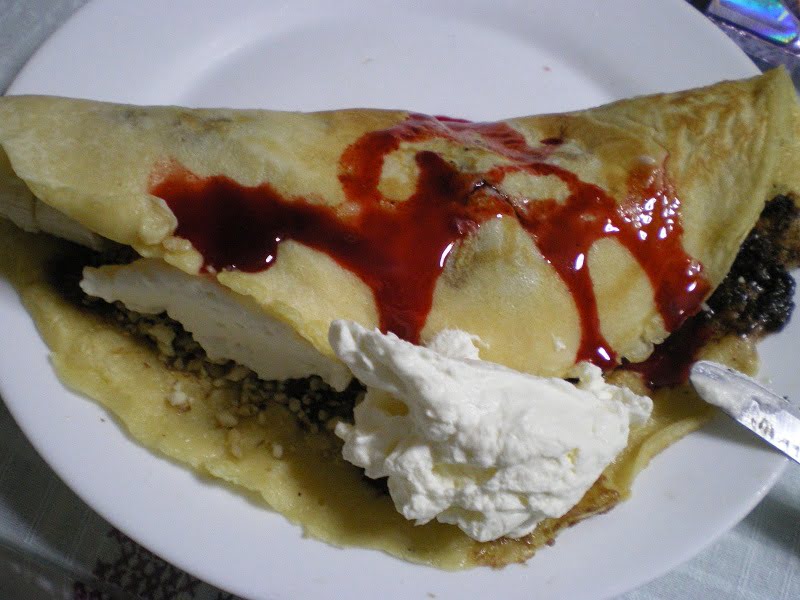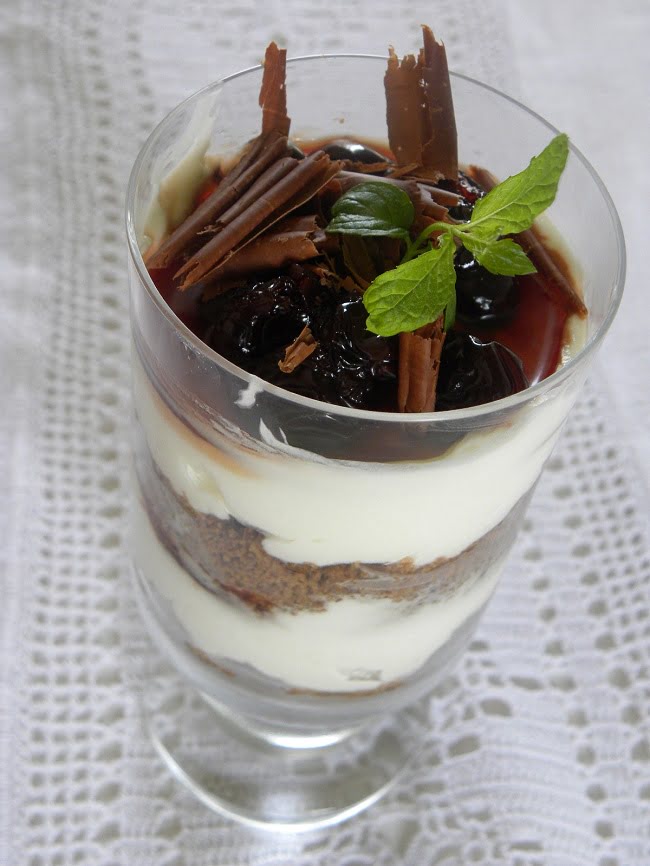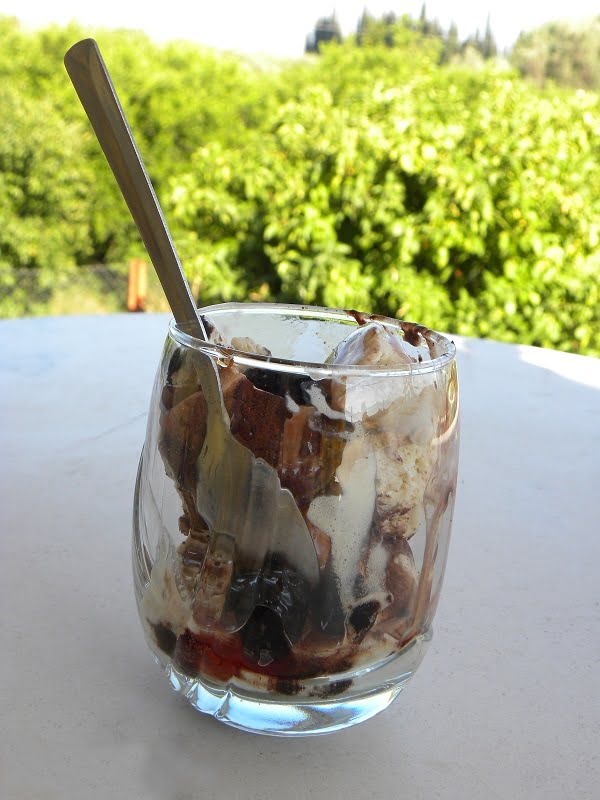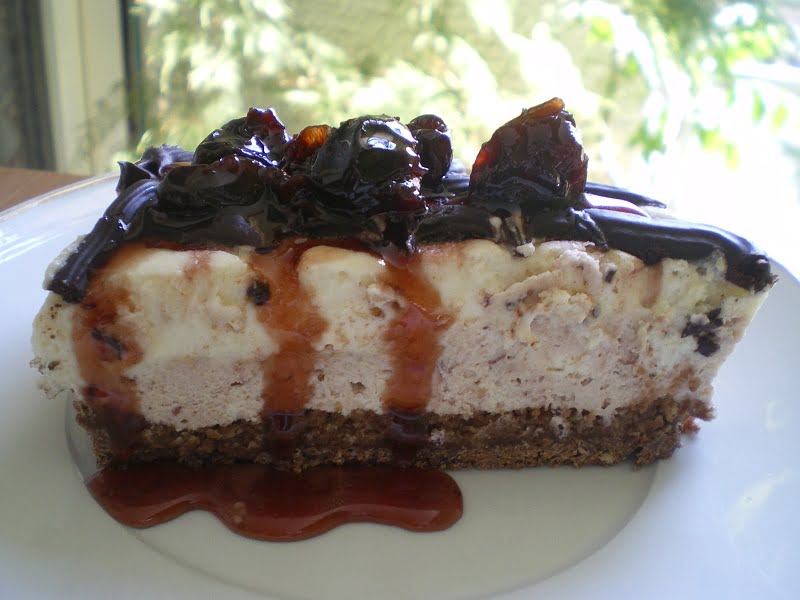 Like this post?
You can hover over this image to pin it to your Pinterest board. Also, please feel free to share it with your friends and fellow bloggers, using the share tools below.
Other related posts:
Glyko Karpouzi (Water Melon)
Glyko Nerantzi (Bitter oranges)
Glyko Bergamonto (Bergamot)
Glyko Vyssino (Sour cherries)
Glyko Karydaki (green immature walnuts)
Glyko Kydoni me amygdala (Quince with almonds)
Glyko Kydoni me kastana (Quince with chestnuts)
Glyko Milo (Apples)
also
About Spoon sweets
How can we tell if the syrup is ready?
How to fix spoon sweets
Similar recipes are included in my cookbooks "More Than A Greek Salad", and "Mint, Cinnamon & Blossom Water, Flavours of Cyprus, Kopiaste!" both available through my blog or on all Amazon stores.
Kopiaste and Kali Orexi,