Glyko Kydoni (quince preserve) is one of my favourite autumn fruit preserve. Depending on the variety, once cooked it transforms into a nice pinkish to red colour and all its beautiful aroma is released.
There are many ways to make this preserve and this one is my first attempt to make.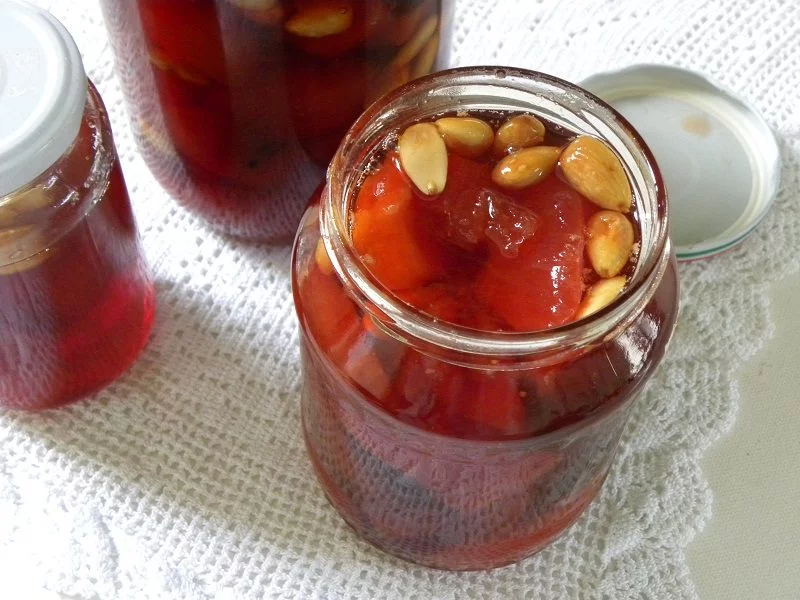 In Greece and Cyprus we like preserving fruits and you can make what we call glyka tou koutaliou (spoon sweets) with anything you can imagine. We make glyka tou koutaliou with fruit, flowers, vegetables and nuts.
At the end you will find a new recipe, as well as a video.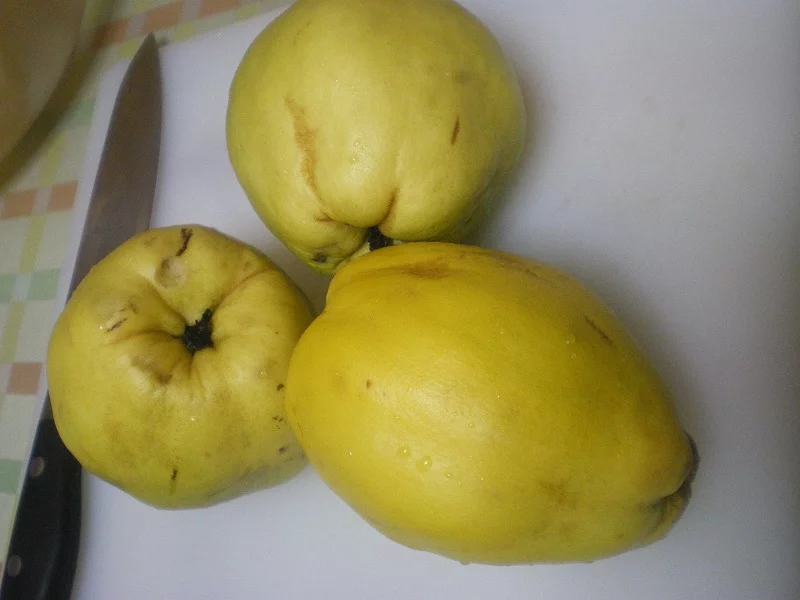 The procedure is almost the same for a lot of fruit. The only thing you have to be careful about quince is that if you leave it outside water it starts oxidizing.
Fill a bowl with water and lemon juice and put it right away in the water.
Do not attempt to taste it raw as it is not edible and you will find the taste quite disappointing.
Scented geraniums (Pelargonium)
The fragrant geranium leaves add an amazing aroma to spoon sweets but if you cannot find any, you can add vanilla or cinnamon stick, if you like.
Glyko kydoni can be served as it is but it is perfect served on top of Greek Yoghurt or ice cream.
Weekend Herb Blogging
"Weekend Herb Blogging" is one of my favourite food blogging events and I am very happy that this week I am going to be hosting it.
I'm sure you've have heard of this event as this is the 3rd Year of Weekend Herb Blogging, created by Kalyn of Kalyn's Kitchen and now Kalyn has passed it on to Haalo, of CookAlmost Anything At Least Once.
Here is what you have to do. Prepare a recipe using herbs, vegetables, plants, edible flowers or fruit on your own blog, and email the link over to me ( ivyliac [at] gmail [dot] com) before Sunday the 7th December.
Here are the rules:
Post about any herb, plant, fruit, vegetable or flower – read the rules to ensure that your post does qualify. Please include a link to both this post and to Haalo's announcement post.
Send an email to ivyliac AT gmail DOT com with WHB#161 in the subject line and the following details:
Name
Blog Name/URL
Post URL
Location

Attach a photo: maximum 500px wide (no more than 75kb)
Emails must be received by:
3pm Sunday – Utah Time
9pm Sunday – London Time
8am Monday – Melbourne (Aus) Time
or you can use this converter to find out the corresponding time in your location.
You can also check out who's hosting for the rest of the year at this post and find information about hosting WHB.
Here my entry for Weekend Herb Blogging #161.
Update: November, 2017:
Grated Quince Preserve
This year I decided to make the quince preserve a bit different. I grated the quince, I prepared the syrup first and then cooked the quince in the syrup.
The whole procedure from start to end takes about one and a half hour. If you have some help peeling and grating the quince, then the time is reduced considerably.
The result is a cross between a fruit preserve and a jam, as this can be eaten on its own, added to desserts or spread on bread, like jam.
I hope the video will help you make it!
Glyko Kydoni me Amygdala (Quince Spoon Sweet)
Total Time:
1 hour
15 minutes
Glyko Kydoni (quince preserve) is one of my favourite autumn fruit preserve. Depending on the variety, once cooked it transforms into a nice pinkish to red colour and all its beautiful aroma is released.
Ingredients
1.750 grams of boiled quince (2 ½ kilos)
1.750 grams of sugar
Juice from 1 lemon
Water to cover them
Peel of 1 lemon
4 fragrant geranium leaves
¼ cup lemon juice
1 cup blanched and toasted almonds
Instructions
Prepare a big bowl with water with lemon juice.
Peel the quinces and remove core, quarter them and put them in the water.
In a sauce pan add the water with lemon juice and cook the quartered quince, until soft, for about 15 minutes.
Drain and keep the water. Weigh them and put the quince back in the pot with the same amount of the sugar. Add the fragrant geraniums and add 5 cups of reserved water.
When the sugar dissolves, bring them to a boil and then simmer for fifteen minutes. Set aside to cool and drain them again. Put the syrup back on the heat and cook for 15 more minutes. Add the quince as well as the lemon juice and cook for 1 more minutes. Turn off the heat and let it cool before adding the almonds. .
Place in clean sterilized jars
Notes
You can discard the fragrant geranium and the lemon peel but I leave them in the jars for more aroma.

You can use a candy thermometre to know when the preserve is ready. When it reaches 105 degrees C (220 F), addd the lemon juice and remove from the heat.
Recommended Products
As an Amazon Associate and member of other affiliate programs, I earn from qualifying purchases.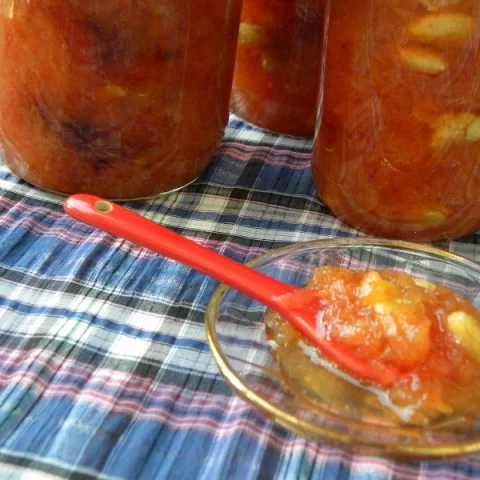 Glyko Kydoni Trifto (Grated Quince Preserve)
Total Time:
1 hour
35 minutes
This quince preserve (kydoni trifto) is made by grating the quince.
Ingredients
1.500 grams (4) quince
1 kilo sugar
3 cups (750 ml) water
Peel of 1 lemon
4 fragrant geranium leaves
Juice of 2 lemons
100 grams blanched and roasted almonds
Instructions
Put the sugar, water, lemon peel and fragrant geraniums in a pot and simmer for 15 minutes.
Blanch and roast the almonds.
Prepare a bowl of water with the juice of one of the lemons.
Peel, quarter and core the quince. Put them in the bowl of water.
When all are done, grate them on the big side of a box grater and put it back in the bowl with the lemon water.
Drain the grated quince and put it in the syrup. Cook it on medium heat for half an hour, mixing every now and then.
Finally add the juice of the second lemon and cook for five more minutes.
Set aside to cool and then add the roasted almonds.
Store in sterilized jars.
No refrigeration is necessary.
Nutrition Information
Yield

3
Serving Size

1
Amount Per Serving
Calories

1556
Total Fat

18g
Saturated Fat

1g
Trans Fat

0g
Unsaturated Fat

15g
Cholesterol

0mg
Sodium

219mg
Carbohydrates

359g
Fiber

6g
Sugar

346g
Protein

8g
"These values are automatically calculated and offered for guidance only. Their accuracy is not guaranteed."
Fruit Preserves (Glyka tou Koutaliou)
Fruit preserves, called "glyka tou koutaliou", served in little plates, are an inherent part of Greek culture, where they are offered to guests, as an act of hospitality. Almost any fruit, even vegetables, flowers and nuts can be made into a preserve.
Here is a selection of my favourite fruit preserves.
Kopiaste and Kali Orexi,