Glyko Milo is a Greek fruit preserve made with a Greek variety of apples called Firiki (Pijrus Malus ή Malus Communis), which are very aromatic.
It is preferable to make the preserve when they are small but if you cannot find this variety you can make the preserve with bigger, firm, apples, which peel, remove the seeds and cut into four pieces.
I love making spoon sweets and every time I write about one I end up saying that it is my favourite.
Each one has a different taste and when raw even if it is bitter like the walnuts or citrus or tasteless like water melon rind, when it is done it is transformed into something totally different and delicious.
Making spoon sweet is not difficult and bear in mind that in almost in all cases you will need the same amount of sugar as the weight of the peeled and cored fruit.
The amount of water needed is usually for 1 part of sugar – 1/2 part of water.
On Tuesday when I went to the the Farmers' Market I was looking for bergamot to make a spoon sweet but unfortunately you rarely see them around.
I did, however, find firikia, which is a variety of oblong small apples with a lovely taste and aroma and which is mainly produced at Mount Pilio.
All spoon sweets can be preserved for a long time, so long as the syrup is properly thickened. I still have some cherries, quince and watermelon from last summer and when I crave something sweet, I always have something at hand.
Can you think of anything better for breakfast or dessert: Greek strained yoghurt with apple spoon sweet, a few teaspoons of syrup and cinnamon!! This is heaven!
I am sending this recipe over to Grace of A Southern Grace, who is hosting the event Cinnamon Celebration. The event calls for a teaspoon of cinnamon and I guess that two pieces of cinnamon sticks could be considered as 1 teaspoon.
Fruit Preserves (Glyka tou Koutaliou)
Fruit preserves, called "glyka tou koutaliou", served in little plates, are an inherent part of Greek culture, where they are offered to guests, as an act of hospitality. Almost any fruit, even vegetables, flowers and nuts can be made into a preserve.
Here is a selection of my favourite fruit preserves.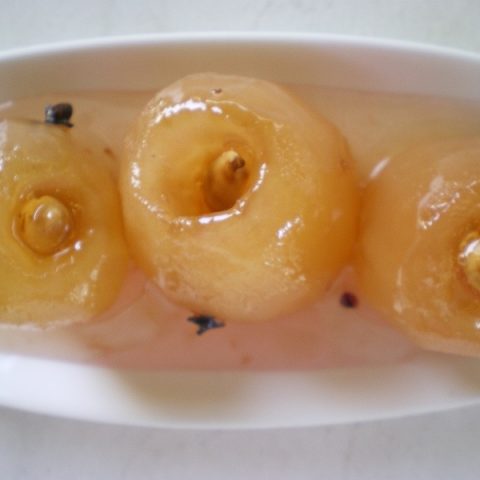 Glyko Milo (Greek Apple Preserve)
Total Time:
1 hour
15 minutes
Glyko Milo is a Greek fruit preserve made with a Greek variety of apples called Firiki (Pijrus Malus ή Malus Communis), which are very aromatic.
Ingredients
1.600 grams apples
1/2 cup lemon juice
2 litres of water to cover the apples
Syrup:
1.600 grams of sugar
4 cups of water
2 sticks of cinnamon
1 lemon peel
3 fragrant geranium leaves (optional)
28 cloves
28 blanched and roasted almonds
1/4 cup brandy (optional)
1/4 cup lemon juice for finishing the sweet
Instructions
Start by preparing the syrup. Put the sugar, water, cinnamon sticks, fragrant geraniums and lemon peel in a pot. Stir to dissolve the sugar and put on the heat. Bring to a boil, reduce heat and simmer for 15 minutes. Remove from heat and allow to cool.
Meantime peel the apples and remove the core and put them in a big bowl with the half cup of lemon juice. The lemon juice will prevent the apples to oxidize. You will notice that the apples will float so place a plate on top of them to keep them submerged in the water.
When the syrup has cooled drain the apples, put a clove on the apples and put them in the syrup. Again use the plate to keep them submerged. Bring to a boil, lower heat and cook until apples are soft, about 20 – 30 minutes.
Remove apples to a strainer using a slotted spoon and when they cool place a roasted almond in their cavity.
Check if the syrup has reached the right consistency and if it is not, remove the apples and continue simmering. Put the apples back in the syrup and add the brandy and lemon juice and simmer for three more minutes.
Remove from the heat and allow to cool before storing them in cleaned sterilized jars.
Notes
Attention:
The calories given for the preserve includes the whole amount of sugar, which is made into the syrup. The syrup is not eaten with the preserves, so the calories for each apple preserve is much, much more less!!!!
Nutrition Information
Yield

28
Serving Size

1
Amount Per Serving
Calories

273
Total Fat

1g
Saturated Fat

0g
Trans Fat

0g
Unsaturated Fat

1g
Cholesterol

0mg
Sodium

19mg
Carbohydrates

68g
Fiber

3g
Sugar

64g
Protein

1g
PIN FOR LATER
Kopiaste and Kali Orexi!