Arbaroriza (Pelargonium graveolens), called kiouli in Cyprus, is one of my favourite plants and it is so common in Greece and Cyprus that you will surely find one in most gardens or balconies, planted in pots or directly in the garden.
Scented geraniums, also called fragrant geraniums, belong to the Geraniaceae family but they should not be confused with other species of geraniums. The best time to plant them is during Spring and it is simple to plant them as you just cut a branch without flowers and put it in the soil. It does not need frequent watering but it should be exposed to the sun for a couple of hours during the day. It is not resistant to temperatures below -0o C / 30o F, so you will need to protect it from the frost by either covering it or putting it indoors.
It is a hairy perennial shrub, often used in hedgerows, and stands up to about one meter high (3 feet) with pointed leaves, serrated at the edges. This plant, although it has beautiful pinkish-white flowers, it is not prized for its flowers but for its fragrant foliage. If you have insects in your garden, its aroma is considered as an insect repellent, and all y need to gently brush against the plant to release the fragrance, or you may need to bruise a leaf for the full effect.
When it comes to choosing a type of scented geranium there are many choices. Lemon, rose, cinnamon, peppermint, ginger, coconut, strawberry, orange, and pineapple are just a few of the more common scents to choose from. Fresh or dried leaves can be used in a number of ways.
All scented geraniums have fragrant leaves and the essential oils have been used in numerous commercial products over the years.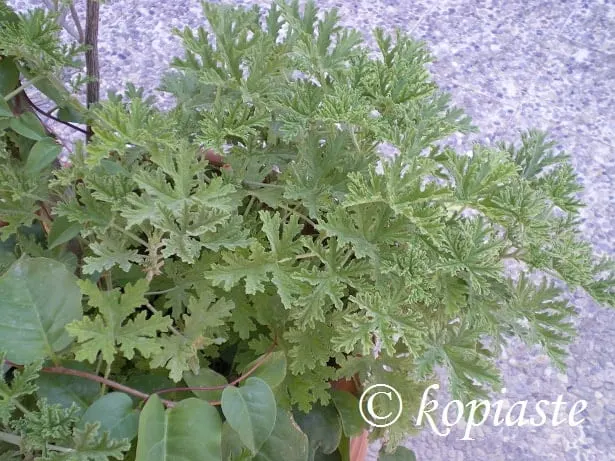 Culinary use:
The most common use of scented geranium leaves in Greece/Cyprus, is to use it to make glyka tou koutaliou (fruit preserves), jams, sweet sauces, liqueurs, loukoumia, etc.
How to dry Scented Geranium leaves:
To dry the leaves lay them flat on a tray lined with a paper towel for a day or two until dry. See more details on drying herbs here. When the leaves are dry store them in an airtight container in a cool location, but not in the refrigerator. You can use dried leaves to flavour tea, drinks, syrups, jellies etc.

I've seen recipes in which they use vanilla pods to flavour sugar and thought why not flavour it with fragrant geraniums, since I love the flavour so much?
It's so easy to make and doesn't cost a penny if you have the plant. All I did was to cut some leaves, wash them to remove any dust and let them drain and dry. Be sure to dry the leaves well, as the moisture will petrify the sugar.
Put them in an airtight vessel or jar and leave them to absorb the flavour. Mix the sugar regularly for about ten days and it will add an extra flavour to your cakes, drinks, syrups etc.
For the most intense flavor pick leaves off the plant shortly after it blooms.
I used the sugar and fresh scented geranium leaves to make Apricot Glazed Arbaroriza (Scented Geranium) Marbled Cake. You can find the recipe here.
How to make fragrant geranium sugar
Ingredients:
1 kilo sugar
5 – 6 fragrant geranium leaves
Directions:
Add some sugar with leaves in an airtight container or a jar, add more sugar on top, add a few more leaves, and so on.
Close the container and store in a cool, dry place for at least 10 days.
Shake the container daily to distribute the flavor throughout the sugar.
Medicinal Uses of Scented Geranium:
After multiple scientific studies, the fragrant geranium has been proved to be one of the most useful natural products with a range of therapeutic properties.
Drinking a cup of tea made from scented geraniums can have a calming effect similar to chamomile and may be able to reduce stress and anxiety, relieves arthritis pain, against nausea, it relieves migraines and reduces cholesterol.. The essential oil of scented geraniums has also been used in perfumes, insect repellents, astringents, and in aromatherapy oils. Scented geranium tea can be used the same way as chamomile (on cotton pads) to clean the face and is thought to help with pimples and acne because of its antibacterial properties.
How to make Fragrant Tea
You can make the tea (warm or iced tea) by steeping a few green leaves or a couple of teaspoons of dried leaves in a cup of hot water or add cinnamon, cloves, etc to add extra flavour.
I do not add any sweetening to my tea but you can add stevia, sugar, honey or if you have leftover syrup from fruit preserves, just add just a little bit for the sweetness and flavour.
Green Tea with Scented Geraniums
Ingredients:
Serves: 4
1 litre water
4 fresh scented geranium leaves
1 small stick cinnamon
2 cloves
1 tea bag citrus green tea
Directions:
Add all ingredients in a tea pot and add boiling water. Let it steep for five or minutes before serving hot or cold.
For a cold drink, drain and refrigerate for a few hours before serving,
My love for jellies (or jellos as they are called in the United States) started when I was on a diet and wanted to make light desserts to satisfy my cravings for a dessert. Back then I used low calorie jelly mix and fresh fruit.
When my husband was on a gallbladder diet he was also not allowed to eat desserts so I made some jelly for him with canned fruit as it was during the winter. Instead of using water, I would add green tea with scented geraniums. You can use jelly in a box or gelatin leaves. Now that summer fruit are in abbundance what better than refreshing jelly packed with so many healthy properties. To make the jelly you should follow the instructions mentioned on the packet and substitute amount of water with tea and if you don't mind the calories add the canned fruit syrup as well.
Winter Jelly
Pineapple and Jasmine Green Tea and Scented Geranium Jelly
Ingredients:
1 packet Pineapple Jelly (2 sachets 85 grams each, dissolved in 415 ml water each, as per package instructions)
1 can (340 grams) pineapple in syrup
2 Jasmine green tea sachets
830 ml Green tea (or green tea and pineapple syrup, 630 ml tea + 200 ml syrup)
Directions:
Prepare tea as above. Add jelly, mix and dissolve. Add canned fruit syrup and set aside to cool but not to set. Add the canned fruit and refrigerate.
Summer Jelly
Peach and Scented Geranium Jelly
Ingredients:
250 – 300 grams homemade peach marmalade (depending on how sweet you want it)
1 large peach
12 sheets gelatin
Green tea with geraniums to make 1 litre jelly
Directions:
Put gelatin leaves in a bowl with cold water for five minutes.
Prepare tea, same as above.
Put the peach in boiling water for five minutes and remove the peel and cut into slices.
Put the jam in a pot together with the peaches and simmer for five minutes. Add some water if necessary. Add the gelatin leaves (without the water) in the jam and mix until the gelatin dissolves.
Remove the fruit and put the jam in a measuring bowl and add the tea until you have 1 litre jelly.
Add the fruit, mix and set aside to cool. Refrigerate until it sets.
This is my entry for Weekend Herb Blogging # 339, an event started by Kalyn of Kalyn's Kitchen, and now organized by Haalo of Cook (almost) Anything at Least Once. This week it is hosted by Simona from Briciole.
Other Similar Recipes:
Arbaroriza Cake (Apricot glazed Marbled Cake with Scented Geranium)
Strawberry Jelly and Yoghurt Mousse Cake
Low fat Anthotyro-Cream Cheese Strawberry Jelly
Low Fat Greek Strawberry and Apricot Yoghurt – Cream Cheese Panna Cotta
Kopiaste and Kali Orexi,