Glyko Karpouzi is a fruit preserve made with the rind of the watermelon (karpouzi in Greek pronounced Glee-KHO kar-POU-zee), so whenever you get a thick skinned watermelon, you can use the rind to make this sweet fruit preserve.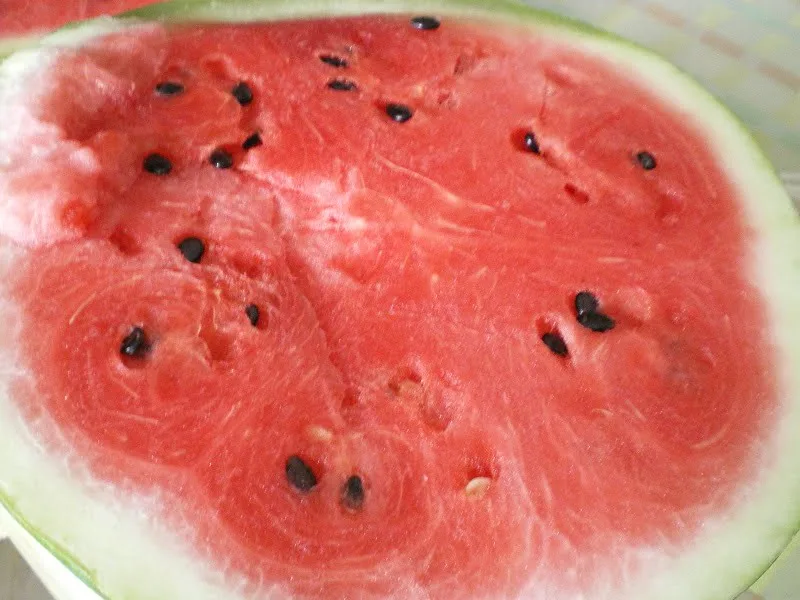 These fruit preserves are called "Glyka tou Koutaliou" in Greek, which translates as "spoon sweets" as they are usually served in a spoon (occasionally with a small fork), as a gesture of hospitality.
They can be made from almost any fruit, though sour and bitter fruits are especially prized. There are even spoon sweets made from vegetables such as carrots, eggplants, tomatoes etc.
Whole fruit preserves can be found in most Greek and Cypriot homes.
They are made by slowly simmering fruit in water and sugar over several hours, until the syrup sets.
A small quantity of lemon juice is often added to preserve the fruit's original colour, as well as to prevent sugar from crystallizing.
The method of preparation is essentially similar to that of marmalade, except that fruit pieces remain whole.
Some of the fruits that are used include citrus (bitter oranges), grapes, mulberries, bergamot, apricots, cherries, oranges, sour cherries, lemons, pomegranates, quinces, strawberries, apples, dates, figs, prunes, and tangerines.
Other varieties include vegetables, pistachios, hazelnuts, green (immature) walnuts and other nuts, and flower petals like rose or citrus flower blossoms.
Many fruits or parts of fruits that are normally inedible, such as citrus peel and water melon rind, can be made into sweet, flavourful preserves, as can unripe nuts and vegetables.
You can find more information regarding Spoon Sweets in a separate post.
To make the spoon sweets crunchier the fruit or vegetable is soaked in a solution of pickling lime dissolved in water. They let it rest for two or more hours and then the fruit is washed very well before proceeding to make the preserve.
*Quick lime (asvestis) or pickling lime is an ingredient used lots of years ago and back then they would would get it from constructions.
The calcium firms up the vegetable or fruit cell wall, so that it doesn't get mushy. I do not know where you can find pickling lime abroad but in Cyprus you can now find it in supermarkets.
You can also find it online and in case you cannot find some, the worst that can happen to your spoon sweet is that it will not be very crunchy.
Spoon sweets are usually offered to guests served by the teaspoon in a small china or crystal dish, with coffee or tea and cold water.
Originally they used to serve them in a big bowl where everybody would take a piece from there in order to prove that there was no poison in it.
I remember them served in basket shaped bowls made of pure silver, which had places for the silver spoons to stand round the basket, which was filled with the spoon sweets.
Today's recipe, "Glyko Karpouzi" is made using the rind of watermelon. In order to make this spoon sweet the rind should be at least two centimetres thick. Cut slices about 6 – 8 cm., and remove the outer green skin and as much red flesh as you can.
Spoon sweets are traditionally served with a cold glass of iced water.
Before going to the recipe, you can also see a revisited recipe of mine made with mini watermelons: Aromatiko Glyko Karpouzi with mini Watermelons (Fruit Preserve).
When you have consumed the watermelon preserve, you will have leftover syrup, in which it is preserved.
No need to throw away that delicious syrup. You can make this delicious watermelon pudding using it.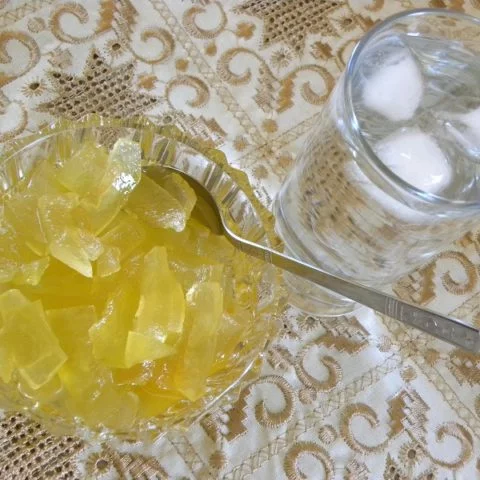 Glyko Karpouzi - Watermelon Rind Preserve (spoon sweet)
Cook Time:
1 hour
30 minutes
Total Time:
3 hours
30 minutes
Glyko Karpouzi is a fruit preserve made with the rind of the watermelon (karpouzi in Greek), so whenever you get a thick skinned watermelon, you can use the rind to make a preserve.
Ingredients
1 kilo rind of a watermelon
1 kilo sugar
1/2 cup picking lime, dissolved in 2 litres of water
3 cups water
1/3 cup lemon juice
The peel of 2 lemons
2 -3 fragrant geranium leaves (or 1 tsp of vanilla essence)
Instructions
Peel and cut each slice of the watermelon rind into smaller pieces, about 5 - 6 centimetres long.
Put the peel pieces into a large bowl with pickling lime and water (or cover with cold water and the lemon juice) and leave it for an hour.
Rinse thoroughly before proceeding to next step.
Drain the peels in a colander and rinse under cold water. Return to the bowl, cover with fresh cold water and add half the lemon juice and leave to soak for 30 more minutes, then drain.
Put the sugar and water in a large pot and mix until the sugar dissolves. Bring to a boil, add the drained watermelon rind, the fragrant geranium leaves and the lemon peel, cover and slowly simmer for about 1 hour and 30 minutes until the syrup is dense. If you have a candy thermometre, until the temperature reaches 105 degrees C. When ready, the preserve turns a shade of transparent yellow.
Five minutes before the end add the remaining lemon juice and toss the saucepan. Remove from the heat.
Allow to cool and transfer to sterilised jars.
Store in a dark and dry placer When opening a jar, store in the refrigerator*.
Notes
*Spoon sweets do not need to be stored in the refrigerator but watermelon preserve is best if served cold.

Nutrition Information
Yield

2 kilos
Serving Size

1
Amount Per Serving
Calories

2133
Total Fat

1g
Saturated Fat

0g
Trans Fat

0g
Unsaturated Fat

1g
Cholesterol

0mg
Sodium

77mg
Carbohydrates

554g
Fiber

6g
Sugar

534g
Protein

5g
Other relevant posts:
About Spoon sweets
How can we tell if the syrup is ready?
How to fix spoon sweets
Fruit Preserves (Glyka tou Koutaliou)
Fruit preserves, called "glyka tou koutaliou", served in little plates, are an inherent part of Greek culture, where they are offered to guests, as an act of hospitality. Almost any fruit, even vegetables, flowers and nuts can be made into a preserve.
Here is a selection of my favourite fruit preserves.
PIN FOR LATER
Kopiaste and Kali Orexi,