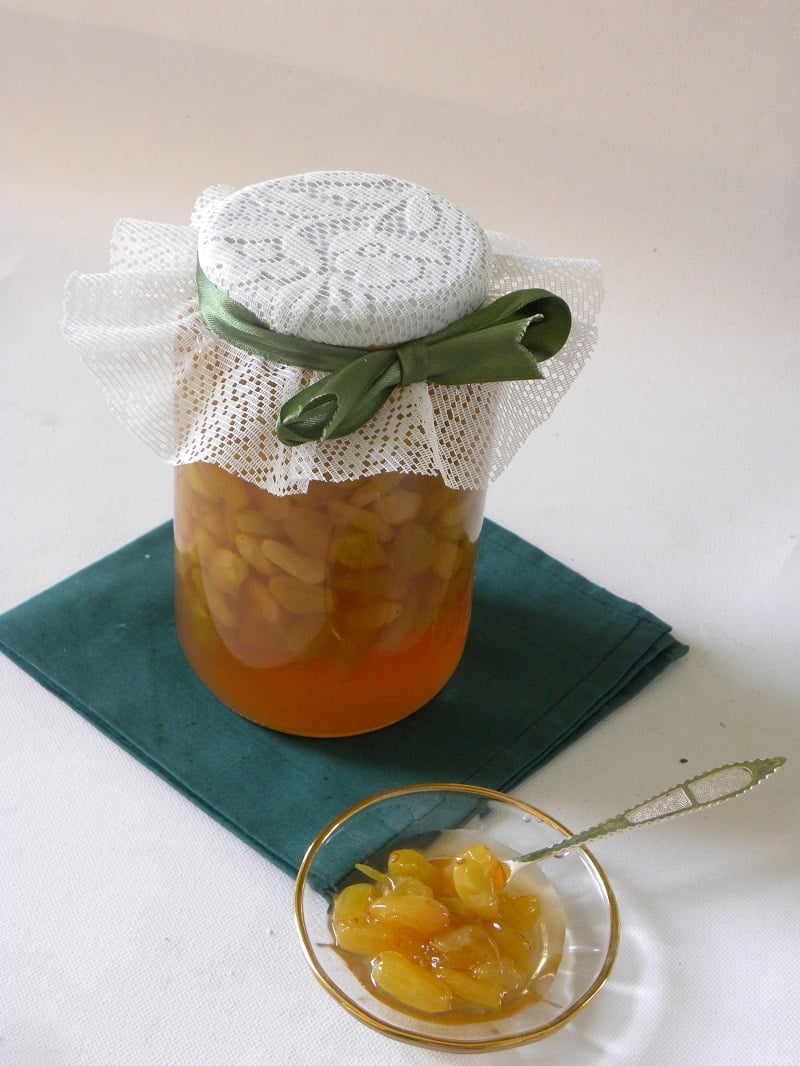 Glyko stafyli or grape preserve are candied grapes in syrup. It is a quick and easy confection to make.
You can serve it as it is or used it in other desserts.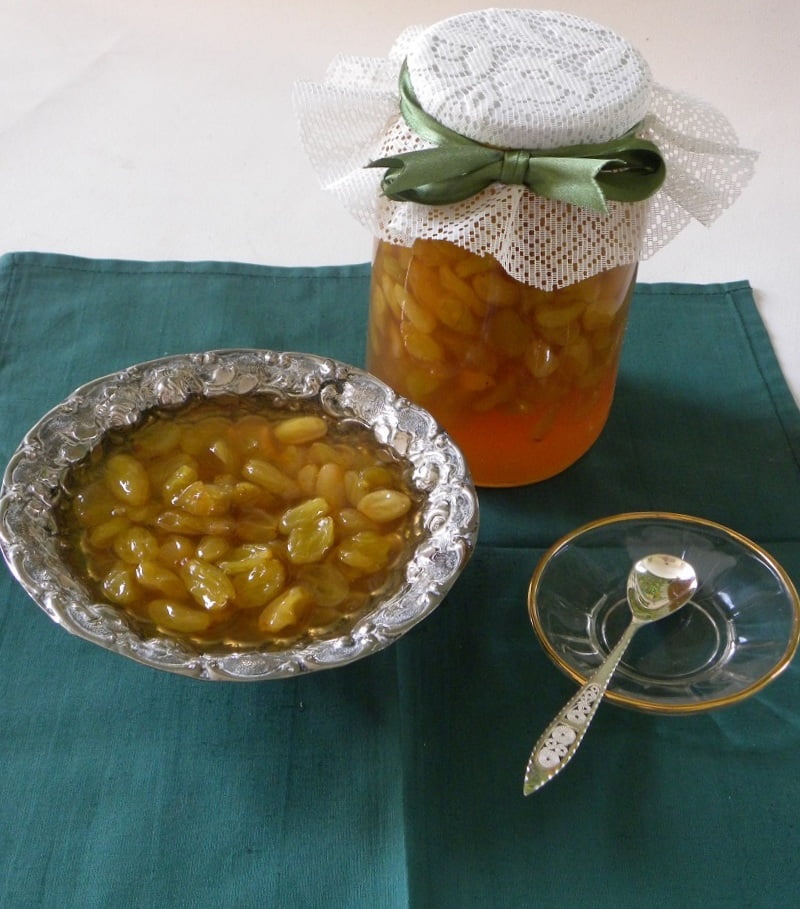 This time of the year the grapes are very cheap so apart from making moustalevria or moustokouloura, you can make it into fruit preserve and use it in lots of recipes like cheesecake, panna cotta, eat it plain as it is or with Greek yoghurt etc.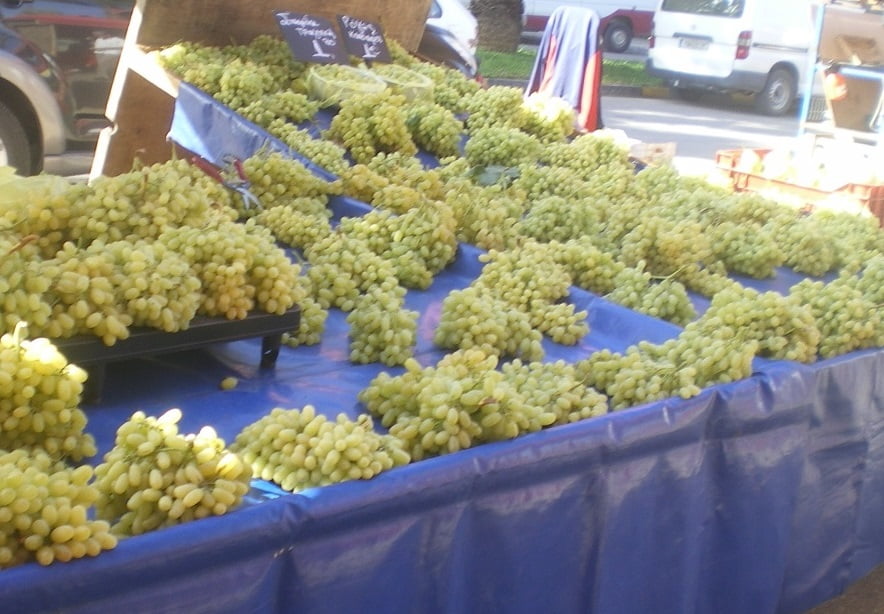 When the grapes fall off the bunch, here in Greece at the farmers' market they collect them and sell them very cheap.
When I saw a large bowl full of sultana grapes, they looked very good, so after washing them I separated the big grapes to make the spoon sweet and used the smaller ones to get the juice.
Traditionally, no grape juice is used in making grape spoon sweet. The grapes are usually covered with the sugar and left overnight to release some juice and wet the sugar. In this case less syrup is produced.
As I prefer more syrup which I use in lots of dessert recipes, I add some grape juice as well.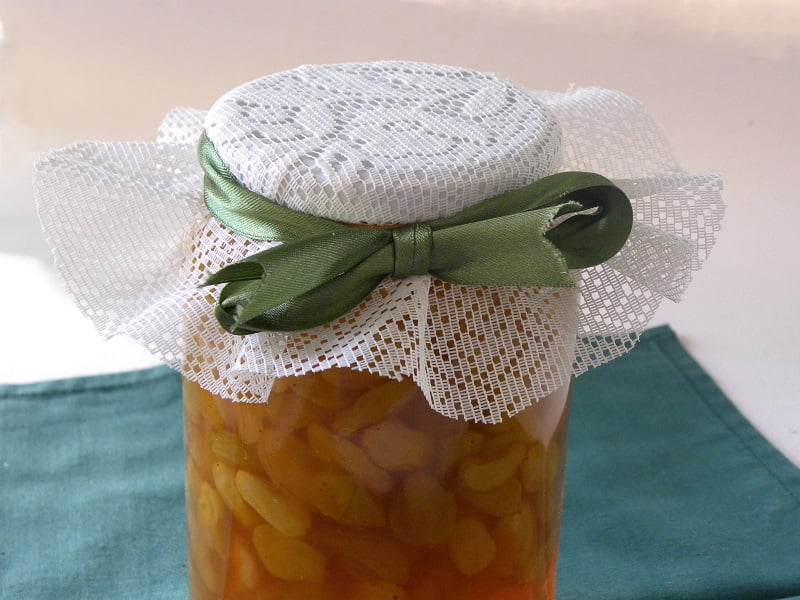 This way I expedited the procedure and made the spoon sweet immediately, as the juice helped to dissolve the sugar. If you use grape juice, you must bear in mind that this time of the year grapes are very sweet, so you can reduce the sugar, unless you like the syrup to be very sweet.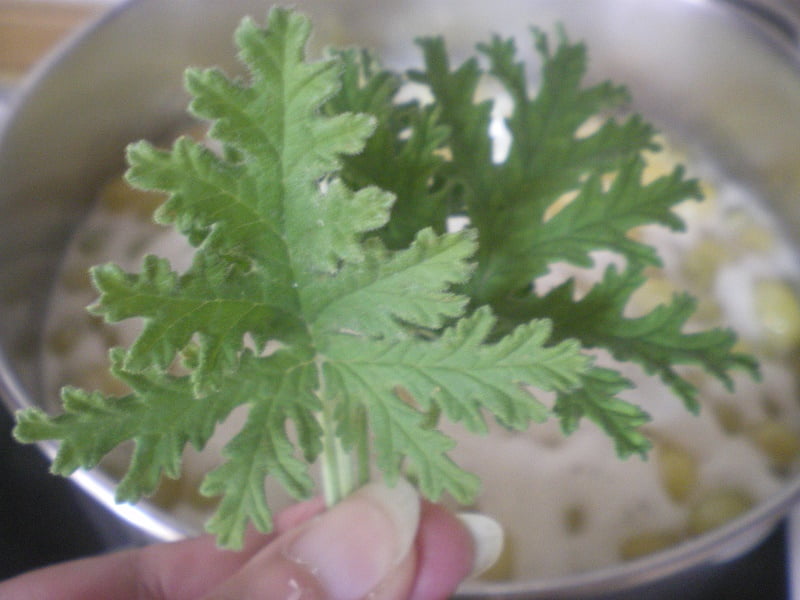 If you can't find fragrant geranium leaves, you may use vanilla or cinnamon stick and cloves to flavour the syrup.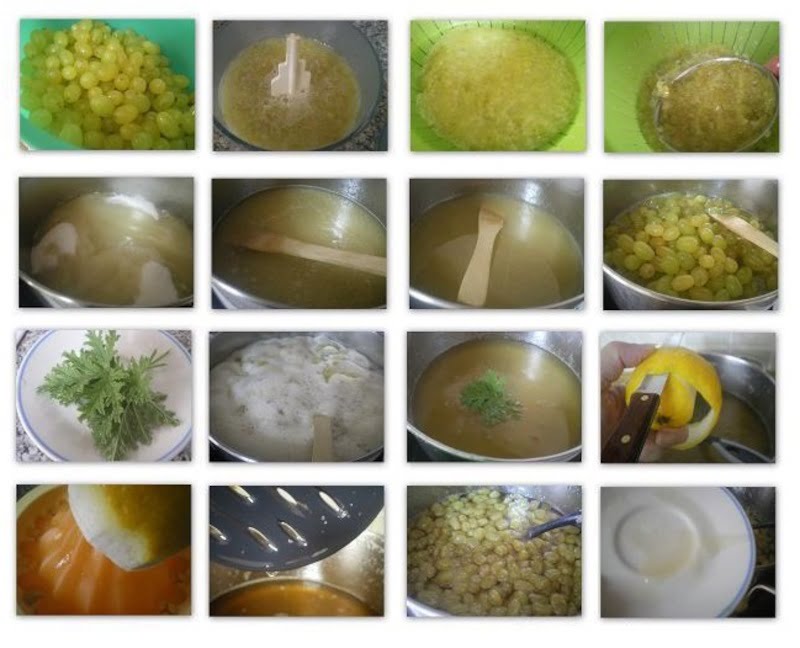 Yesterday, I made Fig Jam with Lemon, Rum and Cinnamon and as I will not find time to make another post soon, I updated a previous post I had on Fig Jam. This jam is really very easy to make and it tastes fantastic.
Yesterday I also made Glyko Kydoni (Quince) and have updated the recipes with some notes and new photos.
Glyko Stafyli (Greek Grape Preserve)
Total Time:
2 hours
15 minutes
Glyko stafyli or grape preserve are candied grapes in syrup. It is a quick and easy confection to make,
Ingredients
1.500 grams sultana grapes (after destemming)
2 cups grape juice (using 500 grams grapes)
800 grams granulated sugar (if the grapes are tart, add more)
4 fragrant geranium leaves (or ½ tsp vanilla essence)
1 lemon (both peel and juice)
Instructions
Wash the grapes well and remove the stems. Weigh the grapes and put them in a colander but they do not have to dry completely.
In a food processor or a juicer, extract the juice from the 500 grams of grapes and pass it through a sieve.
Put the sugar and grape juice in a large pot and with a wooden spoon or spatula mix until the sugar dissolves.
Put it on the heat and keep mixing for about 5 minutes until the granules of the sugar dissolve.
Remove from the heat and put the remaining grape berries in the pot. Let them sit in the syrup for about an hour.
After the resting time check with the spoon to see if the sugar has crystallized again at the bottom of the pot and gently mix until it dissolves.
On high heat bring to boil and mix continuously for five minutes. You will see froth forming on top but as you continue mixing it will go away.
After mixing for 5 minutes remove the grapes with a slotted ladle in a colander. Put the drained juices back in the pot and add the lemon peel and fragrant geranium.
Simmer for about 45 minutes until the syrup is ready, making sure that you are not far away as it may overflow. (If you have a thermometre, it should reach 150oC).
At the end add the lemon juice and mix. Return the grapes back in the syrup, mix for 1 minute and then remove from the heat.
When completely cold, store in sterilized jars. (You do not have to remove the geranium leaves as they add extra aroma).
Store in a cupboard.
Nutrition Information
Yield

1.5 kilo
Serving Size

1
Amount Per Serving
Calories

1914
Total Fat

1g
Saturated Fat

0g
Trans Fat

0g
Unsaturated Fat

0g
Cholesterol

0mg
Sodium

32mg
Carbohydrates

493g
Fiber

4g
Sugar

482g
Protein

3g
Glyka tou Koutaliou (Fruit Preserves)
Fruit preserves, called "glyka tou koutaliou", served in little plates, are an inherent part of Greek culture, where they are offered to guests, as an act of hospitality. Almost any fruit, even vegetables and nuts can be made into a preserve.
Here is a selection of my favourite fruit preserves.
LIKE THIS POST?
You can hover over this image to pin it to your Pinterest board. Also, please feel free to share it with your friends and fellow bloggers, using the share tools.
Kopiaste and Kali Orexi!