Mahalebi is a Cypriot pudding made with water or milk and corn flour. The traditional way of making mahalepi is with water. No sugar is added in the cream but when served, always chilled, rose water and sugar are added on top, or triantafyllo (rose cordial syrup), which is sweet and no extra sugar is added.
It's not the kind of thing we think of every day-eating roses, that is. Yet, the noble rose has had a place in our kitchen for eons, tantalizing, seducing, intoxicating people more than any other flower. Roses, which were used as a seasoning, were sold by the roadside in fourth-century BC in Athens. In ancient Greece, the symposia were occasions in which all the senses were engaged, and the perfumes used were as important as the foods served. Rose fragrance was considered appropriate for a drinking party; rose essence was also sometimes used to season wine, in both ancient Greece and Rome.
Later, the rose appears in confections. The Byzantines were probably the first to make rose sugar, which was also a popular Medieval sweet. Rosewater also was mixed with salep and drunk as a fortifying beverage as early as the seventh century in Constantinople. The Byzantines also mixed rose syrup with crushed mountain ice to make sorbet. Rosewater is the basic flavoring agent in loukoumi. Elsewhere in the Middle East, it is still drunk as a beverage and appears throughout Persia and Arabia as an aromatic sauce for certain meat dishes.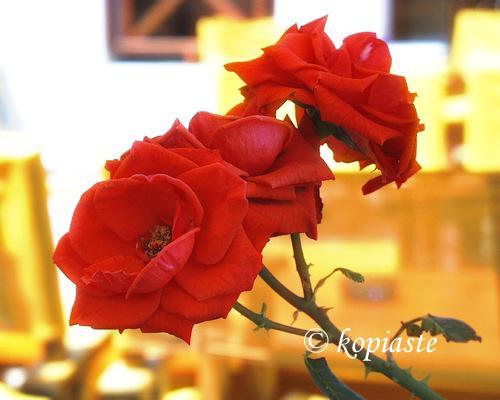 My mother used to make the rose petals into the most delicious spoon sweet and also she made both rodostagma, rodo (pl. roda) meaning roses and stagma, a drop – distillation (rose water) and anthonero, anthos meaning blossoms and nero, water (citrus blossom water).
Rose water cannot be made from any roses but there is a certain variety called Rosa Damascena (rose of Damascus) which is like a shrub and produces lots of small roses which are very aromatic. We used to have some of these roses in our garden and a few citrus trees in our back yard.
My mother had a still (not the one in the picture, which is a still for making zivania), where the petals of Damascus roses or citrus blossoms were boiled with water. The steam coming out from the still would then condense and flow through the tube where she would collect the rose or blossom water. The house would smell heavenly.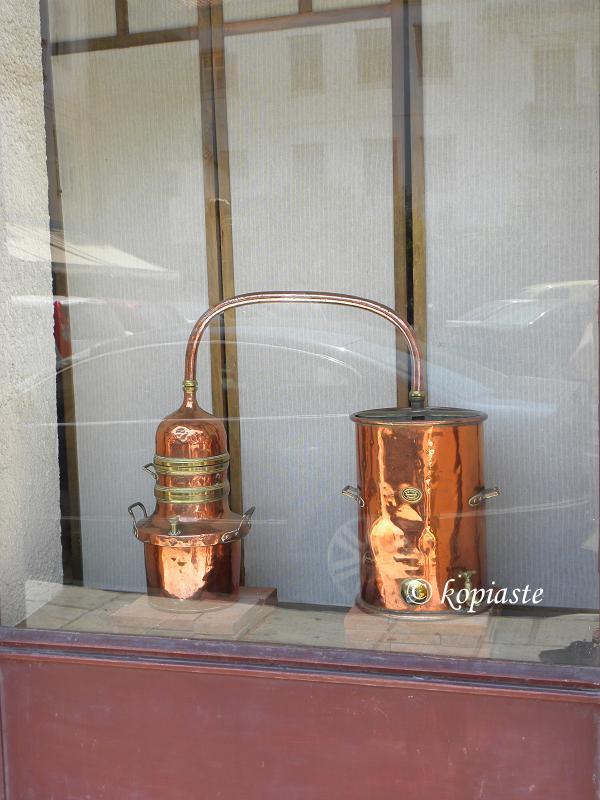 Still

During that period when there were plenty of roses or bitter orange blossoms she would also make the petals into the most fragrant spoon sweet, which also smelled and tasted heavenly. Most of the traditional Cypriot desserts have rose water or blossom water in them or served with them.
Believe it or not, Mahalebi a street food. Street vendors with carts used to sell it in Cyprus . They made it with cornstarch and water. Nothing else. They would then put it in empty condensed milk tins (which were half filled) and cooled it on ice blocks. When the customer would come to buy some, they would flip it in a plate and would either wet it with some rose water and sprinkle as much sugar as the customer wanted on or just pour triantafyllo, on top. Triantafyllo is a syrup made from rose petals and has a rich alizarine colour and of course the aroma of rose is also very strong.
At home my mother would often prepare mahalebi with milk (mahalebi tou galatou) instead of water and only during the days of fasting she would make it with water. A few days ago, I had a lot of milk in the refrigerator and since it was about to expire I decided to make Mahalebi, which is one of the easiest and nicest desserts to make.
I made it in the afternoon and it was cloudy and there was not much natural light to take proper pictures. I decided to keep one in the refrigerator to photograph it the other day but I had already added the caramelized pistachios and by the next day the sugar had melted.
I used to think that this recipe is Cypriot but in the '80s after the war in Lebanon, many Lebanese came to live in Cyprus and we learned that they made it as well and it is called muhallabiyeh. That really did make sense as the word itself sounds like Arabic. Since then we learned to make their version of mahalebi, as well. I will prepare and post that recipe another day.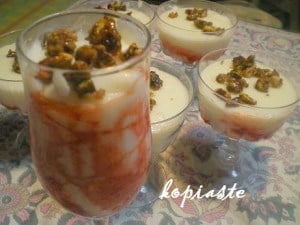 The Lebanese usually serve it with pistachios from where I got the idea but they do not caramelize them, as I did.
I am sending this entry and the rose to my friend Aparna, of My Diverse Kitchen, who is celebrating her 1st year of blogging with Sweet Celebrations, wishing her many more years of blogging.
Mahalebi and Rose Water
Preparation and cooking time: 15 minutes
Ingredients:
To make the pudding:
1 cup water or milk
1 tablespoon sugar
30 grams corn flour (starch).
For caramelized pistachios:
1/2 cup of unsalted pistachios

1 heaped tablespoon of brown sugar

A sprinkle of rose water to wet the sugar

Extra rose water
Directions:
Place nuts and sugar with a little rose water in a non-stick frying pan and keep stirring until the sugar melts and caramelizes.
Empty them on a parchment paper and when they have cooled, crush them a little in order to sprinkle some on top.
Dissolve the corn flour with some of the milk in a pot.
Heat the remaining milk and add the sugar until it dissolves.
Pour the hot milk and stir with a balloon whisk until it sets.
Wet the bowls or glasses with rosewater (use leftover to make the caramelized nuts).
Empty the cream in the bowls and set aside until they cool.
Refrigerate.
Serve with caramelised pistachios.
Many times I like replacing sugar with some leftover syrup from fruit preserves (in this case cherries or sour cherries) and serve it with the same fruit preserve on top. This is why the cream is darker.
A similar recipe is included in my cookbook Mint, Cinnamon & Blossom Water, Flavours of Cyprus, Kopiaste!
You can find many more Greek recipes in my cookbook "More Than A Greek Salad", and "Mint, Cinnamon & Blossom Water, Flavours of Cyprus, Kopiaste!" both available on all Amazon stores.
Other relevant recipes:
Low Fat Greek Strawberry and Apricot Yoghurt – Cream Cheese Panna Cotta
Kopiaste and Kali Orexi,