Celebrating Greek Name Days is an important event for the Greeks.
In Greece, name days (onomastiki eorti) are celebrated in addition to birthdays. A name day is the feast day of the saint that a person is named after.
Name days are widely celebrated throughout Greece, and it is a time for family and friends to gather together, exchange wishes, and enjoy traditional food and drink.
Here are some common traditions and customs associated with celebrating name days in Greece:
Greeting the celebrant: On the morning of the name day, family and friends usually call or visit the person to wish them a happy name day. They might bring flowers or a small gift, and offer their best wishes for the year ahead.
Hosting a party: It is common to host a small gathering or party to celebrate the name day. Family and friends might gather at the celebrant's home or at a local taverna. Traditional dishes and sweets such as pastitsio, moussaka, baklava, etc.m are often served.
Decorating the house: It is common to decorate the house with flowers and balloons to mark the occasion. In some regions, it is also traditional to hang a flag with the image of the saint outside the home.
Gift-giving: Gifts are not traditionally given on name days, but it is common to bring a small token of appreciation such as a bottle of wine, a box of chocolates, or a bouquet of flowers.
Going to church: Many Greeks attend church on their name day, where they light a candle and offer a prayer to the saint.
Each month Foodbuzz hosts a special event called Foodbuzz 24, 24, 24 (24 meals, 24 blogs, 24 hours) when 24 bloggers showcase their meals within a specific period of twenty four hours.
Food blogger members of this Social community around the world are called to submit their proposals each month for their global monthly event that would capture the cultural diversity of bloggers around the world.
(Note: The links have been removed as this site does not exist any more).
My proposal to Foodbuzz to celebrate Greek Name Days was selected and I am very happy to be one of the 24 submissions chosen for the month of April.
Traditionally, in Greece, children are never named after parents, but the eldest son in a family is often called after his paternal grandfather and the oldest daughter after her paternal grandmother.
However, some times we have family conflicts regarding the name of a child as young couples rarely have more than two children and there are cases where one of them (usually the man) might want to name both children after his parents.
The idea of a baby being given a name just because the parents like the sound of it is unknown in Greece. Even naming a child after someone as a mark of respect or admiration is unusual.
In Cyprus this is also the case but not so strictly followed. In my family we are six children and no one was named after our grand parents.
If that was the case one of my sisters and I would be named Katerina or Anastasia and one of my brothers George or Neoklis. My sisters are called Zoe, Alkistis and Eleni and my brothers Andreas and Costas.
In Greek Orthodox religion some priests were and still are, very strict and will not allow baptisms if the name is not Christian.
For instance, if you want to name your child after a hero of Greek Mythology, or an ancient name such as Hercules, Achilles, Pericles, Jason, Socrates Plato, or Aristotle, Aphrodite, Athena or Hebe (my name), then some priests might refuse to do so and ask that the child is given two names, one of which is Christian.
Personally, I do not have a Christian name, as I was named after a Greek mythology goddess, Hebe (Ήβη pronounced Ivi but when we were in England, at school they would call me Ivy).
Hebe, was the daughter of Dias (Zeus) and was the goddess of youth, the wife of Hercules, who served the Greek Gods with ambrosia.
After the fall of the Byzantine Empire and the enslaving of the Greeks, things changed and they tried to keep ancient history and their culture alive by naming their children after heroes of ancient Greece or mythology.
Likewise, during the World War, in order to keep their morals high they would give names to their children such as Niki (meaning victory), Eleftheria or Lefteris (meaning freedom), Democratia (democracy), Ellada (Hellas), Kypros (Cyprus), Dafni (Laurel because the athletes in ancient Olympic games were crowned with olive wreath or laurel wreath), Irini (peace), Doxa (glory) etc.
As I said, the celebration of Greek Name Days includes a party. In past times, this was open to literally anyone passing on the street, but most parties these days are by invitation.
As you may see from the video above some friends brought their "bouzouki" and we had lots of fun! Of course there was other music as well.
Family members give presents to each other whereas guests usually bring along some sweets, a pot with flowers or a bottle of an alcoholic drink or other presents.
This year my eldest son, George, who was named after his paternal grandfather, wanted to celebrate his name day, as his birthday is in November and he won't be here as he has been admitted to Portsmouth University, to get his Master's Degree and will leave by the end of August.
St. George's memorial is celebrated on the 23rd April except if it is before the Easter, then it is celebrated on the first Monday after Easter.
We celebrated George's name day yesterday with family and lots of friends with a buffet party.
Greek Party Food!
I prepared some of his favourite dishes, some of which have already been posted and some which have not. I will provide links to those recipes but I have also made some new recipes, which will be posted shortly.
One of the appetizers I made were Bourekakia Melitzanas (Eggplant rolls with mint pesto and halloumi cheese). These were based on a recipe I made at the early stages of blogging but you know me, I can't stick to any recipe, so I improved the recipe by adding mint pesto on the eggplants and paired it with halloumi, instead of feta. The remaining procedure is the same.
Manitaropita me prassa kai feta (Mushroom pie with leeks and feta). You know how we love making pites (pies) in Greece, so a buffet with pies is a must. I made this pie using my kourou phyllo recipe and the filling was with a layer of leeks then a layer of mushrooms with rosemary and feta and creme fraiche on top.
Kreatopita (meat pie) is a pie made with minced pork and veal and a butter based phyllo.
Lahanosalata: One of his favourite salads is a Cypriot salad with Cabbage, Nuts, Raisins and Pomegranate and a mayo sauce. I always make this salad when I have guests as they enjoy it very much.
Tambouli, is also a salad I love very much. This salad is the well known Lebanese Tabbouleh, which however, has passed in to the Cypriot cuisine, as well.
The third salad I made is a seasonal one with Baby Spinach, Wild Rocket and Strawberries and a balsamic-strawberry vinaigrette.
Moschari Noua Rosto. This is an old classic all the family loves. The round veal is scented with garlic and cinnamon and then cooked in red wine. The pan juices are used to make the gravy.
Galopoula glykoxyni (Sweet and Sour Turkey). This dish has an Asian influence and the turkey is first tenderized with beer and cooked in a sweet and sour tomato sauce, with orange juice, pineapple, bell peppers, honey, vinegar and of course tomato.
Psaronefri (Pork tenderloin). Pork loin is flattened and tenderized and stuffed with spinach and halloumi and others were stuffed with bell peppers and feta.
Patates antinahtes. This is a side dish using baby potatoes with the skin. The potatoes are cracked in order to absorb flavour and are seasoned with salt, pepper and lots of coriander. Then they are cooked in red wine.
Tyropita with five cheeses wrapped in kataifi. Shredded phyllo called kataifi, is stuffed with lots of cheese that melt. Eggs, fresh cream and milk soak the kataifi and then it is baked in the oven.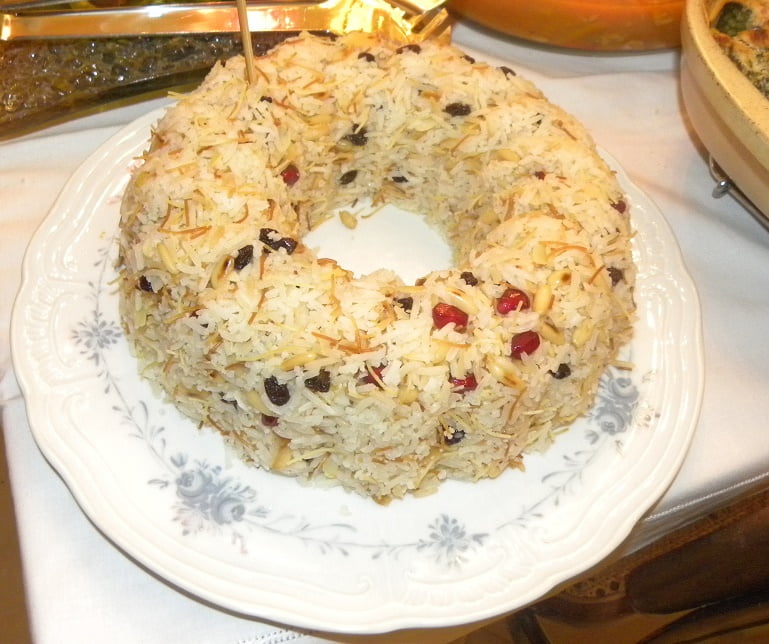 Pilafi me fide kai koukounari. Another side dish is this rice pilaf with vermicelli and pine nuts. This is another twist to the rice pilaf we make in Cyprus. This time I did not add any vegetables but added toasted pine nuts and pomegranate.
Macaronia Soufflé. This is a pasta casserole with lots of cheese and fresh cream .
Broccoli Au gratin. You all know what this is. I boiled the fresh broccoli for a few minutes, then I prepared a bechamel in which I added some cheese. I haven't posted the recipe yet.
For dessert I made a strawberry Millefeuilles. I made a few changes to my recipe. I whisked the pastry cream several times until it cooled and when it did, I mixed some whipped cream in it. I also added a layer of strawberry sauce (instead of brandy I added tentura a Greek cinnamon liqueur) on top of the cream and decorated it with whipped cream and candied strawberries. You can see another similar recipes here.
A no bake Cheesecake with Vyssino (sour cherries), the one the Greeks love with cream cheese and condensed milk (instead of whipping cream) and lots of vyssino glyko (sour cherries). The jelly I added on top is similar to this orange jelly.
Usually guests coming to a name day celebration bring along sweets and you can see some in the pictures which were brought by some friends.
I am posting from an Internet Cafe as since yesterday morning the whole area around my house are without telephone connections due to some problems which certainly will not be restored today. Your comments will not appear until this problem is restored and hope that it will be soon.
Thank you Foodbuzz for making this happen.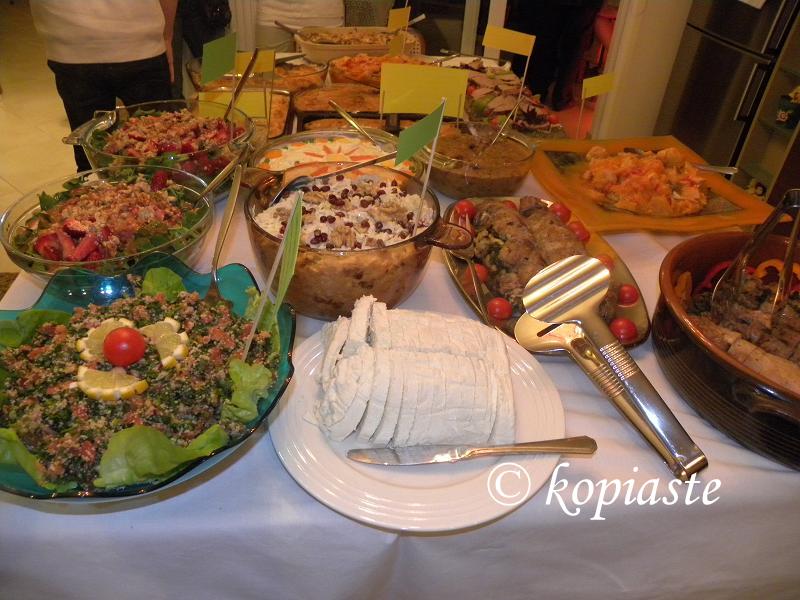 Kopiaste and Kali Orexi,