Psaronefri, (pr. psah-rho-NEH-free), is Greek tenderloin cooked en papillote. It is made with four different fillings and then a prune sauce is made with its juices.
I am having a hard time writing this recipe as I am not sure what the English word would be for psaronefri. I think it is called pork tenderloin.
I will be calling it a pork tenderloin until someone corrects me and then I will correct the post as well.
I tried two methods. One was cutting the tenderloin with a filleting knife and then with a meat mullet I tried to make it thinner.
The other way was to make a hole crosswise and then stuff it through the hole. I found that the first method worked better for me.
I did not have a recipe to work on but I decided to make different stuffings with the ingredients I had at home. If this is a main course, you will be needing a tenderloin per person. If it is for a buffet, each tenderloin can be cut into 4 – 5 slices, depending on the size.
First of all I sprinkled salt and pepper on all of them.
I always work with the ingredients I have at home, so I remembered I had some leftover spinach when I made the spanakopitakia , so I prepared a spinach filling and the other ingredients I had were garlicky tsakistes olives, halloumi, smoked turkey, feta, there are always frozen bell peppers in my deep freezer and prunes.
Psaronefri (pork tenderloin) with Prune Sauce, Recipe by Ivy
Directions:
Wash and drain meat.
With a filleting knife, cut it and make it thinner with a meat mullet. Season with salt and pepper.
Filling # 1: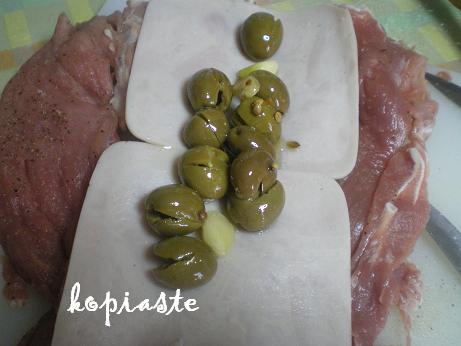 Put 2 slices of smoked turkey. Add Greek tsakistes green olives with a little bit of garlic and coriander from their marinade . Roll.
Filling #
2:

Put 2 slices of smoked turkey, a few slices of bell peppers and 2 slices of grilled halloumi.
Filling #
3:
Heat a tablespoon of olive oil in a non stick frying pan and saute 1 clove of garlic and 1 spring onion, which has been finely cut, until translucent. Add some spinach and season with salt and pepper. Mix for a couple of minutes and remove in a plate until it cools. Add another tablespoon of olive oil and fry (or use grilled) halloumi.
Filling #
4:
Same spinach mixture as above, feta and peppers.
Roll each loin and wrap in parchment paper and roast in a preheated oven at 180 degrees Centigrade for about 30 minutes.
Remove parchment paper and keep the juices from the meat the make the sauce.
Place the tenderloins again in the oven uncovered and roast for 5 minutes on each side.
Allow to cool before cutting. Serve with prune sauce.

Prune Sauce
Ingredients:

2 tablespoons olive oil

1 spring onion, finely cut

10 dried prunes, halved


1/2 cup Cherry brandy

70 ml light fresh cream

1 teaspoon corn flour (corn starch)

1 cup juices from meat


Salt and pepper to taste
Directions:
Marinate prunes in cherry brandy for an hour.
In a food processor puree half of the prunes.
In a non stick frying pan sauté onion in olive oil until translucent. Add the remaining prunes with brandy and mix until the alcohol evaporates. Add the juices from the meat, salt and pepper and mix.
Dissolve corn flour with fresh cream and mix until the sauce thickens.
I am sending this recipe to my friend Lore, of Culinarty, for her event Original Recipes Round-Up #6, dedicated to Winter Holidays and festive concoctions.