Making cobblers, crumbles, crisps, etc., I think is the best way to use leftover fruit. The distinction between them, however, has given me headaches, so lets see what these are.
When I go to the farmers' market I get carried away and sometimes I buy more fruit than we eat. So before they perish I end up making crumbles, at least that's what I call them.
Some times I improvise and instead of using regular butter I also mix it with a little bit of sheep's and goat butter and the crust tastes like kourabiedes or I use some of my preserved fruits and syrup.
But what exactly is the difference between a cobbler, a crisp, a crumble, clafoutis etc. I have been seeing these names and been wondering, so I google searched it and here are a few interesting things about them.
This information may also help you decide what you are baking:
Betty — a baked pudding made of layers of spiced and sugared fruit and buttered bread crumbs.
Clafoutis — a French cobbler, with fruit (usually cherries) on the bottom, custard, and a rough batter crust baked on top
Cobbler — a spoon pie (more like a fruit stew with dumplings), in which biscuit dough is dropped onto the fruit before baking. The consensus is that the dish got its name because the lumps of cooked dough resembled cobblestones.
Crisp — a deep-dish fruit dessert made with a crumb or streusel topping and baked.
Crumble — a British dessert in which raw fruit is topped with a crumbly pastry mixture and baked. One reference says a crumble is like a crisp, but not as rich.
Grunt — a spoon pie, with biscuit dough on top of stewed fruit, which is steamed, not baked
Pandowdy — a spoon pie, with fruit on the bottom and a rolled crust on top, which is broken up to allow the juices to come through
Slump — a spoon pie, including cooked or uncooked fruit topped with biscuit dough or piecrust, which can be baked or steamed, and can be made upside down.
Recipe 1:
Peach and Apricot Crumble, recipe by Ivy
Preparation time: 30 minutes
Baking time: 45 – 50 minutes
Serves: 8 – 10, if served with ice cream
Ingredients:
Fruit base:
8 medium peaches and 5 large apricots (total weight 1.130 grams)
¼ cup raw cane sugar
1/3 cup cherry spoon sweet syrup
10 preserved cherries (optional)
Crumble:
150 grams cold butter
1 cup raw cane sugar
2 cups instant oats
2 ¼ cups all purpose flour
1/8 tsp salt
1 tsp vanilla essence
40 grams walnuts
A pinch of cinnamon
Directions:
In a large pot bring water to boil. Remove from the heat and add the fruit. Leave them in the water for 2 minutes, drain add cold water and drain again. Peel the fruit and cut them in wedges.
Put them in a Pyrex 33 x 23 cm / 13 x 9 inches and wet them with the syrup and sprinkle sugar on top. Add a few cherries, if you like.
Grate the butter on a box grater. Put all the crust ingredients, except the walnuts and work with your hands to make the crumble. Add the walnuts and mix. Add the crumble to cover the fruit and sprinkle some cinnamon on top.
Preheat the oven to 180o C / 350o F and bake for about 45 – 50 minutes or until golden on top.
Serve with a scoop of ice cream for an extra delicious treat.
Note: If you do not have cherry syrup, you can increase the amount of sugar and water by 1/3 cup each.
Here is also an easy fruit crumble using leftover fruit.
Recipe 2:
Mixed Fruit Crumble, recipe by Ivy
Ingredients:
3 peeled and sliced ripe peaches

6 apricots, pitted

10 cherries, pitted

3 ripe bananas, cut into slices

¼ cup sour cherries preserve

1/3 cup sour cherry syrup

2 tbsp sugar

1 tsp vanilla essence
Topping:
125 grams cold butter, grated

3 cups all purpose flour

25 grams sugar

1 teaspoon baking powder

1/4 teaspoon salt

¼ tsp cinnamon

A pinch of nutmeg

1 tsp vanilla essence

1 egg

1/3 cup roasted walnuts

Extra sugar to sprinkle of top (optional)
Directions:
Preheat oven to 180

o

C / 350

o

F.

Put all the fruit in a bowl and add the fruit preserve syrup and mix. Set aside.

Using a box grater, grate the cold butter. Add flour, sugar, salt, baking powder, vanilla, nutmeg and cinnamon. Mix using your hand until the butter is absorbed by the flour. Add the egg and mix until you have coarse crumbs.

Sprinkle about 1/3 in a Pyrex 33 x 23 cm / 13 x 9 inches baking dish.

Add the fruit and syrup on top. Sprinkle some cinnamon.

Mix the roasted walnuts in the remaining crumbs and mix. Sprinkle the crumbs over the fruit and sprinkle some extra sugar on top.

Bake for about 30 minutes.

Serve with ice cream.
Recipe 3:
Peach Caramel – Coffee Oat Crumble
For the crust:
½ cup all-purpose flour

2 tbsp butter

½ cup quick cooking oats

½ cup demerera sugar

½ tsp ground cinnamon
For the filling:
2 large peaches

½ cup demerera sugar

1 tsp butter

1/3 cup coffee (or other) liqueur

50 ml light cream

A pinch of cinnamon

A pinch of ground cloves
Directions:
Preheat the oven to 180

o

C /350

o

F.

In a non stick frying pan add sugar and butter and mix until the sugar starts melting. Continue mixing until it caramelizes and add coffee liqueur and mix until you have a syrup. Gently mix in the peaches, then add cream, cinnamon and cloves and mix to coat the fruit.

Grease a 20 cm diametre (8 inches) pyrex and arrange the fruit evenly and add the crust on top.

Bake in preheated oven for about 55 minutes, or until top is slightly brown.

Serve with Greek yoghurt or ice cream.
Recipe 4:
Apple Chocolate Crisp, recipe by Ivy
Ingredients:
6 large sliced Granny Smith apples

1 1/4 cups brown sugar

75 grams couverture chocolate

1 teaspoon grated ginger
Crust:
1/2 cup butter

1 1/2 cups self raising flour

1 1/4 tsp cinnamon

50 grams couverture chocolate, grated
Directions:
Preheat the oven to 180

o

C / 35o°F.

Butter the bottom and sides of a 33 x 23 cm / 13 x 9 inches Pyrex baking dish.

Place the sliced apples in the bottom of the baking dish and spread out evenly.

In a double boiler melt the chocolate. Mix in the grated ginger and sugar and coat the apples.

Combine all the crust ingredients (except the chocolate) together in another bowl and mix until well blended. The mixture should have a crumbly texture.

Sprinkle the crumbly mixture evenly over the apples. Grate the chocolate on top.

Place in the oven and bake for about 30 – 40 minutes or until apples are tender when poked and the topping is golden brown and crispy.

Remove from the oven and serve while warm.
The following recipe is not exactly a Clafoutis but neither a crumble. I made the recipe up but I will call it Clafoutis because of the filling.
Recipe 5:
Cherry Clafoutis with tart crust, recipe by Ivy
Ingredients:
Crust:
100 grams butter

50 grams Greek sheeps and goat butter

¼ cup sugar

3 cups of all purpose flour

Salt

2 – 3 tbsp cold water
Filling:
1 kilo cherries, pitted

1 cup sugar

1 tsp margarine

1 tbsp orange blossom water

¼ cup sour cherry syrup

2 tbsp lemon juice

1/3 cup cornstarch

1/3 cup milk

1 egg yolk
Directions:
Preheat oven to 180° C / 350

o

F.

Butter the bottom and sides of a 33 x 23 cm / 13 x 9 inches Pyrex baking dish.

Place the sugar and butter in a pot and mix a few minutes until it starts to caramelize. Add the cherries, sour cherry syrup and 2 tbsp blossom water. Cook over a low heat for 6-8 minutes.

Dissolve the corn flour (starch with the milk and yolk) and add to the cherries and mix until it begins to set.

In a bowl mix flour, salt and sugar. Add the butter and use your fingertips to rub the butter into the flour until fine crumbs form. Add the water and mix until the dough domes together. Divide the dough in two equal parts and wrap each one in cling film and refrigerate for half an hour until they becomes firm.

Grate the first piece of dough into an ovenproof dish.

Spoon the cherries on top of the dough and then grate the second piece on top.

Grate the second piece on top of the fruit.

Bake for 25 minutes or until golden. Cool slightly and serve with ice cream or custard.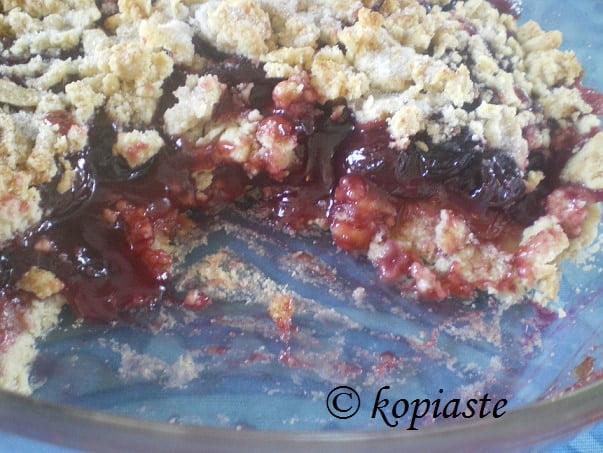 Update: 27/5/2013
What happens when you make a recipe you don't like? Do you through it away?
Surely not! When I made this crumble, the fruit were tart and the filling was not as sweet as I expected it. We tried adding some icing sugar on top of the crumble but it didn't change anything. We then tried another piece adding honey but still the fruit remained tart. So here is what I did to salvage the dessert and a new recipe was created!
I do not have an ingredient list to give you, as when making the first dessert, I did not intend to post it, as I have already posted too many crumble recipes!
Recipe 6:
Apricot and Peach Kourabiedes Crumble Pudding, recipe by Ivy
Chose whichever recipe above to make the filling and the crumble. Instead of sugar, I added petimezi (Greek concentrated grape juice-molasses), like I did in this recipe.
After cooking it and tasting it, the next day I removed the crumble on top and mixed some honey in the fruit. The amount will depend on how sweet we can it.
The crumble was made with ewe's butter, similar to kourabiedes.
I prepared a pastry cream, which I made a little bit sweeter, adding 2 more tbsp sugar.
Using a new pyrex I added a layer of cream, a layer of fruit, another layer of cream and the crumble on top.
I let the cream cool and then refrigerated it until the cream set.
It turned out delicious and was a wonderful, refreshing summer dessert!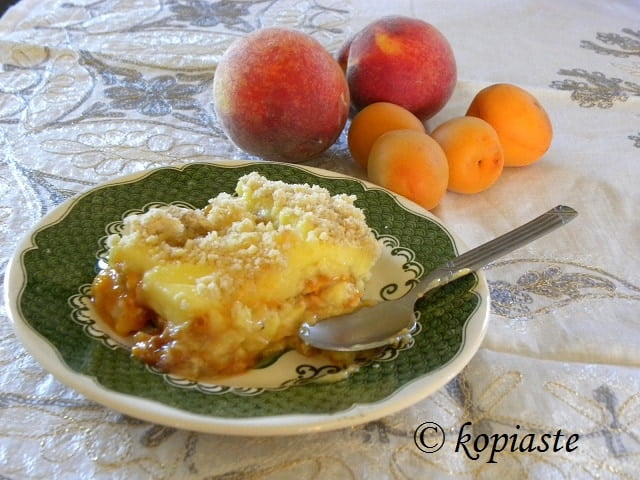 Other similar recipes:
Kopiaste and Kali Orexi!!