This delicious Turkey soup, which is one of my favorites, is made with the carcass of our roasted turkey, which we make during Christmas.
It's a great way to not waste a single bite of turkey!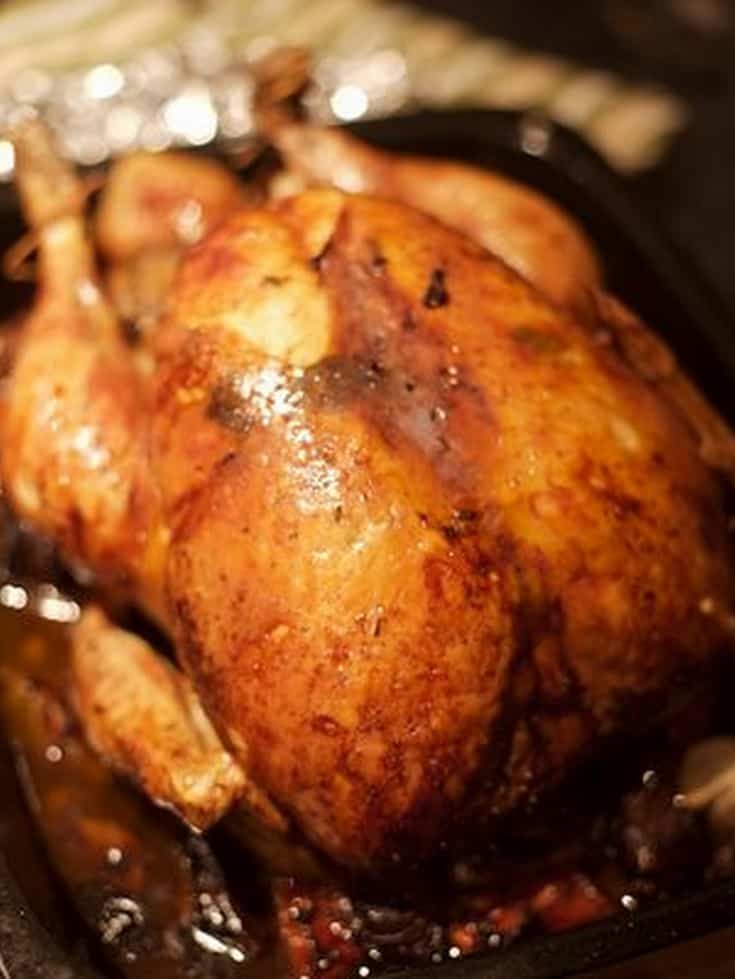 In Greece the only time we Roast a Turkey is either on Christmas day or during the New Year.
Christmas Dinner
I always cook it on Christmas Day, so I make all the preparation on Christmas Eve and while everyone is still asleep on Christmas day I roast it in the oven for 3 – 4 hours, depending on how big it is.
What we love most in roasting the turkey is the stuffing, so I did not change anything to this delicious recipe, except for adding two kinds of raisins: sultana and black Corinthian raisins.
Usually, we have lots of leftovers the following day and I was hoping to have some this year as well in order to rest on Sunday, but it was so delicious that whatever was left from lunch disappeared in the evening, except for the two drumsticks.
The filling was with chicken livers, almonds, raisins and some rice to absorb all the juices.
The turkey was roasted with lemony potatoes, salt, pepper and oregano and with about 1 cup of olive oil and just a little water.
To cook the turkey I wrapped the whole baking tin in aluminum foil and cooked it for two hours. It was then cooked uncovered, turning once for about 1 1/2 more hours.
I made our favourite Lahanosalata (Cabbage Salad). This recipe is included in the cookbook but I have a picture before mixing the ingredients, so that you can see most of the ingredients.
These Tyropitakia are so easy to make and so delicious. Feta wrapped in crispy phyllo and deep fried. Another recipe which is included in the cookbook with step by step instructions how to make them.
During the holidays we usually buy bread for 2 – 3 days, so eating stale bread is not so pleasant.
As soon as you take the turkey out of the oven cut some slices of bread and bake them for about ten minutes. You simply have fresh hot bread again.
It's even more delicious, as soon as they are out of the oven to drizzle some olive oil on top and sprinkle some salt, pepper and oregano.
Of course, Tzatziki is a must in every Greek table. What make real Greek tzatziki delicious is primarily the Greek yoghurt.
The soup
In the evening I put the carcass of the turkey and bones, after removing the meat from the drumsticks and put it in the refrigerator with the turkey drippings.
The next morning I put it in a pot and filled it with water and added the drippings which were about 1 cup.
After bringing to boil, I lowered the heat and simmered it for about 2 hours.
When it cooled, even if you've removed all the meat you think you could have removed, I managed to get about 2 cups of meat.
I put this in a bowl with a lid in the refrigerator and the broth which was about 2 1/2 – 3 litres, in another.
The advantage of refrigerating the broth is that the fat rises on top, so you can remove as much fat as you like, although in my opinion that's the most tasty part. I removed half of the fat.
To make the soup
The beauty of this soup is that you can use any vegetables you have available in your refrigerator as well as the herbs and spices you love and just a little bit of salt.
This soup is based on a similar recipe I have in my cookbook which I make with meat.
If you need a more filling soup to eat it as a main course add some rice or pasta just before it is ready.
You can eat the soup by just adding some raw olive oil and lemon but I chose to mash it in a food processor first, then add the lemon juice and cook it for 5 more minutes with the tiny pasta called peponaki.
Peponaki (from "peponi" which means, melon) is similar to orzo and it's exactly the size of rice.
It is named peponaki because of its resemblance to melon seeds.
I served this soup with Greek yoghurt diluted with a little water, so as to make it creamy.
This soup was so delicious that we all had seconds.
Below, you will find an updated recipe using the carcass to make Turkey Trahanas Soup.
Update: 27 December 2014
This year I made the soup somewhat different. I cooked the vegetables together with the bones and made the broth.
I strained the vegetables and after removing the bones, I put back all the vegetables and part of the broth in the pot.
Turkey Soup with Trahanas and Fried Halloumi
Preparation time: 15 minutes
Cooking time: 1 hour 10 minutes
Serves: 6
Ingredients:
1 turkey carcass
1 onion quartered
1/2 cup green onion, finely chopped
3 medium potatoes, quartered
4 carrots, halved
1 cup celery stalks, finely chopped
1 cup silver beet, finely chopped
1 ripe tomato, peeled and quartered
1 cup various bell peppers, red, orange, green
1 tbsp salt
½ tsp black peppercorns
3 all spice berries
2 bay leafs
1 cup, turkey meat, bite-sized pieces
1 ½ litres turkey broth
3 pieces Cypriot trahanas (about 1 cup)
1 slice halloumi for each portion
100 ml Greek yoghurt mixed with 1 tsp mustard
Directions:
Put the carcass, vegetables, spices and lots of water to cover the vegetables.
Cook until the vegetables are soft.
Strain the vegetables, discard the bay leafs and remove the bones. Put the vegetables back in the pot with as much broth as you need to make soup (I used half of the broth). Using the immerse blender puree the vegetables.
Put the soup back on the heat and when it boils add the trahanas. Simmer for 15 – 20 minutes, mixing regularly.
Meantime, remove any meat from the bones and add back to the soup.
In a non-stick frying pan add 1 tbsp olive oil and fry the halloumi on both sides.
Mix yoghurt with mustard.
Serve soup with 1 tbsp yoghurt and a slice of halloumi. It is preferable to cut the halloumi in small pieces and add it to the soup. (In the photo I kept it whole as it would disappear in the soup if I had cut it).
If you like you can grate some black pepper on top.
I used my new Cuisinart immerse blender to puree the vegetables.
I then added trahanas and the turkey meat which I cooked together.
In the Cypriot trahanas we add halloumi which makes the soup even creamier.
This time I fried the halloumi which we added on top of the soup and to make it creamier I added Greek yoghurt mixed with mustard (as I did not add any lemon in the soup), making the soup even more delicious.
Other recipes to make with leftover turkey:
Turkey & Leek Pie (substitute chicken with turkey)
Turkey Fajitas (substitute chicken with turkey breasts)
Kotopita (substitute chicken with turkey breasts)
Leftover Stuffing
Turkey Soup with leftover Turkey
Cook Time:
1 hour
10 minutes
Total Time:
1 hour
40 minutes
This delicious Turkey soup, which is one of my favorites, is made with the carcass of our roasted turkey, which we make during Christmas.
Ingredients
1 turkey carcass
1 cup drippings
¼ cup olive oil
1 onion, finely cut
1 clove garlic, finely cut
2 medium potatoes, finely chopped
2 carrots, finely chopped
1 cup celery stalks, finely chopped
1 ripe tomato, peeled and grated
1 cup cabbage, finely chopped
1 cup frozen vegetables (peas, carrots, corn)
½ cup various bell peppers, red, orange, green
1 cup white dry wine
1 tsp salt
½ tsp various whole peppercorns (red, black, green, white)
½ tsp oregano
½ tsp thyme
¼ tsp cumin
¼ tsp ground coriander
1 bay leaf
2 cups, turkey meat, bite-sized pieces
1 ½ litres turkey broth
¼ cup lemon juice
½ cup tiny pasta (peponaki)
200 ml Greek yoghurt dissolved with ¼ cup water (or milk)
Instructions
Put turkey carcass and any leftover turkey bones as well as the drippings in large pot and cover with water.
Bring to boil, lower heat and simmer for 2 hours. Set aside to cool and remove any meat.
Heat the olive oil and sauté the onion and garlic until translucent. Add all the vegetables and sauté about five minutes. Add the wine and mix
Season with salt and all the dried herbs and spices.
Add the turkey broth and bring to boil. Lower heat and simmer for 1 hour until all the vegetables are soft.
Add turkey meat and lemon juice and remove bay leaf.
Allow the soup to cool before puréeing it in the food processor.
Bring back to boil and finally add pasta and cook for five minutes.
Dilute yoghurt with water to make a cream. Serve with yoghurt on top.
You can serve it with croutons or baked bread as above.
Nutrition Information
Yield

8
Serving Size

1
Amount Per Serving
Calories

272
Total Fat

9g
Saturated Fat

2g
Trans Fat

0g
Unsaturated Fat

7g
Cholesterol

43mg
Sodium

1119mg
Carbohydrates

26g
Fiber

4g
Sugar

8g
Protein

17g
PIN FOR LATER
Kopiaste and Kali Orexi!